AUXILIARY SERVICES
Students save money with textbook, meal plan scholarships
By Kristina Michel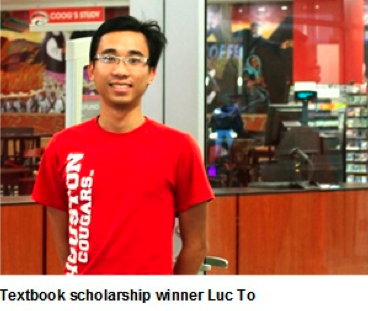 When University of Houston junior Luc To started classes Aug. 24, paying for textbooks was one less thing he had to worry about. That's because he and 10 other students were the winners of a Barnes & Noble textbook scholarship.
To and his fellow scholarships recipients received $400 for the fall semester and another $400 for the spring to pay for books and supplies at the UH Bookstore. They will be eligible to apply for a renewal the following academic year if they maintain their current academic standing.
"Textbooks can be quite expensive," To said. "This scholarship will go a long way to helping with those costs."
In addition, 10 UH students have been awarded meal plan scholarships. With the meal plan scholarship, which is sponsored by UH Dining, each student receives $100 in Cougar Cash and unlimited meal swipes, with minimum 30-minute intervals, in the dining halls throughout the fall and spring semesters.
To recommends students seeking financial aid continue actively searching for scholarships even while they are students. A good place to start, he said, is the UH scholarship opportunities website.
"Be active and maintain a good GPA," he said. "And don't get lazy. Good things come through hard work and persistence."
Additional Barnes & Noble textbook scholarship winners include Alexander Woerner, Burch Carter, Zachary Davis, Hieu Tran, Aiqi Pang, Jessney James, Monserrat Castellanos, James Crow, Skylar Koelbel and Anaissa Ruiz Tejada.
Meal plan scholarship winners include Kathryn Neuman, Sana Kidwai, Gabriella Falco, Kylie Jackson, Andrew Mai, Hang Thi Thanh Nguyen, Nicole Gauthier, Elizabeth Pham, Wilfred So and Adele Nkeudem Tsamo.