Student Spotlight
Areeb Khan
UH Auxiliary Services Marketing Student Worker
By Richard Zagrzecki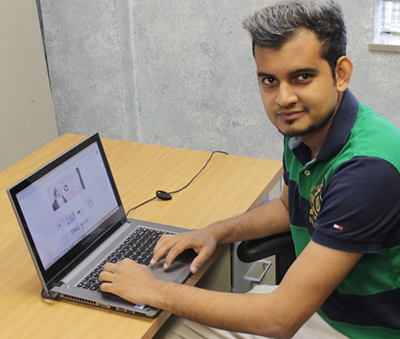 Areeb Khan isn't the first person in his family interested in studying mechanical engineering.
The sophomore from Karachi, Pakistan, is following in the footsteps of his older brother and sister, both of whom have earned degrees at the University of Houston. They, in turn, followed their uncle, who studied mechanical engineering at another university in the 1980s.
"My goal is to work at an oil engineering company," Khan said. "That inspiration comes from my uncle, who started his own company right here in Houston and which has now grown internationally."
Khan, who recently was hired as a student worker in Auxiliary Services, has other passions as well. Music tops them all. Back home in Pakistan, he fronts a band that plays mostly current pop music. He plays guitar and keyboard and sings as well. "I love to perform. My band has opened for Bilal Khan, who is a really famous musician in Pakistan," he said. "That was a really big deal for us."
Khan, who is self-taught and never has taken a music lesson, has had to go solo with his music endeavors as he studies at UH. As a result, he's discovered an interest in recording and creating his own music videos. He does everything himself, from recording the music, producing and mixing it, and getting creative with video production. An example of his work can be seen here.
His musical interest began as a child when he received a toy piano.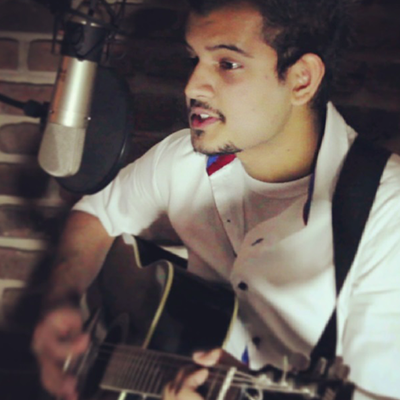 "My mom saw me playing 'Happy Birthday' all on my own and she realized I had an ear for music," Khan said.
In the year he has been in the United States, he's been invited to play his music on 95.1 FM Sangeet Radio, which is a station aimed at the Pakistani and Indian cultures. That came after someone from the station heard him perform at a UH Pakistani Student Association function. Here on campus, he participated in the "UH Voice" competition at the UC Theater, making it to the top 12.
His role as a student worker in Auxiliary Services will at times allow him to use his skills and interest in video equipment. Although his main role will be to assist with outreach events and do marketing research as needed, he will also work on department video projects. Khan, who had never been to the United States prior to coming to UH last year, said the adjustment has come easily for him. He already knew English and he is able to live with his brother, sister and cousin. It also helps that UH and the Greater Houston area has a large Pakistani population.
"I even met a couple of students here at UH that it turns out we have some close mutual friends back home in Pakistan," he said. "It really is a small world."