Employee Spotlight
Lauren Stacks
Marketing Manager, UH Sports & Entertainment
By Jessica Mize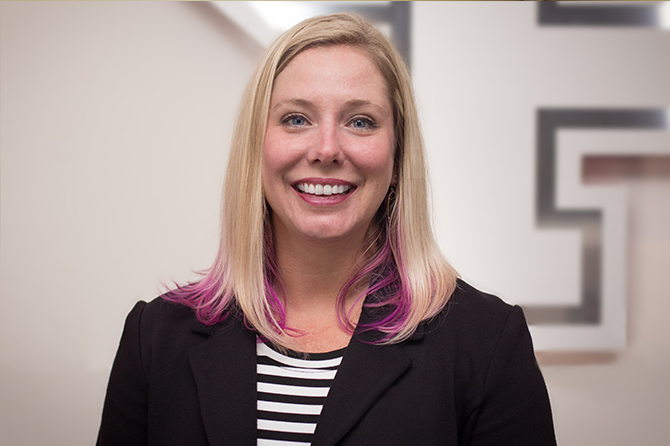 If there's one reason Lauren Stacks loves what she does, it's because she gets to help people make memories.
As marketing manager for UH's Sports and Entertainment department — a new collaborative partnership between Aramark, VenuWorks and the University tasked with booking and managing sporting events and concerts on campus — Stacks works closely with external promoters, as well as campus partners to spread the word about upcoming events and shows.
"Everyone remembers that amazing concert they attended or that awesome game their sports team won," she said. "I love that I get to play a small part in that."
Bringing nearly a decade of marketing and special events experience to the table, the Texas Tech alumna is no stranger to the industry and has worked for companies like Live Nation and the Toyota Center. Working so closely with the entertainment industry, she's gotten to meet her fair share of celebrities, including Aerosmith's Steven Tyler, but that's just another day at the office.
"My background is in concert marketing," said Stacks, a native of Katy. "After branching out to try a few other things, I realized that whether I'm promoting a concert, sporting event or family show, I definitely have a passion for the event industry."
That passion helped make Stacks' decision to work for Sports and Entertainment an easy one. Since joining the team in August, she has already gotten several on-campus events under her belt, including four Cougar football home games and a sold-out Jason Mraz concert, with many more to come. However, this isn't the first time she's put her talents to use for the University.
From 2010 to 2013, Stacks worked as the director of marketing and membership for the University of Houston Alumni Association, where she helped develop and grow student engagement, increase membership and plan events. She admits that she grew to love UH during that time and is happy to be back.
"We've got a lot of great things in the works," said Stacks. "I'm excited to help bring new and interesting shows to campus not only for the students but the entire Houston community."