Sustainability
Office of Sustainability reps talk COAST at AASHE Conference
By Kristina Michel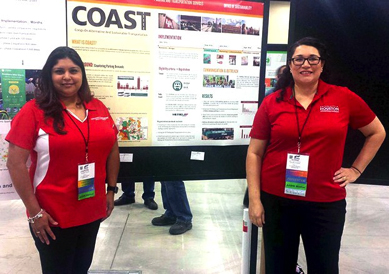 Representatives of the University of Houston Office of Sustainability attended the Association for the Advancement of Sustainability and Higher Education's national conference and expo, held Oct. 15-18 in San Antonio.
The representatives presented information to conference attendees about COAST (Coogs on Alternative and Sustainable Transportation), an initiative launched by UH Parking and Transportation Services that incentivizes students, faculty and staff to use more sustainable, alternative options – such as carpooling, METRO public transportation and cycling – to commute to campus.
"The experience of presenting the COAST program at the conference and expo was as rewarding and valuable as the knowledge we obtained from attending conference sessions," said Maria Honey, assistant director of marketing and communications in the Office of Administration, and one of the Office of Sustainability representatives at the conference. "It's through opportunities like the one we had at AASHE that members can collectively work toward advancing sustainability in higher education."
More information about COAST is available on the Parking and Transportation website.
The Association for the Advancement of Sustainability and Higher Education, or AASHE, is the leading association for the advancement in higher education. The organization comprises more than 900 members across 48 U.S. states, one U.S. territory, nine Canadian provinces and 20 countries.
The organization oversees the Sustainability Tracking, Assessment & Rating System (STARS) to engage and recognize colleges and universities for their sustainability efforts. As of now, the University of Houston is the only Texas institution to receive Gold status, the second-highest status in the STARS ranking system.
For more information about AASHE and its programs and initiatives, visit AASHE.org.