STUDENT Spotlight
Bryan Ho
Cougar Card office student worker
By Richard Zagrzecki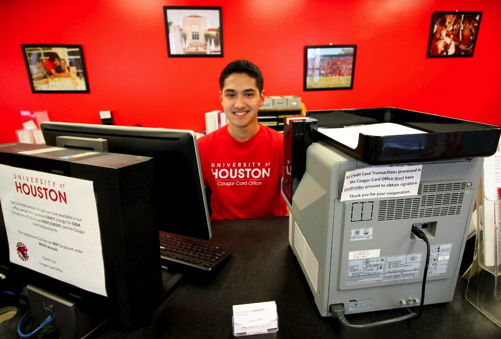 Bryan Ho doesn't have to worry about fighting Houston traffic or finding a parking spot when he comes to classes at the University of Houston.
Because his father, Tuong Ho, works in the UIT department here at UH, the two of them are able to commute together from the family home in the Klein area. That allows them to take advantage of Interstate 45's HOV lane – making the drive quicker and a lot less stressful.
When they get to UH, his father drops him off before heading over to the Energy Research Park, where his office is located. Depending on what day of the week it is, Ho either goes to class or his part-time student worker job in the Cougar Card office.
The family connection to UH does not end with his father. His uncle also works at UH, and both his mother and grandfather also have previously worked here, so Ho spent a lot of time on campus while growing up.
"I have always felt familiar with the campus, having come here all the time as a child," he said. "So when it came time for me to decide what college to attend, UH seemed like a natural fit. It just seemed like home."
Ho is a sophomore who is majoring in computer science with a minor in mathematics. He applied for and was offered the job in the Cougar Card office 10 months ago after his father learned about the job opening and told him about it.
As part of the job, he helps students, faculty and staff with their Cougar Cards, whether they are new to UH and need to get one for the first time, or they have lost or misplaced their card and need a replacement. He is one of the friendly faces who sit behind the front counter and assist customers as they come in.
On the days when he comes in to work at 8 a.m., his first order of business is to turn on the computers and the printers. Then, he usually checks the Cougar Card emails and responds back to questions people have. He also helps create Cougar Cards using photos that students have submitted via email.
So what does he like best about UH in the time that he's been here?
"I like that it is really close to home. I also like the diversity here. We have a wide variety of students from all different backgrounds and cultures," he said.
After he graduates from UH, he would like to pursue a technology-related career, working for a major company like Microsoft or Apple.
"I have always been fascinated with technology and how it makes daily life comfortable and manageable," he said. "I want to contribute to amazing projects that will make me feel proud, like taking part in the making of future iPhones. It would be really cool to see people walking around the streets using a phone I contributed to."
When he's not busy with his studies or working, he likes to relax by playing video games. He also is an avid swimmer, having been on the swim team when he was a student at Klein Forest High School. He tries to swim at least once a week – if not more – at the pool in the Campus Recreation and Wellness Center.
He also is a big fan of the UH football team.
"It's really fun to go to the games and support the team. I try to go to most of the games with a lot of my friends," he said.