STUDENT Spotlight
Maria Quevedo
Student worker in Parking and Transportation
By Richard Zagrzecki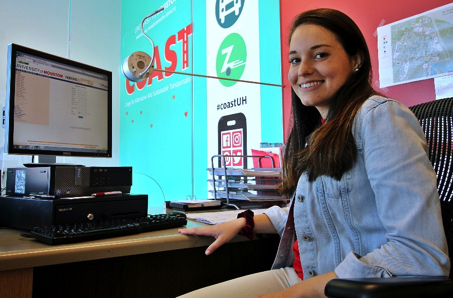 Maria Quevedo remembers tagging along when her mother went to meet with a dietitian.
"I was really amazed at what the dietitian did and how she explained things to my mom," she said. "It really helped her a lot."
Fast forward several years, and Quevedo is now a junior at the University of Houston studying nutrition. Her plan is to one day become a registered dietitian, either opening her own private practice or working with children. She credits her mother's appointment as the moment she realized that was the career path she wanted to pursue.
"I really like to eat healthy and I like to teach people how to eat healthy so they can have a better quality of life. I believe that food is so important in someone's life," she said.
For the past three months, she has been a student worker in Parking and Transportation Services. She sits in the reception area of the parking office at the Stadium Parking Garage, directly adjacent to Taco Cabana. Her job is to assist customers whenever they walk in. That means a lot of things, including answering parking-related questions, helping people who are returning a permit, or handing out forms related to the COAST alternative transportation program.
Her older brother, Jose, previously was a student worker in Parking and Transportation. When he left after accepting an internship offer, he told her to apply for the open position. She was looking for a job, so she did.
When she is not attending class or working, she is involved in the UH Venezuelan Student Union, serving as an officer in the organization, which holds numerous events throughout the academic year.
She also has a passion for photography, which she hones by doing photo shoots or covering events when requested by people in and around her neighborhood who contact her when she advertises her photo services on the Nextdoor app.
Besides her brother, she has an older sister who also attended UH. Their family is originally from Venezuela, but moved to the United States and settled in Katy in 2008. Quevedo is a graduate of Seven Lakes High School in the Katy Independent School District. Attending UH was the logical choice for her.
"The UH spirit has been a part of my family for about 10 years now," she said.