ASSESSMENT
Assessment presentation made at NACCU conference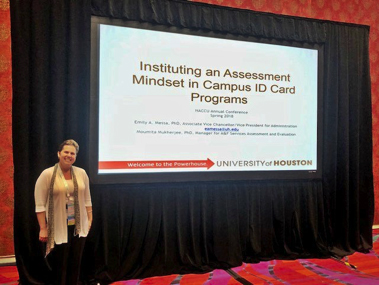 By Mallory Doeckel
Administration and Finance Assessment held an educational session about program assessment at the National Association for Campus Card Users (NACCU) annual conference.
The presentation was given by Associate Vice Chancellor/Associate Vice President for Administration Dr. Emily Messa, who prepared the presentation with Manager for Administration and Finance Services Assessment and Evaluation Dr. Moumita Mukherjee.
The session covered the benefits of assessment and guidelines for creating an assessment plan, using the assessment program for the UH Cougar Card Office's online photo submission project as the example for these standards. Attendees were able to walk away with an understanding of how to implement a holistic assessment program that can be applied to any service or program at their institution, how to use assessment to connect departments' services to larger student success goals, and the value in developing assessments while implementing a new program or service.
Assessment of campus services instead of solely academic affairs is a relatively new concept in higher education. This unique approach taken by UH Administration and Finance positions them as a trendsetter and allows programs within the division to better understand their strengths and areas to focus on for improvement.
For more information about UH A&F Assessment, visit the A&F Services Assessment and Evaluation site.