STUDENT Spotlight
Alexandra Marcano
Auxiliary Services marketing assistant
By Hailey Reisinger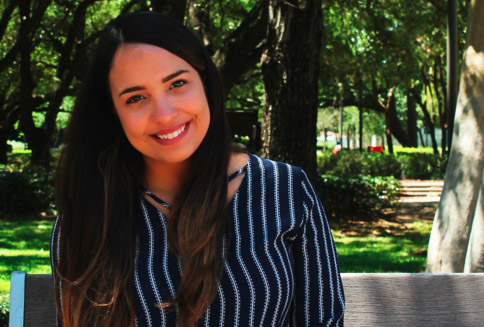 Alexandra Marcano grew up in Venezuela playing tennis and golf, learning the arts in photography, flute and piano, and enjoying the tropical lifestyle on the beach.
During that time, though, she always dreamed of attending school in the United States. She decided to pursue that dream in 2013 by coming to Texas to attend college. She spent the first three months improving her English skills at the University of St. Thomas, then started taking classes at Lone Star Community College. In the fall of 2015, she transferred to the University of Houston.
"When I first moved to Houston, my family and I took a little road trip and visited different college campuses. As soon as I got to UH, I knew I wanted to come here," said Marcano, who loves UH's diversity, as well as its close proximity to the heart of the city.
During her first semester at UH, she joined Coog Radio and worked on the Coog Live Show. She interviewed numerous people for different events going on around campus. Even though she has always loved talk shows and radio and dreamed of going into media production, she decided to minor in business. The time spent at Bauer School of Business made her fall in love with marketing, so she decided to pursue it as a major.
During her first semester at Bauer, she joined the International Student Organization, becoming the group's marketing officer in the spring of 2016. She felt as if ISO was her second family and became extremely involved with it.
"Being away from home, it's definitely important to have that support system that I was able to find with ISO. We as international students are always pushed out of the comfort zone, which has helped mold me into a better person and professional," Marcano said.
Along with her time in ISO, she also enjoys rock climbing, which she was first exposed to when she worked at the Campus Recreation and Wellness Center's rock-climbing wall. She now tries to spend as much time as possible in the outdoors, whether it's hiking, backpacking or climbing.
She recently was hired as a marketing assistant in Auxiliary Services. In that role, she helps control multiple social media accounts, creates graphic designs and participates in new student orientations. As a result, she gets to use the marketing skills she has learned in class in real-life situations.
After she graduates from UH, she would like to start her own marketing company or land a marketing job. She hopes to one day be able to create a scholarship foundation that would help international students and give them opportunities like the ones that were given to her.
"I am extremely thankful for all the opportunities that have been given to me and my goal one day is to provide others with my same fortune," she said.
Marcano enjoys being part of the University of Houston Bauer community and is happy that she chose to come to Houston.
"UH has given me the chance to realize that I can have bigger dreams and the confidence to know that I will achieve them," she said.