Facilities Planning & Construction
Groundbreaking in the works for Health and Biomedical Sciences Building 2
By Jessica Mize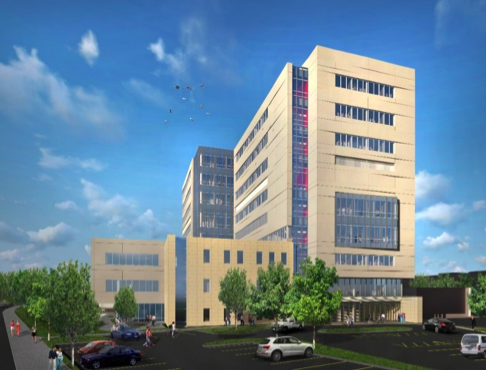 Construction of the Health and Biomedical Sciences Building 2, the next phase in the Health and Biomedical Sciences Center, is set to begin later this summer.
Currently in the design and development phase, the building will stand nine stories tall and will house the College of Pharmacy, as well as research space for the University's Department of Research and an Integrated Healthcare Facility to serve the surrounding community.
"Tellepsen Builders is the contractor tasked with making the vision of architecture firm Shepley Bullfinch a reality," said Trent Williams, Facilities Planning and Construction project manager for the building. "In fact, we're working with the same design and construction team responsible for the Health and Biomedical Sciences Building 1."
Slated to include faculty offices, specialized research and teaching labs, an expanded Health Sciences Library and a mix of teaching spaces, the building has a budget of $145 million. It will even connect to other Health Sciences buildings via four floors.
Additionally, the first and second floors will feature space for physical therapy and behavioral health services that focus on whole-family health and wellness. The plans even show the building including a community kitchen, which will help promote healthy eating and cooking habits.
To give people a better idea of what the facility will look like, Shepley Bullfinch has prepared a video that takes viewers on a virtual tour of both the interior and exterior portions of the building.
For more information, visit the project's page here, or contact Williams at jtwilliams5@uh.edu or 713-743-5367.