Sustainability
Lucky student wins gift card for taking Earth Day Festival survey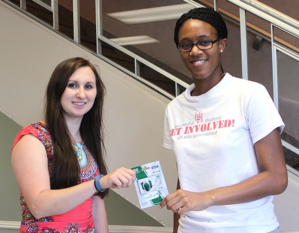 One lucky student received a special prize this week for filling out a survey after attending this past spring's Earth Day Festival at the University of Houston.
Bria Patterson stopped by the UH Office of Sustainability to claim her gift ― a $50 Visa gift card.
The Earth Day Festival was held April 22 in Lynn Eusan Park. More than 500 people came to learn more about environmental causes and how to live sustainably. They were able to play games, enjoy refreshments and receive a tote bag filled with informational materials. Those who visited all of the booths were given a free T-shirt while supplies lasted.
Everyone who attended and filled out an informational card was emailed an invitation to take a survey about the festival to help the Office of Sustainability as it prepares for next year's event. Those who filled it out were entered into the drawing to win the gift card. In all, 59 people completed it.
"The Office of Sustainability puts a high value on participation and feedback — especially from UH students," said Sarah Kelly, program manager for the Office of Sustainability. "We thank everyone who took the time to fill out the survey, and congratulations to Bria for being this year's winner! The input that we received from the survey will allow us to make next year's event even bigger and better."