Employee Spotlight
Christine Donovan
Senior training specialist
By Kristina Michel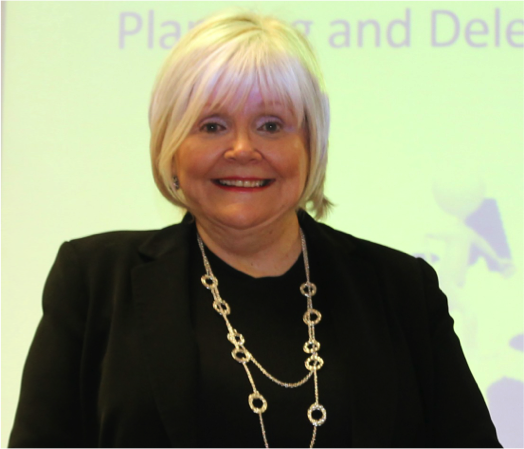 Though she has only been working at the University of Houston for 18 months, Human Resources Senior Training Specialist Christine Donovan has been coaching leaders and helping organizations grow and develop their workforce for more than 25 years.
Donovan teaches leadership development courses within the Human Resources Learning & Talent Development team. She leads the Supervisor Training Enrichment Program (STEP) for new managers and Leading with Excellence courses for middle and upper managers. She also provides career coaching, organizational development consulting and employee training in communications, team building, conflict resolution and professionalism.
"My job has a lot of variety and diversity," said Donovan. "It's a lot more than just a training role. I see myself as more of a problem solver."
Surprisingly, she did not start out wanting to pursue career training and coaching. When she graduated from California State University at Fullerton with a bachelor's degree in vocal music, Donovan had aspirations to be an opera singer. However, she developed vocal problems and could not continue with music. Fortunately, she had a part-time job at Disneyland in her hometown of Anaheim, California, where she was able to pursue her second passion, which was writing.
At Disney, Donovan pursued writing opportunities and wrote for the company newsletter. She worked her way up to communications manager and began teaching communications in the Disney University, the global training center for Disney employees. Eventually, she was promoted to senior manager of the Disney University. That was when she realized that teaching is what she wanted to do with the rest of her life.
"I've known people who have come into training by accident or from some other direction in their careers," said Donovan. "They land there and they think, 'This is it. This is what I want to do.' I'm fortunate to be one of those people."
After being at Disney for more than 20 years, a former colleague asked if she would be interested in taking a job with the 1996 Summer Olympics in Atlanta as "Manager of the Look of the Games." Donovan would be responsible for developing the theme and brand of the games. She jumped at the opportunity.
"It was an opportunity to use my communications background. Also, I don't know what else to do after Disney than to go work for the Olympics!" said Donovan.
After working in Atlanta for two years, Donovan moved to Houston. She worked at the University of Texas Health Science Center and later at M.D. Anderson Cancer Center, where she specialized in creating and implementing employee training programs for both organizations. She also did independent consulting at organizations such as NASA, ExxonMobil, Roche Pharmaceuticals and Phillips 66. Despite all her success in implementing organizational development programs, Donovan had little time for her true love: teaching. That was what motivated her to apply for an opening at UH for a senior training specialist.
"I think that now I've come full circle. Sometimes when you move up in management, you stop doing the very thing that got you involved in the first place," said Donovan. "I enjoyed my years in leadership, but I realized what brings me to work every day is the training and the coaching. I've done all I want to do in leadership, and now I can teach leadership."
Donovan said that what she loves most about her job is watching the long-term impact her lessons have had on leaders in the workforce. She keeps in touch with many of the people she's mentored and still receives feedback over how her lessons have helped their careers blossom.
"I've had so many people tell me over the years, 'Once you gave me advice on this or that, and I never forgot it,' " said Donovan. "Hearing stories like that are what make my work so fulfilling."
When she's not working, Donovan devotes her time to helping people with spiritual development. She spends a lot of time volunteering with her church and doing community service, and she is currently pursuing a master's degree in theology.
"In community outreach, I've met many people who are struggling in life, and I believe that faith is a strong tool for getting through hard times. So to be of more help to underprivileged communities, I've begun studying theology," said Donovan.  "Who knows? Maybe after I retire, I'll start a new career as a pastoral counselor."