A&F
A&F office staff help arrange yearbook donation
By Cindy Granier
A little piece of University of Houston history has been saved, thanks in part to the efforts of Administration and Finance staff members.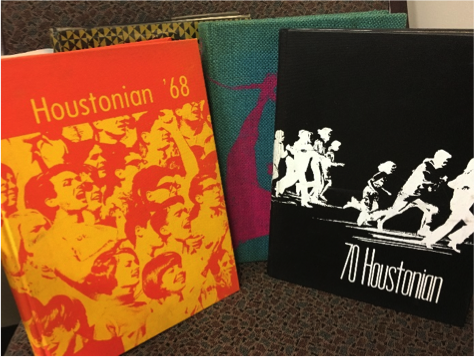 During the spring semester, the A&F Division office in E. Cullen received a telephone call from a woman named Nancy Jowers who had four UH yearbooks dating from 1967 to 1970 that she wanted to donate to the University.
The woman had spotted a man throwing away the yearbooks. She decided to rescue them from the trash and see if anyone at UH was interested in having them. She started calling various numbers, which is how administrative assistant Cindy Granier ended up talking with her.
After making some more phone calls and doing some research, Granier made plans to meet Jowers and receive the yearbooks.
"I really enjoyed the visit. Nancy is very personable and friendly. I'm happy I was able to accept her donation on behalf of UH," Granier said.
She arranged for the books to be donated to the Alumni Center. Before that, however, Assistant Vice Chancellor/Assistant Vice President for Public Safety and Security Malcolm Davis and others enjoyed looking at the yearbooks.
"It was really interesting looking through them and seeing how things have changed on campus over the past 49 years," Granier said.