Facilities Management
Renovations give new life to Cullen Performance Hall
By Jessica Mize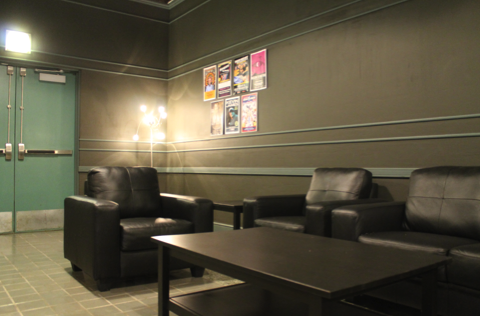 From newly refurbished walls to fresh coats of paint, the inside of UH's Cullen Performance Hall recently received a bit of a facelift.
Over the last few months, UH's Sports and Entertainment department, which now oversees the booking and management of the hall in addition to other spaces and venues on campus, made a push for the renovations in preparation for the myriad of shows and performances that are scheduled throughout the spring.
"Lots of work was done throughout the building," said Robert Guillen, associate director of booking for Sports and Entertainment. "Light fixtures were replaced throughout the theater's hallways, the food and beverage lounge in the basement was completely redone with new paint and furniture and six dressing rooms backstage were painted and had new ceiling fans installed, so we've definitely been busy."
The team is especially proud of the lounge, which, depending on the event, offers visitors everything from sodas and snacks to beer and wine. Theater patrons can visit the lounge to purchase refreshments or just use it as a place to relax before the show or during intermissions. Feedback about the revamped space from guests thus far has been nothing short of positive.
"People have been surprised by the lounge downstairs," said Guillen. "It's definitely getting a lot of use."
Originally opened in 1950, the hall was intended to host shows and acts similar to what Houstonians could see at the Houston Music Hall, a venue that was located where the Hobby Center for the Performing Arts now stands.
A wide variety of comedians, lecturers and entertainers including Cyndi Lauper, Spike Lee and Tracy Chapman have performed in the nearly 1,600-seat building and it's the goal of Sports and Entertainment to once again fill those seats. With big-name acts like Kevin James and Craig Ferguson already booked through May, Guillen and his team are working hard to achieve that goal.
"At the end of the day, our job is to enhance UH's image and standing by booking popular, must-see shows and events in on-campus venues," said Guillen. "These renovations help that cause, as every change we've made has helped make the theater more enjoyable and attractive for patrons and performers alike. Although we've already made lots of progress, our work is not yet done."