A&F
UH Public Art Day promises fun for everyone
By Richard Zagrzecki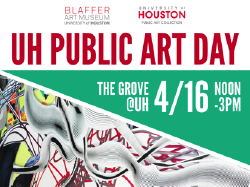 The public art collection at the University of Houston will be the center of attention during the upcoming UH Public Art Day.
The event, slated for Saturday, April 16, from noon to 3 p.m., will include tours of the public art collection, as well as music, entertainment, food and children's activities. It will take place in the UH Art District's Wilhelmina Grove, near the Cynthia Woods Mitchell Center for the Arts and Moores Opera House.
The UH Public Art Collection and Blaffer Art Museum's Studio Saturday are the hosts.
The University of Houston Public Art Collection comprises more than 500 works across the UH System, including nearly 300 pieces found on the UH campus. The collection contains works by local, regional, national and international artists, across all forms of media and style.
During the event, tours of a select group of pieces from the public art collection will take place every 30 minutes from noon to 2 p.m.
Two art activities are planned. One will allow children and families to decorate kites that they can take home. The other will allow participants to design an artwork that is part of a collaborative mural to be displayed after the event in the café area of the Blaffer Art Museum.
During the first hour of the event, catered finger foods will be available for guests to enjoy. Attendees can also purchase items from the Bonjour Creperie food truck. Performances by student musicians and dancers are scheduled to take place, including members of dance improvisation class from the UH School of Theatre and Dance.
Guests are asked to click here to RSVP for planning purposes only.