John Dye Sr., Brother of Ezekiel Dye Sr.
John Dye, Sr., brother of Ezekiel Dye, Sr., married ____ Mount before 1774 (in New Jersey). [There were two Mounts (James and William who served with Ezekiel Dye in Captain Robert Nixon's Troop of Light-Horse during the Revolutionary War and she may be related. ] It is thought that she was born in New Jersey. Her death is recorded as in 1780 in Prince William County, Virginia (??). John Dye Sr.'s sister Patience Dye also married a ___ Mount.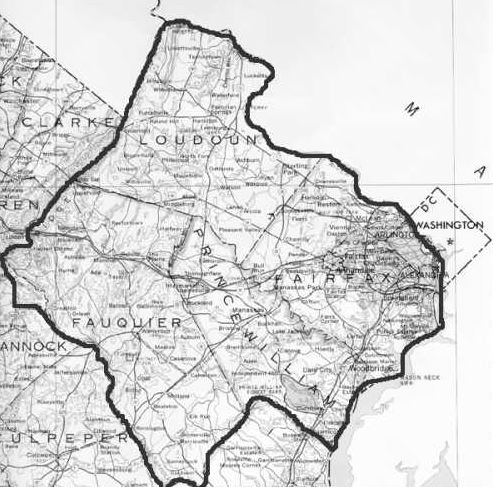 John Dye probably moved to Virginia (red dot on the map above) sometime after 1774 but before 1776. His uncle, Vincent Dye, died in Prince William County in 1796 but probably did not move there until ~1782. John Dye Sr. may have been the point of contact for his uncle Vincent.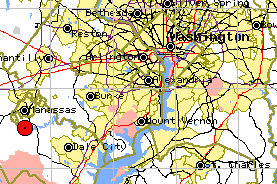 John Dye Sr. was a private under Captain Richard Johnston in the Virginia Burggees Soldiers of 1776 and is on the 1783 and 1805 Prince William County, Virginia tax rolls.
In the early 1800s two of his older sons, John and Samuel migrated to Washington County, Ohio. John and Elizabeth Caywood Dye (his second wide) and their younger children followed the older boys to Washington County around 1807. John Dye Sr. died in 1822/3 in Washington Co., Ohio during the "sickly years".
His cousin, Daniel Dye, first son of Vincent Dye, uncle of John Dye Sr., moved with his family to what is now known to be Monroe County (north of Washington County), Ohio at about the time John Dye Sr. was moving his family to Washington County.
After becoming disatisfied with slavery, John's sons John and Samuel and their families moved to Duck creek, Fearing Township (where Samuel Moffit Dye was born to son John and his wife) in 1806. By 1807 they moved on to Lawrence Township where they were joined by their father and the rest of the family -- including the Hoff's.
When John Dye and his sons moved to Washington County, Ohio the nearest post office was Marietta and the tract of country toward the north was an unbroked wilderness. Domestic animals were in constant danger, and even the children were unsafe beyond the sight of the cabin. In dry weather the nearest well was at Devol's dam (was this the Devol who married Mary Polly Dye, daughter of Ezekiel Dye?) which could only be reached by following a cow path through the woods.
The families of the brothers John and Ezekiel intermarried as is depicted in the following descendant's chart
There were two sons reported for the Dye-Mount marriage -- John Dye (2, for internal reference) and Thomas Dye
John Dye 2 was born in 1774 in Middlesex County, New Jersey and died in 1823 in Washington Co., Ohio. He migrated at an early age with his father to near where the first battle of Bull Run was fought. Ezekiel Dye was his uncle. He married Hanna Hoff (born in 1774 in New Jersey and died in 1857 in Washington Co., Ohio. [She was the sister of Susan Hoff who married John Dye 2's half-brother Samuel. John Dye 2 and his half-brother Samuel emigrated from Virginia (near Manassas) and settled near Cow Run, in Washington County, Ohio in 1805, located in what would become Lawerence Township. This represented a move of about 220 miles. Their route is unknown but it is possible that they came through the Greene County area prior to returning to Virginia for their families.

Thomas Dye was born in 1776 in New Jersey and died in 1858 in Meigs Co., Ohio, near the present day "hamlet" of Meigsville, Ohio. Sherry Rathbun Neff (Sherneff44@aol.com) shared the following information about Thomas. "Dye Data informs us that at age 18, Thomas settled near Baltimore, MD, hauling goods from Baltimore to Pittsburg, Pa and to Marietta, OH in a freight wagon called "The Old Penn Wagon". Thomas Dye married Jane Mankin. It is believed that Thomas settled in Williamstown, West Virginia, across from Marietta prior to 1806. Thomas then moved his family to Belleville in Wood County, West Virginia (Parkersburg) when his son Martin was 12 years old -- 1813. Around 1819 he moved into Meigs Co., Ohio. "

According to Silas Thorla, Furmin Dye told him that a "Tom" Dye settled in Parkersburg, West Virginia. "He was a "wild one", something like a typical cowboy. He would hit the settlement with a whoop and a hurrah riding an Indian pony. Long live the Dyes!"

John Dye Sr., then married Elizabeth Caywood (who was born in 1754 in Virginia) before 1780. A total of 9 children were born to Dye-Caywood.

Samuel Dye was born February 2, 1780 in Pr. William Co., VA and died September 26, 1860 in Lawrence, Washington Co., Ohio. Ezekiel Dye, Sr. was his uncle. Samuel Dye married Susan Hoff before 1799 in Prince William Co., VA. [Susan Hoff was born in 1776 in Prince William County, Virginia and died on December 13, 1847 in Lawrence, Washington Co., Ohio. She was the sister of Hanna Hoff who married Samuel's half-brother John Dye. Susan Hoff is listed as the second daughter and sixth child of Rev. Daniel Hoff, a farmer near Alexandria, VA. ] Samuel and Susan had 10 children.

Jane (Jenny) Dye - born ca 1780 in Pr. William Co., VA. Married Henry Chamberlin and she died in 1819 in Washington Co., Ohio

Ezekial Dye - born on 1782 (July 4) in Pr. William Co., VA and died in 1842 in Washington Co., Ohio. Ezekiel Dye, Sr., was his uncle. He married (1) Phebe Davis and (2) Elizabeth Spencer

Jonathan Dye - born in 1787 in Pr. William Co., VA and died in 1851 in Washington Co. Ohio. He married (1) either Catherine Weekly or Betsy Duncan and (2) Fanny Caywood

Mary (Polly) Dye - born in 1789 in Pr. William Co., VA and died in Washington Co., Ohio. She married James Hoff (the brother of Hannah and Susan Hoff from Virginia)

Elizabeth (Bettie) Dye - born in 1791 in Pr. William Co., VA and died in Washington Co., Ohio at a very young age.

Sarah (Sallie) Dye - born in 1792 in Pr. William Co., VA and died in Washington Co., Ohio. Married (1) Thomas Worthington and (2) James Britton.

Patience Dye - born in 1794 in Pr. William Co., VA and died in Washington Co., Ohio. Married John Caldwell.

Amos Dye - born in 1796 in Pr. William Co., VA and died in 1876 in Washington Co., Ohio. Married Maria Taylor/Tyler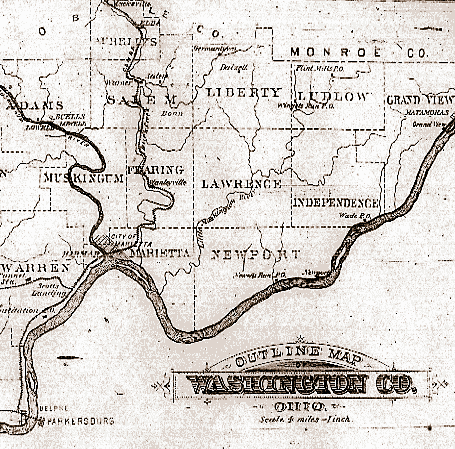 Township Map of Washington County, Ohio
Use the RETURN arrow on your browser to return to where you requested this link