Some Recollections of the American Revolution as Told to His Youngest Son, Furman Dye, by Ezekiel Dye, Sr.
[From Recollections of Old Renrock]
A supplement on Deys and Dyes in the Revolutionary War "As previously stated, Ezekiel Dey (Dye) was a Private in Captain Nixon's [other sources state it was a Captain Dixon but Stryker says it was Nixon] Troop of Light Horse, New Jersey Militia. He enlisted February 1, 1777 and was discharged April 1, 1779."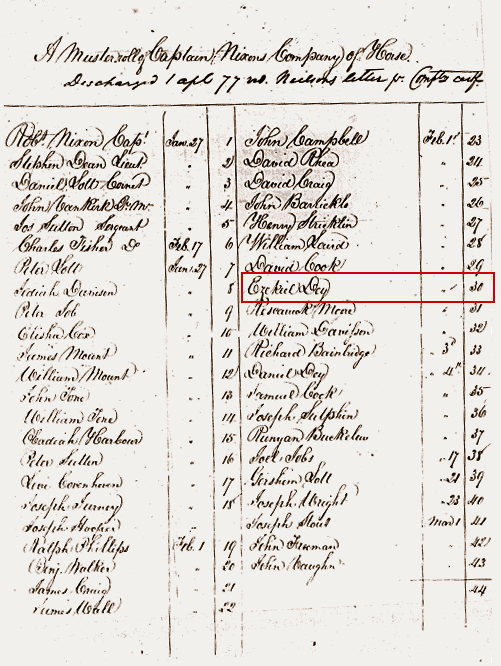 The following letter of Furman Dye has been recopied from a D.A.R. Application made in 1921 by Nellie Dye Mellinger. (She was the daughter of Wm. Emmett Dye, son of Benjamin Davidson Dye, son of Thomas Dye, who was the son of Ezekiel Dye, Sr. It should be noted that Benjamin Davidson Dye was the first white born in what became Renrock, Ohio). W.W. Dye of Columbus made this available to us. "As evidence of his service, the following extracts taken from a letter written by his son, Furman Dye, are submitted. In this he mentions various incidents he had heard his father relate to his children regarding his service as a soldier in the Revolution.
"Father was a Revolutionary soldier, and although I was only ten and a half years old at the time of his death, his recital of the incidents and experiences that he passed through as a soldier is fresh in my memory. He belonged to the "Light Horse" and his Captain's name was Nixon. He was at the battle of Monmouth and after the battle was detailed to help bury the dead. He told how they dragged the dead through a fence and how the rails were stained with blood. This seemed horrible to me. The battle was fought on a very hot day in June and father told how the soldiers suffered with the heat and thirst and that on the march to Monmouth they stopped in a grove to water. While on the march an old woman came out with sweet cakes in her apron and offered Washington some. He thanked her for them, but did not eat any being afraid of treachery and poison. He also told of how Lee disobeyed orders and how angry Washington was when he came up and how he put Lee under guard. Besides the Battle of Monmouth father was in a number of other slight skirmishes." He also mentioned other incidents which show what an impression the stories of his father made. He also states that he had the bullet molds which his father used while in the army.
The Battle of Monmouth
| | |
| --- | --- |
| | |
| | |
| The countryside consists of gently rolling hills | The park is in the process of restoring the area to match the vegetation that existed in 1778 |
| | |
| The old Perrine house on the Battlefield | A marker honoring the patriots who fought in the Battle of Monmouth. Mounted on the side of the Old Tennent Church which is just outside of the park boundary. |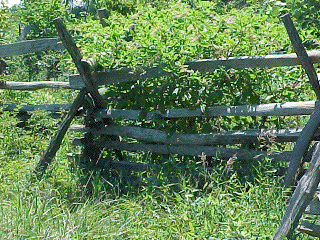 Ezekiel Dey told his son Furman about dragging the dead through a fence and how the rails were stained with blood.

[Note that the Ezekiel Dye, Sr. - Furman Dye father-son reflect a time span from 1750 to 1902 -- 152 years. Furman himself was quite a remarkable and highly respected citizen of the community as reflected in the following article which first appeared in the Zanesville Signal in 1902.

"The late Furman Dye of Renrock, whose death was noted in Tuesday's issue of the Signal, was one of the best known residents in this part of the country, and a most interesting character".

[the next four paragraphs are about Ezekiel Dye, Sr. and add nothing to what has already been published in this source.].

"The life of Furman Dye is full of interesting incidents. His father died when he was under 12 years of age. In his young manhood he taught school. Mr. Dye was a brilliant conversationalist and could relate scores of interesting incidents of the days when schools were held in log cabins in the woods. Indian stories were also frequently told by him and incidents od deer hunting, these animals being abundant in this part of the country in his boyhood. He earned money by teaching to pay his way at Marietta, Granville, and Cincinnati Colleges. He took a medical course and studied medicine for several months under the late Dr. Hildreth of this city. He never practiced medicine, however. He married Miss Lucy McElroy of near Cumberland (Ohio) on April 15, 1846.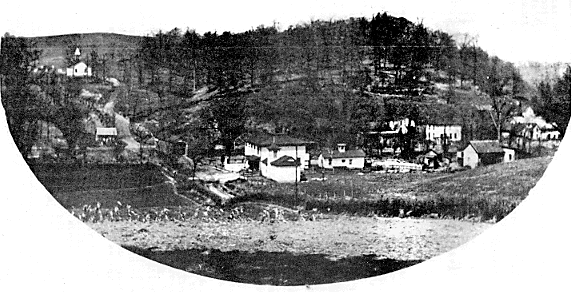 After his marriage, he entered the mercantile business at Renrock and Woodgrove. [The Renrock General Store was eventually sold to Samuel J. Paxton. The date of the purchase of this store is unknown to the writer. Is know that Samuel's father, Samuel Dye had relocated his family (including Samuel J.) from Lancaster County, PA to McConnellsville, Ohio, in 1830.

Frequently Mr. Dye hauled goods overland from Zanesville. He engaged in farming shortly before the War which occupation he continued until his retirement in 1892. He was the first postmaster at Renrock and held this position again under Cleveland's administration.

Mr. Dye was a lifelong Demcrat and often ably espoused the Democratic principles in debate. He refused the nomination for Congress when it meant election. As a speaker he acquitted himself with credit ...

The decreased debated many times with Attorney Ben Power, formerly practices law in this city. Mr. dye was opposed to the war of the rebellion and while condemning slavery, held that each state had a right to regulate the question for itself. He was always well informed and was a constant reader of periodicals.

Mr. Dye was known throughout southeastern Ohio as "Uncle Furman Dye". Mr. and Mrs. Dye were among the original members of the Renrock methodist Church, only three of four of whom are now living. Mr. Dye's chief church work was in the Sunday School where he taught the Bible Class for more than a score of years.

Seven children were born to Mr. and Mrs. Dye, four of whom are living. Those who survive are Mrs. L.M. Carr, Coshocton; Mrs. J.A. McCLelland of Cumberland, C.O. Dye of Cladwell and Forrest Dye of Zanesville. Wayland, Henrietta, and Courtland died twenty years or more ago. Mr. Dye was ill but a short time having been apparently hale and hearty until quite recently.

The funeral was held Wednesday afternoon at 1:00 o'clock at the Renrock M.P. Church. Rev. Mr. Wells conducted the services.
A Tribute to Furman Dye
Written shortly before his death
Furman Dye, our oldest citizen here, is the possessor of probably the oldest document of the kind held by anyone in this community. It is the Patent conveying 640 acres of land (Sec. 32) from the U.S. to Ezekiel Dey, a native of Westmorland County, Pa.
The name has since been spelled "Dye" and in some localities "Dey" while in others it held to the original. It is plainly printed on the parchment signed by President James Madison in the year 1812. With the exception of seal being nearly all gone and the parchment somewhat eater, it is in good state of preservation. One thing noticeable about it is that but little change or improvement has been made in the style and form of printing during the lapse of nearly a century, which in many other arts the wheels of progress have wrought radical changes.
Another interesting fact in connection with this land deal is that the first field which Mr. Dye cleared out (on the creek bottom one-fourth mile above here) has never been plowed.
Ezekiel Dye who was a soldier in the Revolution and in the battle of Monmouth was the father of nineteen children of whom Furman Dye is the only survivor. Mr. Dye has passed the eighty second milestone of his life is still hale and hearty, a brilliant conversationalist, and keeps posted with the times. He still enjoys relating incidents of "ye olden times" especially snake and Indian stories. Around the cheerful hearthstone with his amiable companion is found a pleasant resort for both young and old.