---
FEBRUARY 2022 - IN THIS ISSUE
---
DIRECTOR'S LETTER
With determination and resilience, traits tested and hard-won over the past two years, we head into 2022. I recently saw Texas described as "both the center of America and a lens into its future." This description is even more apt when applied to Texas' offshore energy industry. Over the past year SSI has been continuing to do the work to improve safety and efficiency of offshore energy development, working hand-in-hand with our industry partners to develop technologies and research programs that will lead us into a brighter future.
Over the last year we concluded our research on Hydrocarbon Influx Behavior within a Deepwater Marine Riser (AKA Gas-in-Riser Detection), which culminated with presentations to SPE, NAS and OTC. The novel technique has great potential to avoid future Macondo-type incidents.
Last year we also launched and continue to work on six different innovative projects in the areas of offshore power and integration of renewables to oil and gas operations, robotics for asset integrity and normally unattended facilities, related robotics issues such as communication, buoyancy control and batteries, as well as remote leak detection. We are looking forward to announcing a Request for Proposals later this year to fund more research critical to our mission.
In 2021 we continued to make strides with our Workforce Development program launching two courses – one on Carbon Capture Utilization and Storage and one covering the Hydrogen Economy. Visit our website for a full list of upcoming offerings.
The Power Electronics, Energy Storage, Microgrids and Subsea Electrical Consortium celebrates two years this January and welcomed Siemens and ExxonMobil to its membership in 2021.
And lastly, a bitter sweet adieu to Stephanie Coates, an important part of the standing-up and growth of SSI, will be leaving UH and SSI at the end of January 2022 for a role close to her heart in the sustainability world. We wish her the utmost success in her future endeavors and thank her for her years of dedicated service to SSI and UH.
We sincerely value the efforts and engagement of all our Advisory Board Members and as conferences resume in person, we hope to see you there.
Stay safe and be well,
Ramanan
---
RESEARCH: RECENTLY CONCLUDED
Hydrocarbon Influx Behavior within a Deepwater Marine Riser (AKA Gas-in-Riser Detection)
Andrea Prosperetti
UH

| Ramanan Krishnamoorti

UH

| Konstantinos Kostarelos

UH

| George Wong

UH

 

Project Focus: Gas-In-Riser Detection

In 2017, SSI received funding from National Academies of Science to study the dynamic effects of free‐bubble gas formation within deepwater marine drilling risers – a major issue for the offshore industry and emphasized in the CSB Macondo report. Over the past four years, researchers have:
Elucidated the reason for the destructive potential and seemingly sudden nature of gas kick events
Developed a new fast and sensitive detection method
Carried out experimental demonstration
Developed guidelines for implementation
The work produced several papers and in 2021 was highlighted at SPE, NAS and OTC. Please contact SSI at jtan4@central.uh.edu if you would like more information about this work.
Zhou, Guangzhao , Leach, Colin , Denduluri, Veerabhadra S., Wong, George K., Amritkar, Amit , Krishnamoorti, Ramanan , and Andrea Prosperetti. "Pressure-Difference Method for Gas-Kick Detection in Risers." SPE J. 26 (2021): 2479–2497. doi: https://doi.org/10.2118/205362-PA
Leach, C., Zhou, G., Denduluri, V., Wong, G., Krishnamoorti, R, Prosperetti, A. A new fundamental understanding of gas in the drilling riser, Offshore Technology Conference, 2021, https://doi.org/10.4043/31248-MS
Zhou, G. and Prosperetti, A. Violent expansion of a rising Taylor bubble, Physical Review Fluids, 2019
RESEARCH: ONGOING
In 2021, SSI launched six projects targeting early-stage research (TRL 1 through TRL 3) addressing life extension and offshore asset integrity monitoring, power systems and robotics/automation for offshore. Please visit our website SUBSEASYSTEMS.INSTITUTE and/or contact SSI at jtan4@central.uh.edu if you would like more information on any of the ongoing work.
These ongoing projects were paid for [in part] with federal funding from the Department of the Treasury under the Resources and Ecosystems Sustainability, Tourist Opportunities, and Revived Economies of the Gulf Coast States Act of 2012 (RESTORE Act). The statements, findings, conclusions, and recommendations are those of the author(s) and do not necessarily reflect the views of the Department of the Treasury.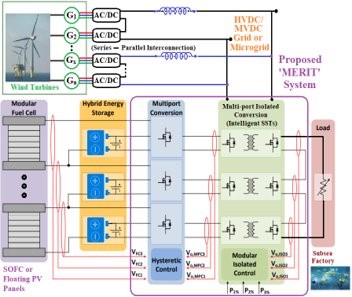 Multi-Port Energy Router Using Intelligent Transformers (MERIT) to Interconnect Renewable Resources and Subsea Oil & Gas Factories via High-Voltage Direct Current (HVDC) Link
Harish Krishnamoorthy

UH

| Kaushik Rajashekara

UH
Project Focus: Power and integration of renewable resources for subsea loads
Overarching Goal: To design and develop a Multi-Port Energy Router Using Intelligent Transformers (MERIT) system for integrating renewable energy sources, energy storage and the Medium-Voltage Direct Current (MVDC) grid with the subsea loads. The project also explores the control strategy of the MERIT system to reduce the intermittency of the renewable energy sources, in order to ensure the safety and stability of the grid interconnection. Another goal is to assess the performance of Coupled Inductor Hybrid Circuit Breaker (CIHCB) Topology with integration of Resistive-Superconducting Fault Current Limiter (R-SFCL).
Industry Impact: The MERIT system incorporates features like instantaneous voltage compensation, power outage compensation, fault isolation, and bi-directional power flow capability. Widespread implementation of the developed synergies will improve the economics of both renewables and oil/gas projects and can lead to over 50% reduction in the emissions caused by the activities in oil and gas production.
Key Findings:
Obtained the load profile of a typical subsea field. To supply the power to the subsea field, the required number of wind turbines and backup energy sources were determined
Developed electrical architecture of a subsea field with an energy router to interface wind power and backup energy sources
Multiport Energy Router (MER) was realized by using series-parallel combination of medium frequency based Triple Active Bridge Converters to achieve considerable reduction in footprint in the offshore platform
Developed energy management scheme for the MERIT system facilitates. The intermittency of the wind power can be mitigated
Optimized number of the wind turbine, solar panels, wave energy converter and battery storage capacity to operate the MERIT system autonomously. Cost of the generated renewable energy will be minimum due to the adopted optimization technique
Proposed a control scheme for the MER for controlling the power flow among the ports
Verified the performance of R-SFCL integrated coupled inductor hybrid circuit breaker (CIHCB) topology
Considering the fast response times and reduction in ratings of main breaker, integration of R-SFCL with proposed DC circuit breakers is an optimal solution for protection of subsea HVDC systems
---
Developing Bio-Inspired Buoyancy Control for Subsea Service AUVs
Zheng Chen

UH

| Fathi Ghorbel

RICE
Project Focus: Autonomous Underwater Vehicles (AUVs)
Media Assets:
Overarching Goal: This project aims to develop more efficient and automatic bio-inspired buoyancy control for an underwater service robot that can adapt its volume to achieve neutral buoyancy state and change its orientation.
Industry Impact: Constantly monitoring and repairing subsea infrastructures and equipment play important roles in extending the lifetime of multi-million-dollar offshore assets. Decommissioning of offshore assets also calls for underwater service robots to disassemble the subsea infrastructures and cleanup the sea floor environment.
Fine distributed buoyancy control, which is not feasible with current thruster/ballast mechanisms, will enable adaptive maneuvering and forceful interaction with the environment in confined spaces similar to how marine swimmers do. A combination of the traditional thruster/ballast mechanism for gross buoyancy and motion, and the proposed soft robotics mechanism (fuel cells/water electrolysers) for fine and distributed buoyancy will undoubtedly provide AUV's with unprecedented capabilities. The broader impact of this research includes the opportunities created in exploring and expanding solid state fuel cell/electrolyzing technology as a soft robotics mechanism to address immediate exploration and production challenges in the Gulf of Mexico. The results of this research will be valuable not only to international deepwater oil and gas markets, but also to subsea renewable energies and subsea mining.
Key Findings:
Developed a prototype BCD
Developed a single-loop control of BCD
Designed and fabricated a service robot using 4 BCDs for depth and orientation control
Developed a 6-degree of freedom dynamic model of service robot
Developed an adaptive control for service robot
Simulated the control system
Demonstrated in water tank lab test
---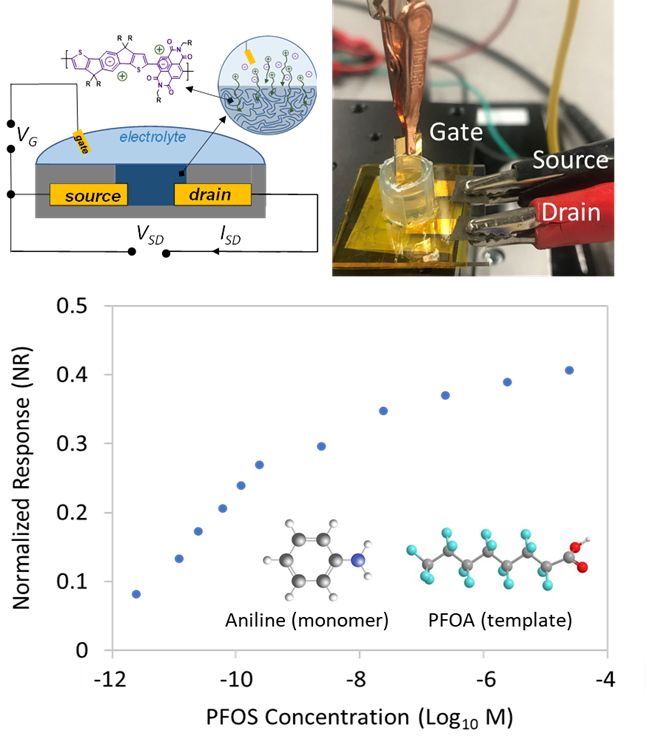 Sensors Based on Organic Electrochemical Transistors (OECTs) for Deep Sea Leakage and Chemical Detection
Haleh Ardebili

UH

| Rafael Verduzco

RICE
Project Focus: Leak detection
Overarching Goal: Design, fabricate, and model compact, low cost and autonomous chemical sensors for early detection of leakages and spills in subsea applications. The proposed subsea sensors are based on organic electrochemical transistors (OECTs). OECTs are thin-film organic electronic devices that can operate in water and be modified to detect target molecules, and they have been used in a wide variety of biosensing applications. They have three electrodes (drain, source, and gate) and operate by measuring changes to the source-drain current. The source-drain current is very sensitive to changes in the gate voltage, enabling sensitive detection of molecular adsorption to either the gate or the channel. In order to achieve specific detection of target molecules, polyaniline molecularly-imprinted polymer (PANI-MIP) is integrated with OECTs. The MIP binds to target molecules, immediately producing an electronic signal as a change in the source-drain current.
Industry Impact: The sensors will enable more rapid detection of leaks and contaminants during deep sea operations. The proposed compact and easy to fabricate sensors will result in low-cost devices that can be fabricated to scale and replaced when necessary.
Key Findings:
The OECT sensor is a reliable and economically efficient method to detect oil spills and leakage in subsea application
Hydrocarbon-based materials such as methanol, ethanol, propanol, and butanol are detected in seawater solution in a concentration range of 0.01 M to 7 M
Developed Polyaniline molecular imprinted polymer (PANI-MIP) demonstrates promising performance for target detection. The PANI MIP gate electrode could detect the PFOA in the wide dynamic range as low as 10 -12 to 10 -4 M with a limit of detection of 10 -11 M concentration of PFOA
---
Asset Integrity of Valves and Bolted Connections
Zheng Chen

UH

| Gangbing Song

UH
Project Focus: Robotics for asset integrity
Media Assets:
Overarching Goals:
To develop transformative robotic valve and pipeline inspection technology that will lead to an efficient and cost-effective system for topside valve inspection and maintenance that can extend the lifetime of existing oil platforms
To develop robotics enabled percussion approach to subsea connection inspection in and out of water
Industry Impact: A timely inspection of infrastructure, especially topside valves in platforms, is key to extending the lifetime of an offshore asset. Current inspection techniques often involve trained human operators and require excessive amounts of time and money. With state-of-the-art robotic and inspection technologies, such limitations may be remediated and a much-needed extra layer of safety will be added. Robotic enabled valve maintenance not only reduces costs and increases accuracy, but also prevents workers from contacting the leaking valves. Robots do not experience fatigue or lose concentration and can work continuously, and in general robotic approaches are effective and less prone to error.
Combining this work with percussion holds much potential in monitoring the looseness of subsea bolted connection due to its simplicity and suitability with robotics integration.
Key Findings:
Demonstrated stair climbing using mobile platform
Developed feedback control on the tool for valve operation and inspection
Tested lane tracking algorithm on mobile platforms
Upgraded the learning rate of Yolo machine learning
Developed a k nearest neighbor (KNN) based machine learning approach, a convolution neural network (CNN) based deep learning approach and a recurrent neural network (RNN) based deep learning approach to in-water impact-induced sound signals:

The KNN can reach high prediction accuracy using one dataset for training and testing
The CNN model improves the in-air prediction accuracy using different datasets for training and testing
The RNN model further improves the in-water prediction accuracy using different datasets for training and testing
It is feasible to utilize the percussion-based approach for monitoring of underwater flanges

Classified flange looseness status to 5 classes using the proposed approaches
---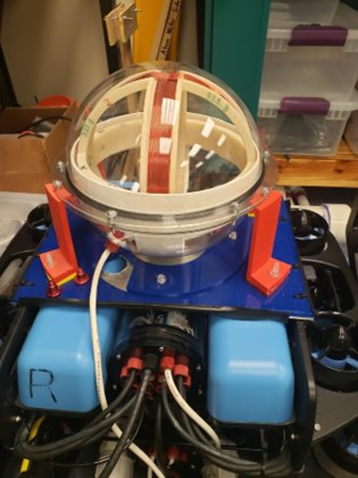 High Accuracy Localization and Underwater Communication
Aaron Becker

UH

| Julien Leclerc

UH

| Miao Pan

UH
Project Focus: Robotic communication and localization
Overarching Goal: To produce theoretical and experimental insight towards the use of triaxial coil antennas and acoustic communication to aid with subsea docking, localization and communication.
Industry Impact: The predominant localization technology (electro magnetic) has shortcomings, including low range due to high attenuation and potential interference from metallic structures. Triaxial magnetic induction (MI) coil antennas for localization at short distances between robots are affordable to produce and deploy (no moving parts), and have strong, high bandwidth signals that do not require line of sight. Their unique capabilities may be particularly suited for missions that require robots to dock with subsea structures.
Key Findings:
Magnetic induction and acoustic transmissions are complementary methods for underwater communication and localization
The position of an underwater robot can be obtained using magnetic induction with a particle filter
Electric motors produce electromagnetic noise that can be attenuated using a multi-feedback filter and/or shielded using conductive materials
MI coils can be used to detect metal structure at short range by detecting a change of inductance
---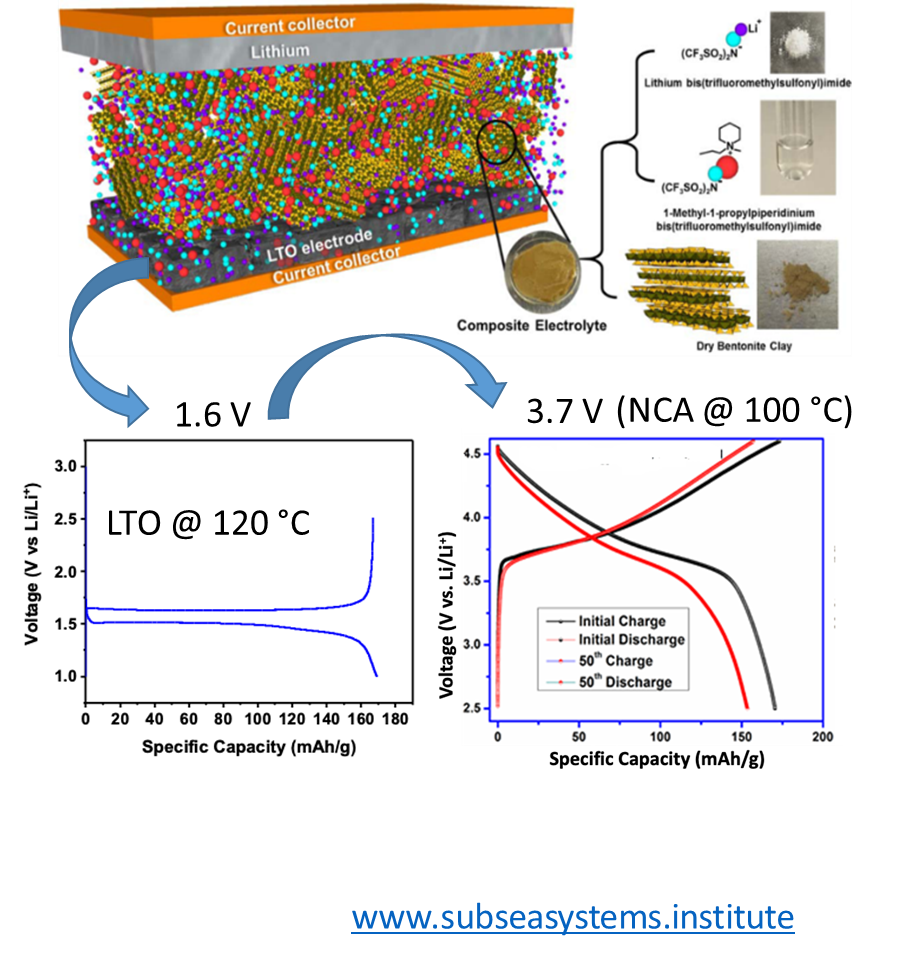 High-Energy and High-Power Quasi-Solid State Lithium Batteries for Subsea Applications
Pulickel Ajayan

RICE

| Babu Ganguli

RICE
Project Focus: Batteries for subsea applications
Overarching Goal: Fabrication of quasi-solid state lithium battery by balancing power and energy to be operable at wide temperature range and high pressure making the devices safer and more reliable for extended operation.
Industry Impact: Materials and devices used in oil and gas (O&G) production and exploration experience extreme environmental conditions. With the continuous upsurge in demand for autonomous devices, there has been an increased need for energy storage systems that is high-energy and high-power that can operate safely under the most aggressive conditions.
Key Findings:
Identified high voltage cathode – High Energy Density
Cycling studies of quasi solid-state electrolyte with lithium
RESEARCH: UPCOMING
Watch SSI's "Funding Opportunities" page for more details on a soon-to-be announced request for proposals (RFP). The mission of SSI is to improve safety and efficiency of offshore energy development by facilitating engineering, science, and policy research and through third party unbiased validation of technology and practices. As such, SSI Research Grants are designed to seed innovative research that can positively impact safe and reliable exploration and energy production in the Gulf of Mexico.
Please visit our Funding Opportunities page SSI FUNDING OPPORTUNITIES and/or contact SSI at jtan4@central.uh.edu if you would like more information on any of the proposed upcoming work.
WORKFORCE DEVELOPMENT
SSI's Workforce Development Program continues to gather feedback from our advisory committee as we strive to develop curriculum for programs that meet the industry's need for people with the skills that can drive economic development in Texas and along the Gulf Coast. SSI plans to assess each course after they're launched to gauge the effectiveness of the programs. Results will be published as available.
All the curricula will be interdisciplinary, developed jointly with SSI faculty and industry experts, and offered in roughly 15-hour courses (2-3 hours/week for 6-7 weeks) with the opportunity to stack courses together allow learners to tailor their learning experience.
In October of 2021, SSI finalized its Carbon Capture Utilization and Storage (CCUS) curriculum. CCUS is not simply an option but recognized by the International Energy Agency and the US Department of Energy as a requirement to provide necessary impact to the de-carbonization of our society. The course addresses real-world project case studies, foundational aspects of the value chain the global market framework, capture technologies, transportation, storage and utilization with special attention to offshore aspects of CCUS. UH Energy offered the first CCUS course in the fall of 2021 to a cohort of 25 participants. When surveyed, 100% of respondents said the quality of the course was "Above Average" or "Outstanding."
In February, SSI will finalize curriculum on the Energy Value Chain and the Hydrogen Economy. UH Energy expects to offer the courses starting February 16.
Below is the full list of slated curricula to be developed – visit UH Energy's MICRO-CREDENTIALING HUB for more information:
February 2022

Energy Value Chain

February 2022

The Hydrogen Economy

March 2022

Polymers for Extreme Environments

April 2022

Electrical Engineering for Mechanical Engineers

June 2022

Upstream Energy Data Analytics

September 2022

Robotics and Automation

September 2022

Offshore Wind in the Gulf of Mexico

May 2023

Innovation and Entrepreneurship

July 2023

Risk Management
INDUSTRY ENGAGEMENT
PEMSEC (Power Electronics, Energy Storage, Microgrids and Subsea Electrical Consortium)
PEMSEC was officially formed on January 1, 2020 with four members and one principal member and has grown to seven members and one principal member. The consortium has focused on research in the area of subsea power distribution and protection, renewable energy for subsea loads, and high efficient power conversion for motor loads as well as electric heating of pipes to prevent hydrate formation. In 2022, PEMSEC will continue to work on grid integration of offshore renewable energy sources for powering the subsea electrical loads, high efficient power conversion and control strategies for subsea electric motors, and on the effect of long cables on the subsea motor drives. Under continued guidance from the consortium members, additional topics will be identified to ensure relevance of the research to industry needs.
For more information, please visit: PEMSES.ECE.UH.EDU/PEMSEC
---
Meet SSI at These Upcoming Industry Events:
EXTRA CREDIT READING