Letter from the President
Dear Cougars and Friends,
Although I've served in academia for more than three decades, I am still filled with enthusiasm as students pour onto campus at the start of a new school year.
There's a special excitement in the air.
For some, it's the beginning of a new adventure, while for others it's the final act of their college journey. No matter the stage, their energy and optimism are palpable.
This semester, more than 8,000 undergraduate students (including sophomores and juniors) arrived on campus for the first time since the pandemic began. Housing is at capacity!
In this issue of the magazine, you can read how UH will give them the immersive experience they longed for through impactful student organizations; fresh, new course offerings; campus transformations — from sports to new facilities — and professors conducting powerful research on topics ranging from social media to Mars.
In our cover story, you'll learn how we're addressing the broad range of factors that influence a person's health through our breakthrough Household-Centered Care program. Health happens in communities. And this new initiative will bring you pride as you read how it's impacting our neighbors in the East End and Third Ward.
As a lifelong lover of the arts, I know how its creative awakening can bring healing. In "Your Brain on Dance," read how our BRAIN Center is seeking to prove it by studying what happens when people engage in creative pursuits.
Our proximity to the world's largest medical center allows us to be a part of changing the health and health care landscape — at home and around the world. But we're not just playing a part; we aim to change its trajectory by challenging the status quo through inventive new measures.
I could never be prouder of our University than I am right now.
Despite today's challenges, UH students, faculty, staff and supporters have stayed focused on our mission to transform lives and communities, and our alumni are placing their stamp on the world, elevating the UH name with every ladder they climb.
There's no other university like the University of Houston.
Together, we discover. We imagine. We inspire. We dare.
Go Coogs!
Renu Khator
President, University of Houston
Features
House Call
A new program at UH seeks to transform Houston neighborhoods' health by taking health care back to its roots.

Starting Up, Giving Back
Three UH alumni are making their corners of the world a better place, one piece of clothing, cake and content at a time.

First-Generation Future
The nation's growing first-generation student body compels universities to reflect — and transform.
In Memoriam: Michael A. Olivas (1951-2022)
Professor Emeritus Michael A. Olivas was an acclaimed higher education and immigration law scholar, University leader, community activist and "The Rock 'n' Roll Law Professor."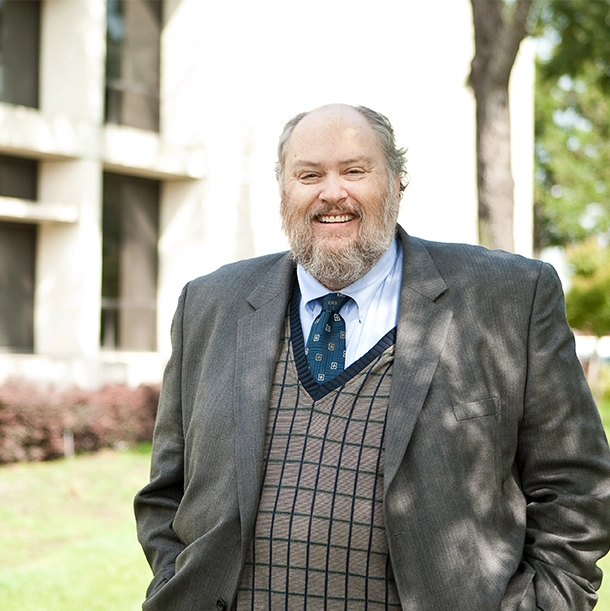 Michael A. Olivas, William B. Bates Distinguished Chair of Law Emeritus
Professor Emeritus Michael A. Olivas, who died April 22 at his home in Santa Fe, New Mexico, will be forever remembered for his quick mind, legal acumen and generous spirit. Olivas served as a faculty member at University of Houston Law Center for 38 years, culminating in being named the William B. Bates Distinguished Chair in Law, director of the Institute for Higher Education Law and Governance and, for a time, acting president of University of Houston-Downtown.

"During his tenure, Professor Olivas was an excellent teacher and role model, a renowned scholar, academic entrepreneur and institution builder and a multiple award winner. In each of these roles, Professor Olivas advanced the rule of law, legal education and service to the community. His students cherished him, and he was a mentor and advocate for many of his former students," remembers Leonard M. Baynes, dean of the UH Law Center.

A civil rights advocate, Olivas spent his life fighting to create pathways to higher education for all students and authored numerous books and law review articles to direct policy changes. Among his most enduring legal accomplishments, Olivas helped draft the Texas 10% plan that afforded students of diverse backgrounds automatic admission to the Texas public college of their choice. He also helped craft the Deferred Action for Childhood Arrivals (DACA) program.

He led from the front, serving on numerous national boards, including the Mexican American Legal Defense and Educational Fund Board of Directors, and as president of the Association of American Law Schools (AALS).

Olivas received the Esther Farfel Award in 2001 for overall career excellence, the highest honor given to a UH faculty member. In 2018, the AALS honored him with its Triennial Award for Lifetime Service to Legal Education and the Law. In 2019, he earned a Lifetime Achievement Award from the Houston Mexican Bar Association.
A rock music aficionado, Olivas hosted a radio show called "The Law of Rock and Roll" on the Albuquerque National Public Radio station. He appeared as "The Rock 'n' Roll Law Professor" and enthusiastically reviewed legal developments in music and entertainment law.

Olivas and his wife, retired Professor Emerita Augustina H. Reyes, generously gave of their time and talents to the many communities in which they were involved, including through significant philanthropy to the UH Law Center and its new building. A space at UH's new John M. O'Quinn Law Building will be named the Olivas-Reyes Reading Room in their honor.
---
Remembering Our Beloved
Shasta VI Mascot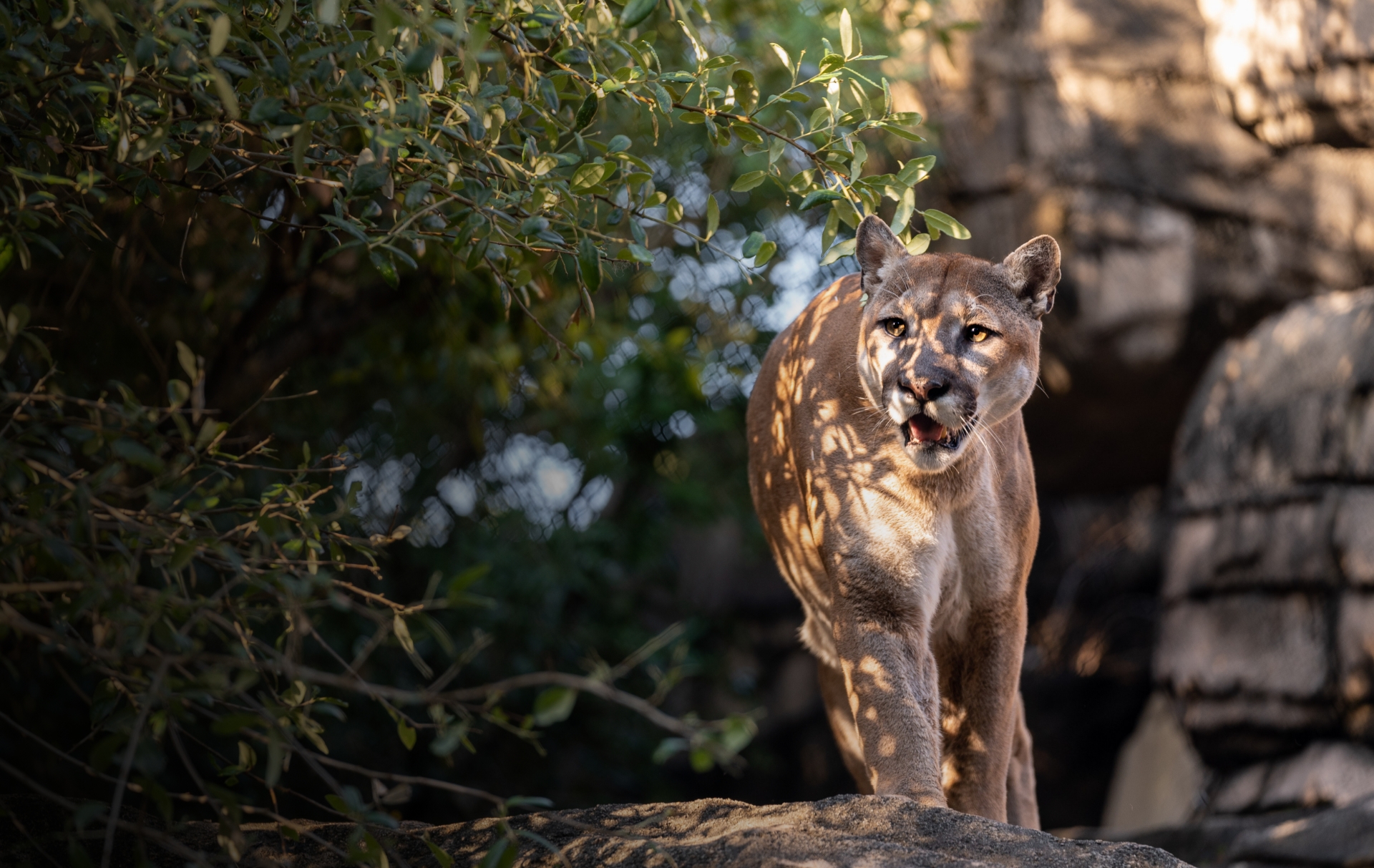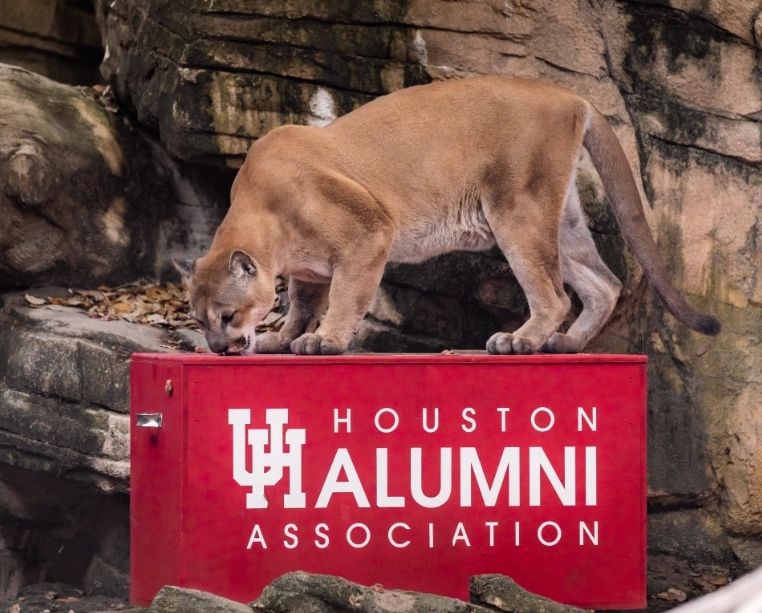 Shasta VI, the University of Houston's live cougar mascot who made his home at the Houston Zoo, passed away from a progressive spinal disease on Thursday, Aug. 4. Shasta VI was loved and cared for by his dedicated staff of carnivore keepers and veterinarians at the Houston Zoo and was a cherished member of the Houston Cougar family. We join so many in mourning the loss of Shasta VI.
Shasta VI was only a few months old when he arrived in Houston in December 2011. He and his two brothers were rescued in Washington state after their mother was illegally killed by a hunter. Only 5 weeks old at the time of their mother's death, the cubs had little chance of survival in the wild.
Shortly after his arrival in the Bayou City, the Houston Zoo and the University of Houston Alumni Association entered into a partnership on March 24, 2012, introducing Shasta VI as the University's official mascot. Shasta was the sixth live cougar to serve as UH's mascot and the first live male. He represented the spirit and tenacity of UH's students and alumni and personified the resilience and strength of the University.
For the past 10 years, Shasta VI played a pivotal role in cherished university traditions. Each fall and spring prior to commencement ceremonies, Shasta VI guarded the rings of the graduating classes as well as all students who had recently received their class ring. All the rings would be placed in a UH-themed box, which would spend the day in Shasta's habitat. Throughout the years, UH and the zoo have partnered to celebrate special occasions, such as Shasta's birthday parties and live appearances via webcam at UH football games.
"With the help of the Houston Zoo, it was our honor at the UH Alumni Association to bring Shasta VI to the UH family," says Mike Pede ('89), associate vice president for alumni relations. "Shasta's service and symbolism of pride and school spirit will live on with all who went to see him, had their rings guarded by him or saw his handlers adorn his habitat with spirited notes of support. Rest easy, good friend."
Shasta lived in the zoo's cougar habitat alongside Haley, a female cougar who also serves as a UH ambassador. The duo loved the zoo visitors, which included generations of UH families, students and alumni. Shasta played an important role in educating guests about the important roles cougars play in the ecosystem.
Shasta VI follows a long line of mascots, dating back to 1947, who have helped showcase Cougar pride on campus and in the community. Between 1947 and 1989, five live cougars served as mascots. Since Shasta V's death in 1989, costumed students have carried on the tradition on campus. With Shasta VI, the live mascot tradition was reimagined at the Houston Zoo.
The University of Houston extends our condolences to the UH Cougar and Houston Zoo families. We are grateful to the Houston Zoo, the UH Alumni Association and the generous donors who made Shasta VI's presence at the zoo possible.
If you would like to provide your thoughts about something you read in the magazine or have a suggestion for a future story, we'd love to hear from you. Send your thoughts to magazine@uh.edu.