What is AccessUH?
AccessUH is your gateway to the University of Houston's information and computing resources. Log into AccessUH with your CougarNet User ID and password and you will get immediate access to other critical systems that you use on a daily basis including myUH, Blackboard, PASS, Parking and many more.
Find out more about AccessUH »
Two Factor Authentication (2FA)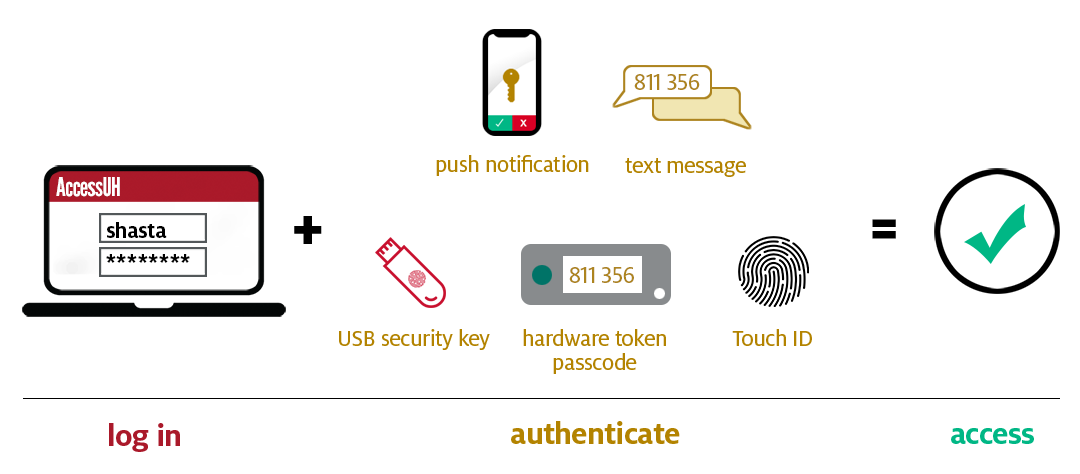 2FA adds an extra step when you log into your account to prevent unauthorized access. You log in with something you know (your password) and something you have (your phone). 2FA is the most effective way to secure our computer accounts and it is easy to use!  If you've ever received a text message to confirm your identity when you log into an online retailer or banking site, you've used 2FA. It allows you to confirm your identity by text message, phone call, mobile application, and other methods.
Access wireless networks on campus
UIT maintains a campus-wide wireless network. Visit our Wi-Fi page to improve your wireless computing experience on campus, test your Wi-Fi speed, optimize your connection and discover the locations of the fastest Wi-Fi spots.
Find out more about Wi-Fi on campus »
Download Software
It is easier than ever to get software products at low cost or even free! The Microsoft Office Suite is available to all current students to download for free by using your CougarNet account.
Learn more about free/discounted software »
Skype for Business 
Skype for Business is a communications application that provides phone service, instant messaging, desktop videoconferencing and desktop collaboration similar to Go-To Meeting. Skype works in conjunction with Microsoft Exchange to allow faculty to schedule online meetings and desktop videoconferencing with peers both at UH and at other institutions.
Get Help with your questions
It is easy to find answers to your questions. You can search our knowledge base, call someone, or even chat live with our support team.
---
Learn More: CougarNet ID
CougarNet is the system that governs access to computers, applications and email at UH.
---
Helpful Links