DSA News
July 10, 2023
Take Your Child to Work Day (TYCTWD) is an annual event that has gained immense popularity in recent years. It is an opportunity for parents to bring their children to their workplace and show them what their daily routine entails. This day is a unique experience for both parents and children alike. It allows children to learn about their parents' jobs, while parents can share their experiences with their children.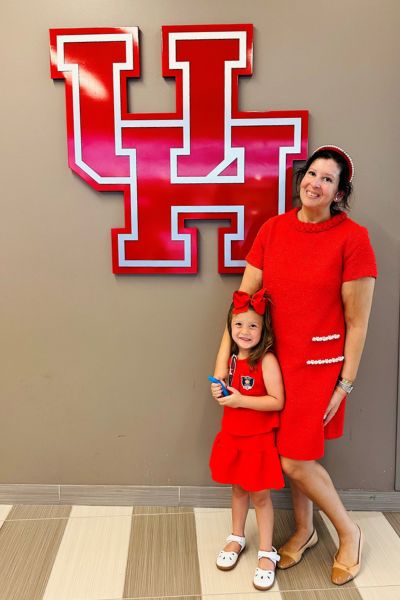 One of the primary goals of Take Your Child to Work Day is to give children a better understanding of the working world. This can be particularly beneficial for younger children who may not have a clear understanding of what their parents do during the day. By bringing them to work, parents can help their children understand the importance of work, the value of education, and the benefits of working hard.
The Division of Student Affairs (DSA) Student Centers and other University of Houston divisions and departments hosted TYCTWD. Student Centers hosted an activity called Bowling Etiquette where the children who attended could learn about bowling etiquette and practice their bowling skills. The participants were 8-15 years old and were provided socks and other branded items during the event.
Dr. Sara Jahansouz Wray, associate dean, Dean of Students, brought her daughter Rory to work. They chose to participate in the session with the University of Houston Police Department (UHPD). Dr. Wray said, "Rory loved learning about fingerprinting and exploring the UHPD vehicles. Rory also loved eating lunch at Eric's, the robot who delivered her lunch was a big hit!"
Another key benefit of Take Your Child to Work Day is that it can help children develop their interests and passions. Ja'Nelle King, director of the Center for Fraternity and Sorority Life brought her daughter Daphne to work with her. Daphne explored the Moore School of Music, sat with the orchestra, and saw a demonstration. Daphne also visited the Blaffer Art Museum to see the public art exhibits and created her own art pieces. By exposing them to different types of jobs and careers, children may become more interested in certain fields and may be inspired to pursue those careers in the future. This is especially true for children who may not have been exposed to a wide range of career options.
Parents also benefit from Take Your Child to Work Day. It allows them to show their children that they value their work and take pride in what they do. Additionally, it can help parents build stronger connections with their children by sharing their experiences and teaching them about the importance of responsibility and hard work.
Take Your Child to Work Day is a unique experience that can benefit both parents and children. It provides an opportunity for children to learn about their parents' jobs and the working world, while also allowing parents to connect with their children and share their experiences. By preparing in advance and making the day fun and educational, parents and their workplaces can ensure that this day is a success for everyone involved.