DSAES News
July 21, 2022
Jessika K. Jones, a Jackson, Mississippi native, is the newest staff member in the International Student and Scholar Services Office here at the University of Houston. The International Student and Scholar Services Office facilitates compliance with federal regulations that govern the immigration of students and scholars at UH. She currently serves as an International Student Counselor II. She is passionate about guiding diverse student populations through the immigration advisement process while they matriculate through the university. Jessika has also served in leadership positions internally and externally for UH. She currently chaired the Spring 2020 New International Student Orientation.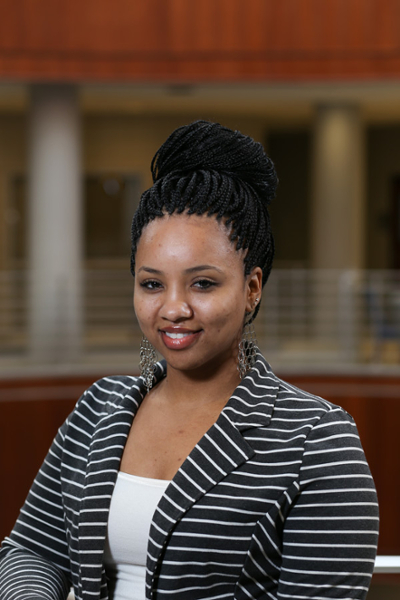 Jessika's personal mission is to provide everyone she encounters with the best customer service. She is totally committed to quality, responsiveness, and integrity. Jessika is a driven and reliable self-starter who enjoys and appreciates creativity in all aspects of life.
"After joining the team in February 2019, Jessika hit the ground running! She assisted with hundreds of appointments and processed hundreds of immigration documents for our international students and scholars. I am most appreciative of her willingness to make herself available to help others and seek the best interest of our students and scholars. She has already made a positive impact with a successful Spring 2020 Orientation program. I have no doubt that she will continue to serve our

 

UH

 

community with her wonderful customer services, strength and talents," said Jin Zhang, director of International Student and Scholar Services,

 

UH.
As an International Student Counselor Jessika provides opportunities for student engagement, leadership, and success through immigration advising and programming. One of her responsibilities includes meeting with international students and scholars individually or in a group setting to orientate them to their new life as a college student while they study at UH. She also assists students and scholars by helping them resolve complex immigration issues or address any concerns students may have. Throughout the academic year Jessika presents at several workshops dedicated to educating international students, scholars, UH faculty and staff, and UH alumni on issues and topics such as culture, employment, and life after graduation. Jessika has held several individual advisement meetings, group advisement sessions, workshops, and participated in cultural excursions in the Houston area to aid ISSSO's efforts to contribute to UH's goal for internationalization. One form of programming that ISSSO provides are webinars on specialized topics designed to engage with UH alumni and current students. Jessika has created and presented webinars to implement technology in her advisement practices.
ISSSO has also welcomed new technology that has positively impacted the business practice for meeting and processing student and scholar's requests. Jessika prides herself in making sure that our student's and scholar's needs are met in an accurate and timely manner. Jessika serves as an advocate for the international student, provides resources, assistance and strives to ensure that international students and scholar enjoy an optimum experience while they study at UH. In her spare time, Jessika loves to cook, travel, and read.