Come discover the various languages and courses offered at UH, speak to faculty in the departments of Modern & Classical Languages and Hispanic Studies, and learn about the resources available to students taking language courses.

Wednesday, March 30, 2022
11:00 AM – 2:00 PM
Student Center South
---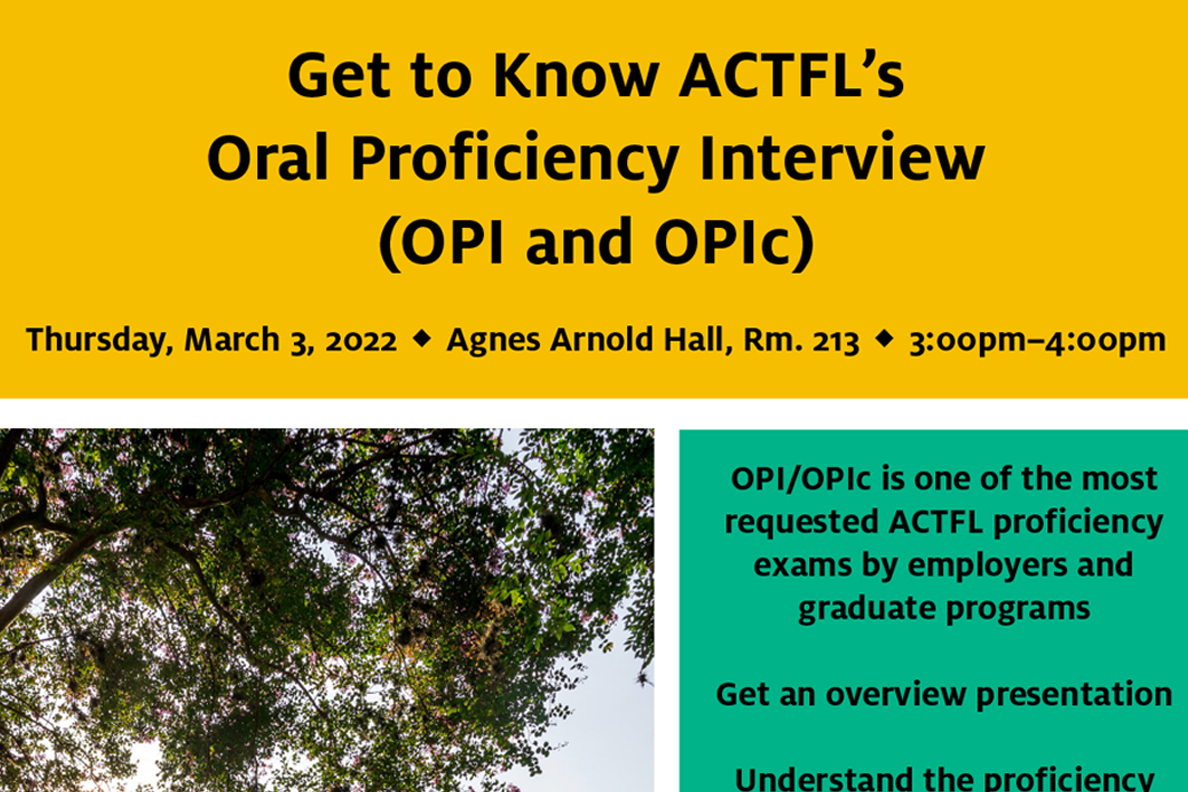 OPI/OPIcis one of the most requested ACTFL proficiency exams by employers and graduate programs.

Thursday, March 3, 2022
3:00 PM – 4:00 PM
Agnes Arnold Hall, Rm. 213
---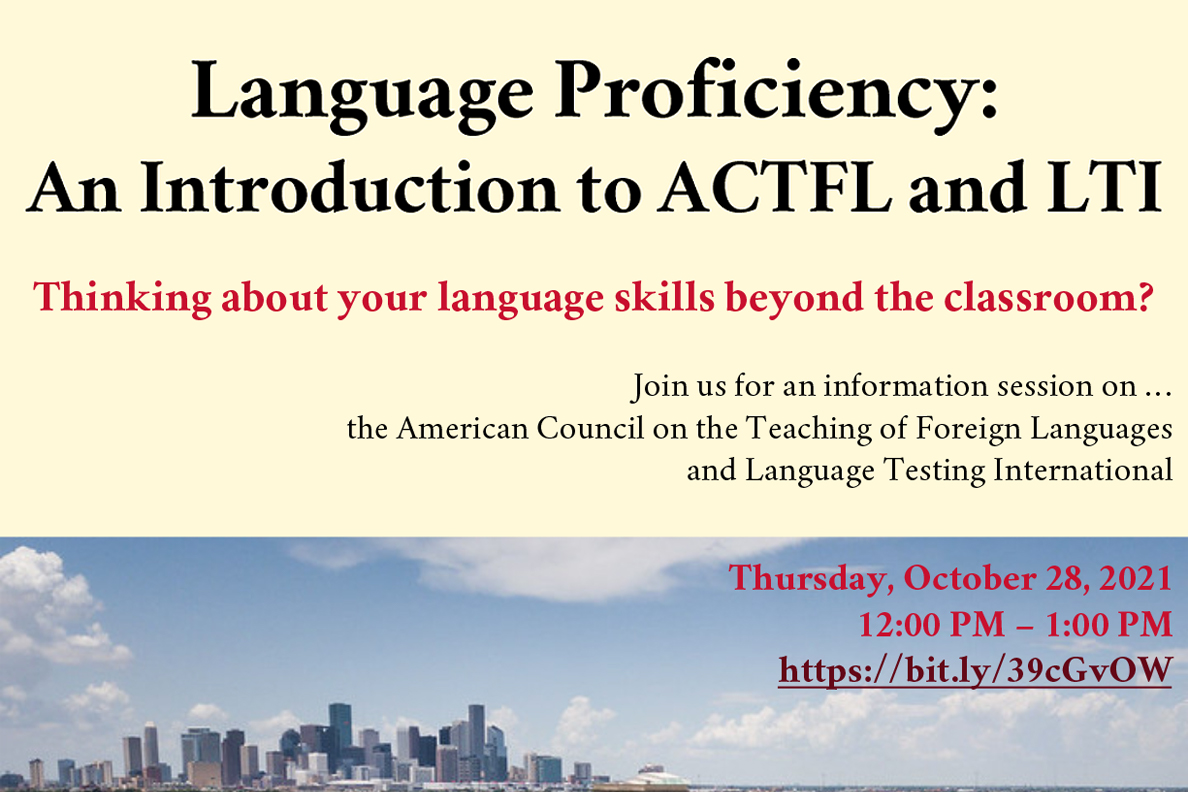 Thinking about your language skills beyond the classroom?
Join us for an information session on the American Council on the Teaching of Foreign Languages and Language Testing International.

Thursday, October 28, 2021
12:00 PM – 1:00 PM
https://bit.ly/39cGvOW 
---

Using the Language in a Social Event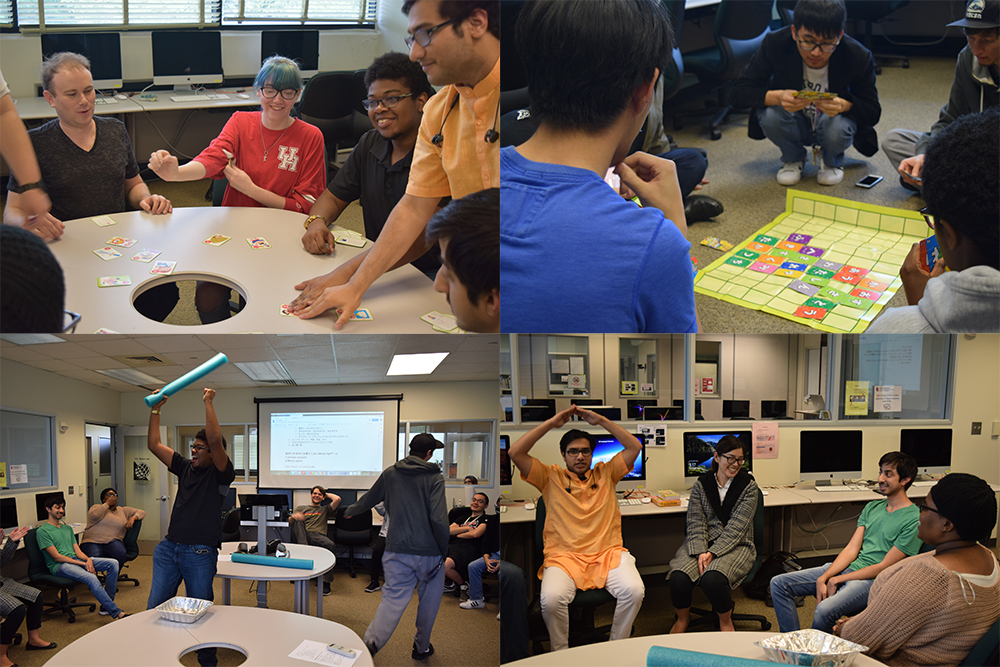 Language Commons hosted a Japanese Game Event - ゲーム大会 - on April 4, 2019. Students from 1st and 2nd-year Japanese language classes participated. The purpose of this event was to encourage students to speak the language outside of the classroom and explore Japanese culture and become competent in social situations and pass time.
Students played board games and gesture games. In both situations, it results in using the target language to communicate and play the game. It turly is meaningful to see students "enjoy" using the language they are learning.
In the near future, we hope to have these events in other languages as well.
Discover Languages
Are you interested in learning a new language, exploring world culture and literature or discovering the roots of Western civilizations? Come and find out what classes you can take in Fall 2019! Modern and Classical Languages, Hispanic Studies and Language Commons invite you to join the Discover Languages event on March 26 from 10:00 A.M. until 2:00 P.M. in Butler Plaza (between the library and PGH). Meet professors and learn more about the classes.

DATE: March 26, 2018
TIME: 10:00 A.M. - 2:00 P.M.
PLACE: Butler Plaza (between the library and PGH)
This is a 'come and go' event and all members of UH is welcome to join us. Please share this event with all your friends.
Images from 2019 Discover Languages event.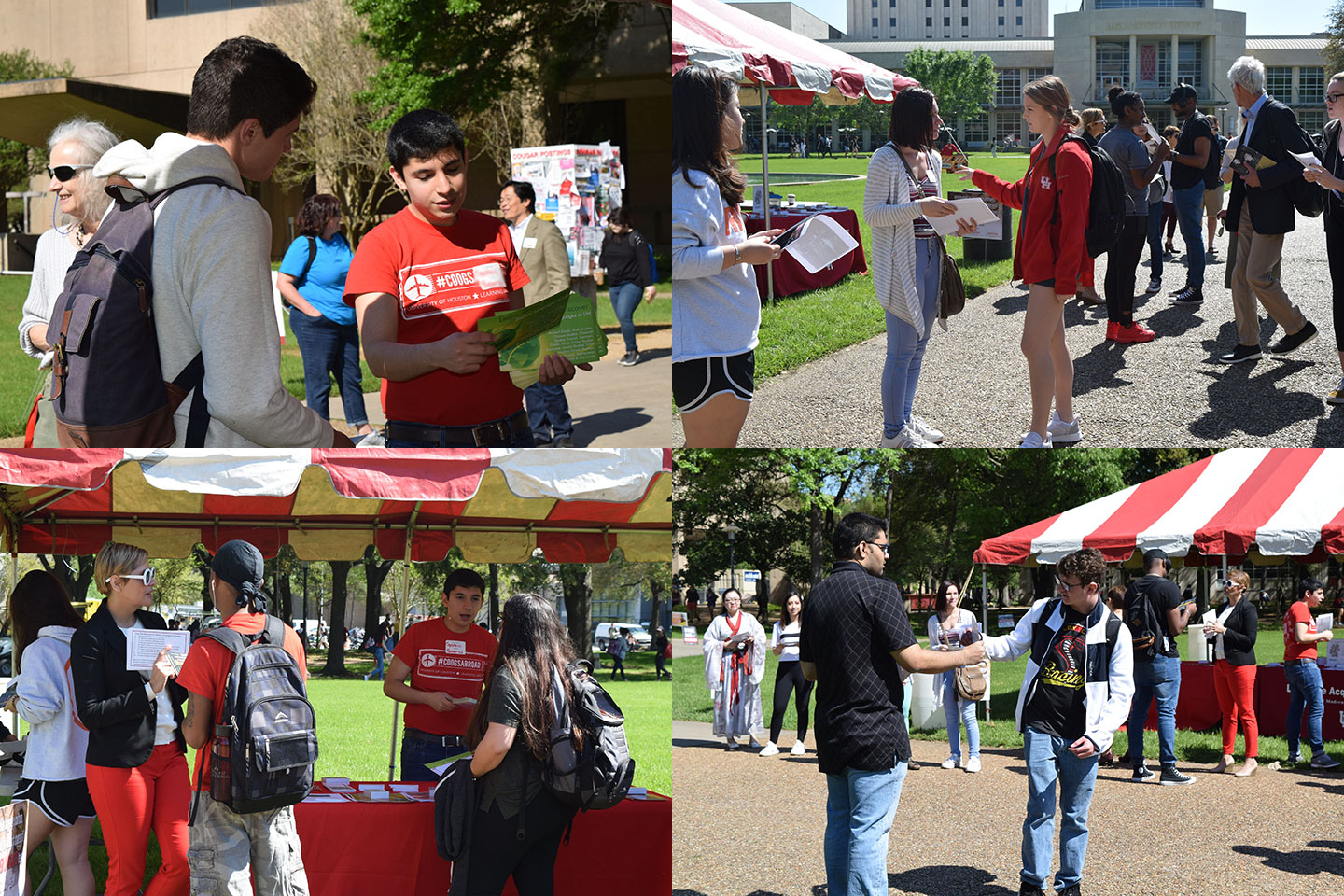 Lunar New Year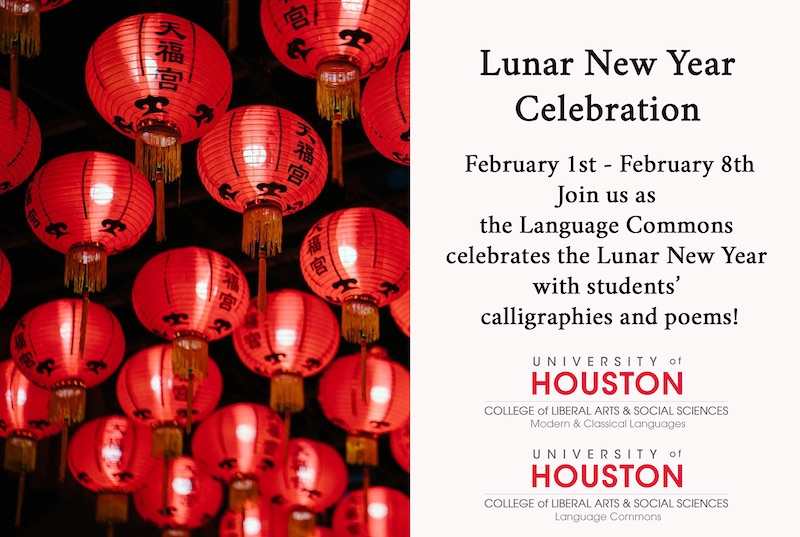 Join us to celebrate the Lunar New Year at Language Commons. You will find colorful decorations and students' works in the forms of calligraphies and poems.

Dates: February 01, 2019 - February 08, 2019
Location: AH216 and LC entrance hall way
Time: During LC operating hours
This is a 'come and go' event and all members of UH is welcome to join us. Please share this event with all your students and friends.
Día de los Muertos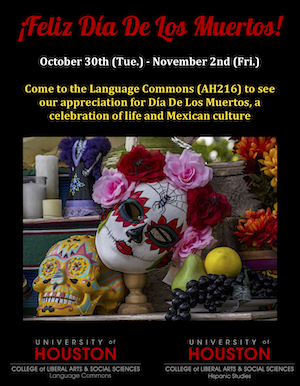 The Language Commons would like to celebrate the "Day of the Dead" holiday in remembrance of our friends and family members by displaying an altar to celebrate their life. This effort is led by LC Faculty Advisory Board members from the Hispanic Studies - Dr. Guillermo De Los Reyes and Dr. Paola Arboleda. Come and celebrate with us for this special occasion.

Dates: October 30th (Tuesday) - November 2nd (Friday)
Location: Language Commons (AH 216)
Time: During LC operating hours

This is a 'come and go' event and all members of UH is welcome to join us. Please share this event with all your students and friends.
Fall Music Hour - a cultural exploration
The Language Commons hosts the Fall Music Hour on October 23rd. We have invited an accomplished oud player, Professor Michael Fares. Professor Fares will play the instrument as he recites poems in Arabic. English translations will be provided. He will also discuss Arabic music and oud instruments.
Come and discover another dimension of Arabic language and culture at the Language Commons.
DATE: October 23, 2018 (Tuesday)
Time: 11:00 - 11:30
LOCATION: Agnes Arnold Hall 216 - Language Commons
2018 Winner - Language Commons Learning Abroad Photo Exhibit & Contest
Congratulations to Karla Gutierrez for winning the 2018 Language Commons Learning Abroad Photo Contest. She studied in Cuba with Dr. Mabel Cuesta. Karla is a sophomore and majoring in Spanish. She is from Mexicali, Baja California, MX.
She praised her summer study-abroad as "more than an academic experience." She continued to share that "it was a life lesson lived through immersion into Cuban literature and culture. I was able to live in Cuba and therefore understand it. I wouldn't have such a rich experience even if I traveled there on my own. I encourage people to travel because traveling shapes up and compliments your understanding of societies around the world." I hope you will consider taking one of our learning abroad program.
Winning Photo: La Vieja Habana (The Old Havana)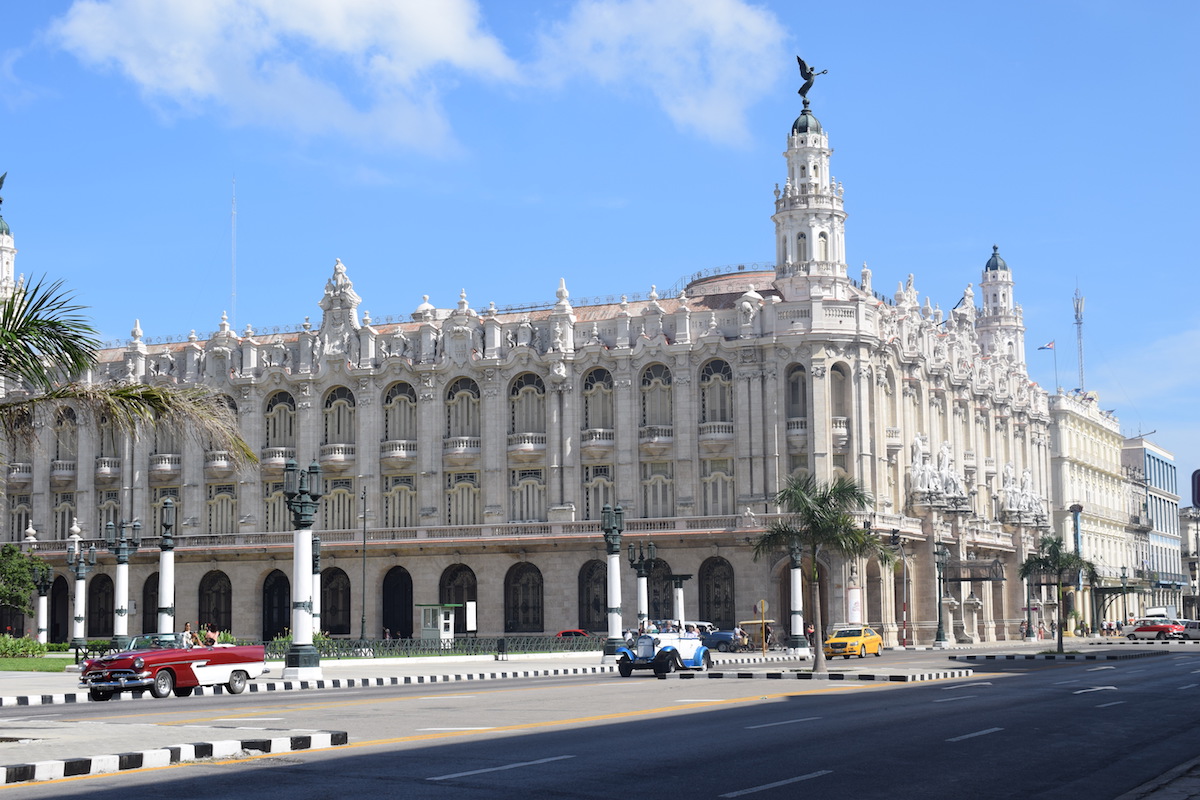 Congratulations!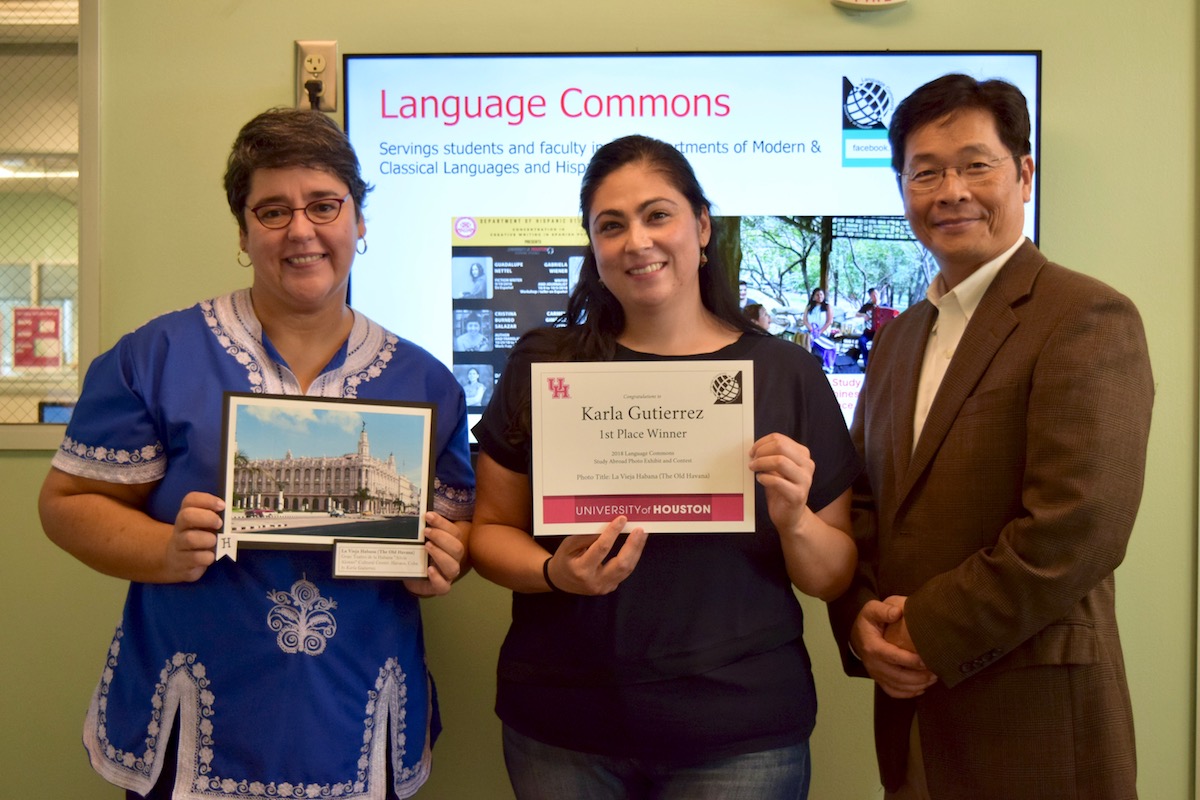 Dr. Mabel Cuesta, Cuba learning abroad faculty - Karla Gutierrez, 2018 winner - Jim Kumahata, Director of Language Commons
Critical Languages Friday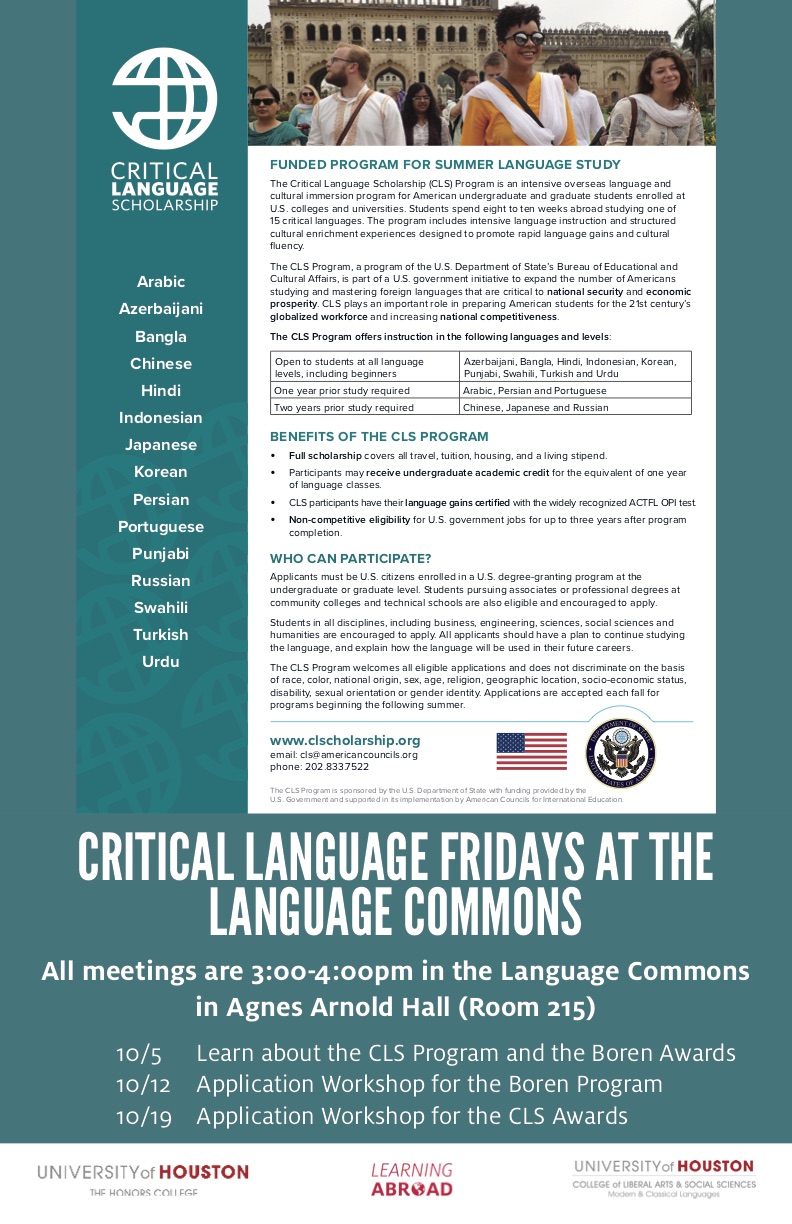 We are hosting the Critical Language Friday on October 5th, 12th & 19th at the Language Commons. You will learn about the Critical Language Scholarship and the Boren Scholarship and Fellowship during this event. Students who study critical need languages can apply to study for a summer or full academic year with these fully-funded programs sponsored by the Institute for International Education and the US Department of State. These three sessions are co-hosted by the Office of National Fellowships and Major Awards with the UH Honors College and Learning Abroad.
Free Magazines from Japan
The Consulate General of Japan in Houston has committed to provide free copies of Niponica Magazines to the Language Commons and to the Japanese language classes at the University of Houston. English copies of Niponica will be available free of charge to the visitors of Language Commons. Students who are studying the Japanese language will also receive the magazine. It will be available four times a year.
Niponica is a magazine introducing modern Japan. It exposes Japanese life and culture from multiple angles of the lens and describes them in English. Niponica is also available on the web in other languages.
After reading a copy of Niponica, a student shared that "For an individual who has very little background knowledge of Tokyo and Japan in general, this magazine effectively enlightens its reader on the historical development and culture of Japan." She continued to express that Niponica is "... not just about Tokyo however, but also about a microcosm of human civilization reflecting the universal yearning to grow and progress." We believe Niponica will be a useful way to share about Japan and expose all visitors to the Language Commons with the current issues.
We would like to express our gratitude to Consul-General Mr. Fukushima, Vice-Consul Ms. Kawase and the Ministry of Foreign Affairs of Japan to provide us with this informative magazine.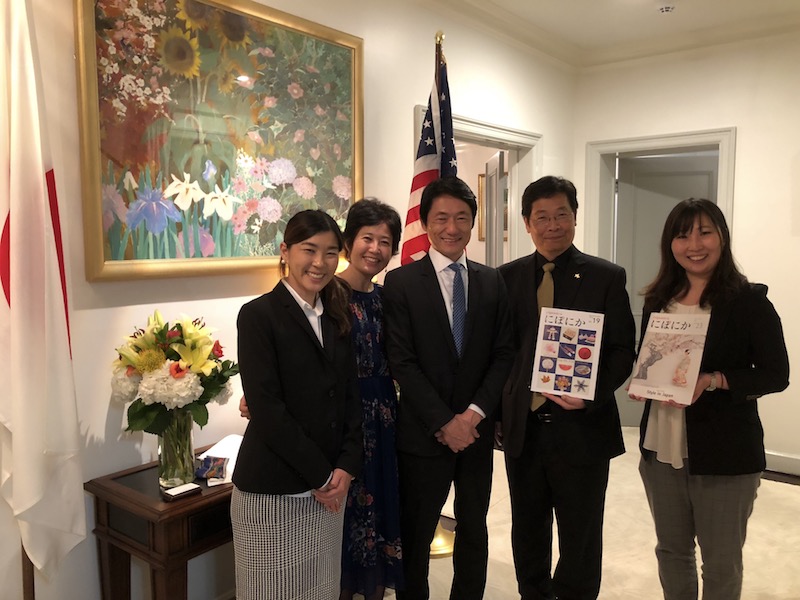 from left to right: Prof. Chiaki Johnson, Lecturer in Japanese; Mrs. Kaori Fukushima; Consul-General Mr. Hideo Fukushima; Mr. Hajime Kumahata, Director of Language Commons; Vice-Consul Ms. Ai Kwase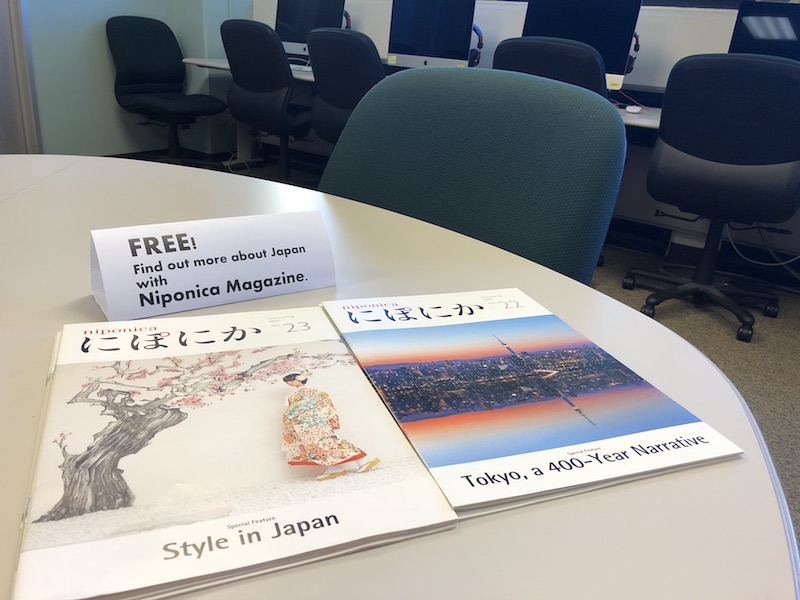 Take one with you during your next visit.
Learning Abroad Photo Exhibition and Contest:
9/10/18-9/28/18
Language Commons hosts the Learning Abroad Photo Exhibition and Contest for UH students who studied abroad during Fall 2017, Spring 2018, and/or Summer 2018 with the Department of Modern and Classical Languages or with the Department of Hispanic Studies. Students and faculty of UH who visit Language Commons will be the judges. One ballot will be given to a visitor per day. Ask for the ballot when you check in at the front desk.

LC Featured in the UH Honors Abroad Blog
Read the post about past, current, and future activities at the LC!
Language Technology Guide 
Download Language Bytes, a short guide to resources for accelerated language learning written by Kayla Price, the previous director of the LC. This guide is geared towards students who want to improve their language skills or who simply need some extra practice. Find out about useful apps for the specific language or languages that you are studying and learn about fun resources, such as Mango Premiere, which uses feature films to assist the language learning process. 
---
Discover Languages Event
The second annual Discover Languages Event was held on February 29, 2012. Professors and students handed out information related to our UH language programs and study abroad programs. We handed out a total of 2,000 flyers to students that day and had many fruitful conversations!
See the wonderful pictures on Flicker taken by Vu Le.