Dr. Simpson to Join the Editorial Board of 'Brain, Behavior, and Immunity'
HHP faculty Dr. Richard Simpson has been named to the editorial board of the prestigious immunology journal Brain, Behavior, and Immunity, a peer-reviewed scientific journal published by Elsevier. Brain, Behavior, and Immunity was founded in 1987, and is the official journal of the Psychoneuroimmunology Research Society (PNIRS). 

Dr. Richard Simpson

Brain, Behavior, and Immunity is an international, interdisciplinary journal devoted to investigation of the physiological systems that integrate behavioral and immunological responses and publishes peer-reviewed basic, experimental, and clinical studies dealing with behavioral, neural, endocrine, and immune system interactions in humans and animals.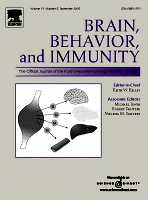 The journal, published eight times a year, features original research in neuroscience, immunology, integrative physiology, behavioral biology, psychiatry, psychology, and clinical medicine and is inclusive of research at the molecular, cellular, social, and organismic levels.
Visit the website for Brain, Behavior, and Immunity
Learn more about Dr. Simpson's research at the Laboratory of Integrated Physiology