HHP's Research Symposium 2015
.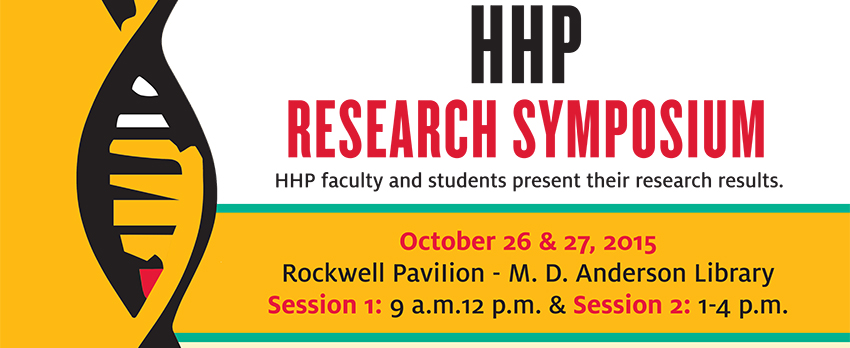 The department of Health and Human Performance held its annual Research Symposium on Oct 26th and 27th, 2015 in the Rockwell Pavilion - M.D. Anderson Library at the University of Houston. About 600 audience members listened as more than 40 HHP graduate students and faculty presented their research, over two days, on a wide variety of topics, including Kinesiology, exercise science, obesity, physiology, sports administration and athletic training. The event also included a poster presentation session.
.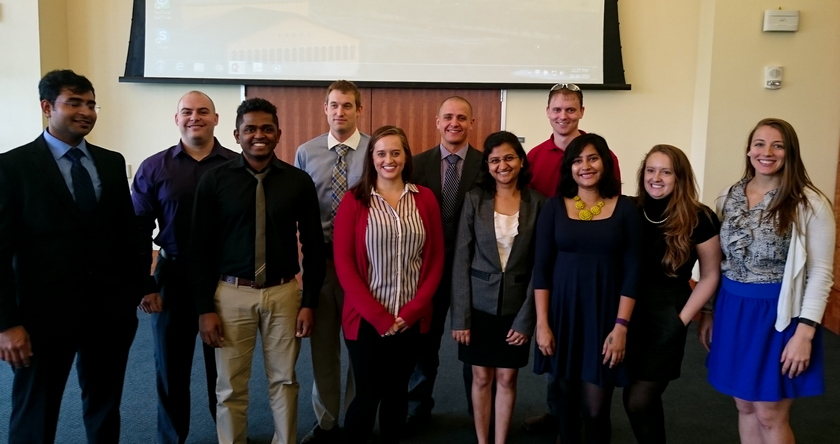 Contestants in the elevator speech contest at HHP's Research Symposium
(scroll down for more images)

HHP graduate students competed in the "elevator speech" contest during which students give a two minute informative and persuasive sales pitch of their research to a panel of judges. The top three contestants receive funding to support their research. This years winners were Mr. Nate Parker, Mr. Leo Preteesh and Ms. Stephanie Silveira.
Click here for more information on each presenter and their research topic (pdf)
Images from HHP Research Symposium 2015
Dr. Don Lee during his presentation

Dr. Don Lee during his presentation

Dr. Walsh during his presentation

Dr. David Walsh during his presentation

Dr. Pearson during his presentation

HHP Research Symposium 2015

Dr. Michael Cottingham listens to a question from the audience

HHP Research Symposium 2015

Allison Crandell presenting her research

Karson Payne presenting her research

HHP chair Dr. Charles Layne addressing the symposium

James Rosengren, Deputy Director Blaffer Art Museum was one of the judges of the elevator contest

Jared Howell, Director, Orthotics and Prosthetics Program, Baylor College of Medicine was one of the judges of the elevator contest

Layton Reesor during the elevator speech contest

Lauren Gulley during the elevator speech contest

Nate Parker during the elevator speech contest

Nate Parker during the elevator speech contest

Leo Preteesh during the elevator speech contest

Leo Preteesh during the elevator speech contest

Lyle Babcock during the elevator speech contest

Stephanie Silveira during the elevator speech contest

Stephanie Silveira during the elevator speech contest

Rakshatha Kabbaligere during the elevator speech contest

Rakshatha Kabbaligere during the elevator speech contest

David Temple during the elevator speech contest

David Young during the elevator speech contest

Ram Kinker Mishra during the elevator speech contest

Priti Gupta during the elevator speech contest

Katharine Forth, CEO at iShoe Inc. was one of the judges of the elevator contest

Mr. Nate Parker, Mr. Leo Preteesh and Ms. Stephanie Silveira - winners of the elevator contest

Matt Cross presenting his research

Layton Reesor presenting her research

Dr. Ted Zderic presenting his research

Nate Parker during his presentation

Nate Parker during his presentation

Saumali Daundasekara listens to a question from the audience

Dr. Layne addressing the gathering

Dr. Yoonjung Park presenting his research

Chad Dolan during his presentation

Chad Dolan during his presentation

Dr. Lowder presenting his research

Leo Preteesh answers questions from the audience

Hawley Kunz presenting her research

Hawley Kunz presenting her research

Bridgette Rooney listens to a question from the audience

Dr. Emily LaVoy during her presentation

Dr. Emily LaVoy during her presentation

Rachel Graff presenting her research

Rachel Graff presenting her research

Nadia Agha presenting her research

Nadia Agha presenting her research

Poster presentation session

Poster presentation session

HHP students with their posters at the research symposium

Dr. Stacey Gorniak presenting her research

Dr. Stacey Gorniak presenting her research

Lauren Gulley answers questions from the audience

Dr. Beom Chan Lee presenting his research

Rakshatha Kabbaligere during her presentation

Rakshatha Kabbaligere during her presentation

David Young presenting his research

David Young presenting his research

Stefan Madansingh talks about his research

Dr. Pranav Parikh presenting his research

Ram Kinker Mishra presenting his research

Ram Kinker Mishra presenting his research

Donya Iranpoor during her presentation

Donya Iranpoor during her presentation

David Temple presenting his research

Hao Meng presenting his research