HHP's Graduate Student Research Day 2011.
The HHP department held its annual Graduate Student Research Day on Nov 9th, 2011. Dr. Sharon McWhinney, from Praire View A&M University, delivered the keynote address on "Perceived barriers to good nutrition and food guest speaker preparation practices of rural families"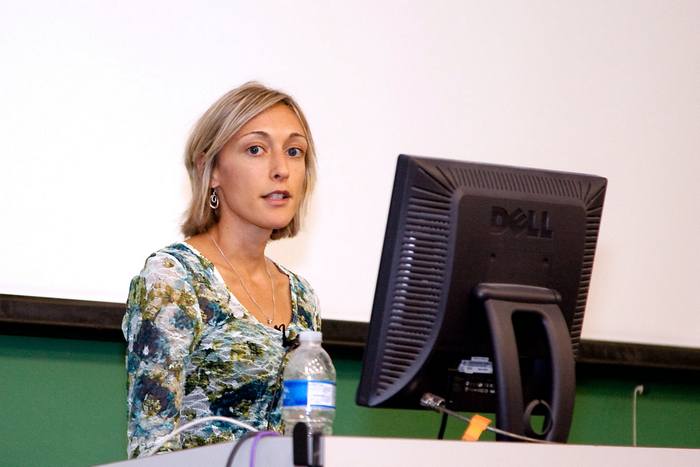 HHP grad student Meghan Everett during her presentation (scroll down for more images from GSRD)
Below is the list of graduate students who presented at GSRD.
| | |
| --- | --- |
| Meghan Everett | Muscle blood flow during traditional resistance exercise and low load blood flow restricted exercise |
| Katie Carpenter | The effect of yeast beta glucan supplementation on monocytes and cytokine response to exercise |
| Emily LaVoy | Cytokine expression of T-cell subsets following acute exercise |
| Austin Bigley | NK-cells have an impaired response to acute exercise and a lower expression of the inhibitory receptors KLRG1 and CD158a in humans with latent cytomegalovirus infection |
| Whitney Breslin | Disease risk in obese Mexican-American children |
| Vladimir Ivkovic | Effects of tactile and auditory cueing on functional movement modulations in patients with Parkinson's disease with and without cognitive impairment |
| Ygnacio Lopez | Analysis of body composition methods in a community sample of African American women |
| Heather Adamus | Evaluating the quality and accessibility of physical activity resources in two Texas cities |
| Recep Ali Ozdemir | Prediction of postural control performance both in blind and sighted individuals: the role of lower body strength proprioception |
| Mathias Hieronymus | Balance assessment in community-dwelling elderly fallers versus non-fallers |
| Prerana Chitlangia | Dynamic postural control in Parkinson's Disease during controlled virtual reality |
Images from GSRD 2011: