UH Swimming Coach and HHP Alum Mark Taylor Passes away
University of Houston Swimming coach for nearly a decade, Mark Taylor, died Friday evening of an apparent heart attack in Austin. He was 50 years old. An HHP Alum, Mark earned his M. Ed. from HHP Physical Education program in 2010.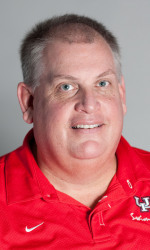 Mark Taylor, 1961-2011
"This is a sad and difficult day. We lost a family member today," said Mack Rhoades, UH's director of athletics, over the weekend. "Mark was a terrific coach and even better person. He will be truly missed by the many lives he touched."
Mark was named the Conference USA Coach of the Year in 2009 after finishing second at the conference meet and leading the team to its highest national finish of Taylor's career and highest for UH since 1986.
In a very moving article in the Houston Chronicle, sports writer Richard Justice had words of praise for Mark Taylor:
My kid fell in love with Mark Taylor the other day. She fell hard for the University of Houston as well because of Mark. He sold her on his vision of the swimming program at UH and his enthusiasm for the school.
''I'm in the ninth year of a 10-year contract,'' he told her, ''and when it's up, I'm going to beg them to let me stay.''
In a three-hour visit, he convinced her she would achieve great things both in the pool and the classroom if she signed with UH. He gave her a tour of the facilities and introduced her to a dozen or so staffers who are part of the program Mack Rhoades is constructing. Theirs is a vision of academics and athletics working as one, building better people, and in doing so, a better university.
Mostly, though, she was sold on Mark. He talked of how travel is part of the learning experience, how it's for both getting better as a swimmer and for broadening horizons as a person.
Read the entire article on the Chron website
Dave Maggard, former University of Houston director of athletics, had this to say about his swim coach:
When I interviewed him for the job there were many who said "the guy just doesn't look like a coach." I said yes but he is honest in all he says, has incredible enthusiasm, wants the job desperately and will do a great job. He will be loved and respected by all those who come in contact with him and get to know him. One of the highlights of his life was being named C-USA Coach of The Year. He had a smile on his face for at least another month. He was a terrific person...