Great Strides 2011 - Cystic Fibrosis Walk.
The 22nd annual "Great Strides - Taking Steps to Cure Cystic Fibrosis" walk was held on Saturday May 21st 2011 at the UH main campus. Sponsored by the Department of Health and Human Performance, the walk through the UH campus raises money for CF, an inherited, chronic lung and digestive system disease that affects nearly 30,000 children and adults.
The more than 1,000 participants wearing their teams' t-shirts made a sea of many colors as they gathered for the fifth year on the UH campus to walk in the Cystic Fibrosis Foundations' (CFF) Great Strides walk for a cure.
It was a fun and festive event with family and friends, neighborhood residents, community clubs and organizations as they made their way through the 3K route, which started and finished at the Lynn Eusan Park.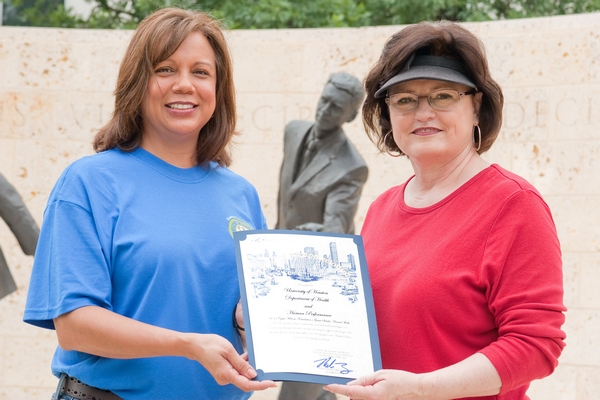 Toya Ramirez presenting the HHP certificate of appreciation to
HHP communications coordinator Ms. Martha Hayes.
(Scroll down for more images)
On behalf of City of Houston at-large council member, Melissa Noriega, Toya Ramirez presented the Department of Health and Human Performance with a certificate of appreciation for its leadership in the community by hosting CFF's Texas Gulf Coast Chapter's annual Great Strides walk. Donations raised for the 2011 event are at $860,000 and counting.
Great strides are being made toward a cure of this debilitating disease that affects the lungs and digestive system of about 30,000 children and adults in the U.S. annually. To learn more about the CFF, visit their Web site at www.cff.org.
- Martha Hayes
Images from Great Strides 2011: