Administration & Finance / News /
News Release
FOR IMMEDIATE RELEASE
Saira Treviño
Communications Coordinator
713-743-6342
Strevi10@central.uh.edu
Cougar Walking Paths Make Exercising Easier for UH Community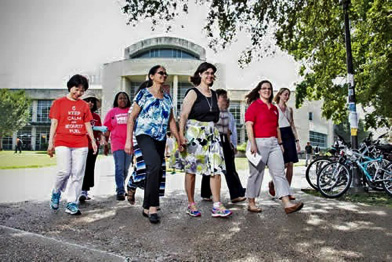 Houston, April 3, 2019 — To support a healthier lifestyle, the POWER UP Employee Wellness program at the University of Houston is promoting a newly developed series of Cougar Walking Paths on campus.
"Walking is free, relatively easy to do and can make you feel good all over," said Court Stein, HR Wellness administrator. "For many of us, simply getting up and walking around is the perfect prescription for what ails us."
According to Stein, the benefits of walking are almost too many to list. It can reduce the risk of cardiovascular disease and diabetes, strengthen muscles and bones, and help sustain a healthy weight. It can also reduce stress, boost energy and increase immune function.
"Many of us do not get adequate physical activity throughout the day. Walking is a great way to do so because you can do it almost anywhere," he said. "But having set paths and a map to follow makes it easier to do. You don't have to really think about it. You can just get up and go."
The Cougar Walking Paths, each of which can be completed within 15 to 30 minutes, are an initiative of the University's Wellness Planning Committee, composed of faculty, staff and students who meet regularly to discuss ideas for creating a healthier campus community. Located in different parts of the campus, the themed pathways are of varying distances and include the Cougar Pride, the Art Walk, the da Vinci Walk, the Centennial Walk and the Recreation Trail.
"The Fitness Release Time policy allows eligible employees time away from their desk to exercise for 30 minutes three times a week," said Stein, who hopes the walking paths will support faculty and staff by giving them specific routes to take when using the fitness release time.
The University implemented the policy not long ago because research indicates employees and students who are physically active are more engaged, perform at higher levels, miss less work and school and are at a lower risk for the development of chronic diseases.
The new Cougar Walking Paths can be accessed online.
"Use and enjoy the Cougar Walking Paths, not only to move your body and get your heart pumping, but also to clear your mind. Take in the fresh air and enjoy seeing parts of the campus you may never have seen before - including numerous pieces from the Public Art of the University of Houston System's collection," Stein said.
---
About the University of Houston
The University of Houston is a Carnegie-designated Tier One public research university recognized by The Princeton Review as one of the nation's best colleges for undergraduate education. UH serves the globally competitive Houston and Gulf Coast Region by providing world-class faculty, experiential learning and strategic industry partnerships. Located in the nation's fourth-largest city, UH serves more than 46,300 students in the most ethnically and culturally diverse region in the country.