Printing & Postal
Houston Postal Customer Council honors UH's Rowland-Ketley
By Richard Zagrzecki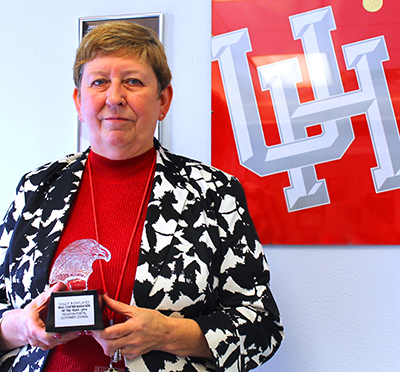 The Houston Postal Customer Council has bestowed one of its top honors on Sally J. Rowland-Ketley, the director of Printing and Postal Services at the University of Houston.
The organization named Rowland-Ketley the Mail Center Manager of the Year for the Greater Houston area. She received the award during a gathering on National Postal Customer Council Day on Sept. 9.
"Sally's professionalism, her willingness and ability to continue to evolve and grow within the mailing industry and her sound judgment and management of our mail center have contributed to the goals of growth within our university," wrote Esmeralda Valdez, executive director of Auxiliary Services, in her nomination letter.
Rowland-Ketley has worked at UH for 17 years and oversees both the printing and postal operations for the campus. She's worked in the mailing industry for 28 years.
The Houston Postal Customer Council includes members from postal operations in public and private organizations and companies all across the Greater Houston area. It allows members to be able to interact with postal service representatives and keep updated on postal rules and regulations through seminars and education sessions.
"It is a great honor to be recognized by my peers within the postal industry. It means a lot to me that they have given me this award," Rowland-Ketley said.