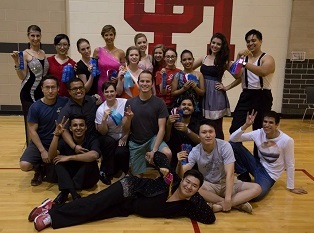 Welcome to Cougar DanceSport - Ballroom and Latin Dance Club at the University of Houston! We strive to expand the joy and fun of Ballroom and Latin dancing to UH students, faculty, alumni and community members. In other words, everyone!
Ballroom, Latin, and Social dances (such as Waltz, Cha-Cha, Salsa, etc.) are the main focus of our lessons taught by local high level amateur and professional dancers. Our goal is to provide quality dance lessons and dancing opportunities to our members at affordable prices. Dance lessons are structured so that dancers of different levels can all benefit from the instruction and practice. Therefore, whether you are the beginner, intermediate, or advanced dancer you will always find something for you.
In addition to dance lessons, our club tries to incorporate other dance related activities. Some activities several of our members participate in include, but are not limited to: 1) social dance outings for salsa, ballroom dance, and even country western, 2) ballroom dance competitions, and 3) ballroom and/or latin dance exhibitions.
Our dance club meets every Friday and Sunday (with the exceptions of holidays) from 5-8pm in the Multipurpose Room 4 of the Recreation Center at the main campus of University of Houston. Even though our class schedule revolves around school semesters, you can start any time, even if classes have been ongoing. Just talk to our instructors, officers, or other class members to catch up!
Fall 2016
Registration and Lessons will start the second week of September.
• Time: 5-8pm
• Location: Recreation Center, Multipurpose Room 4.
Please come to our first day of class! We will talk about our plans for this upcoming semester, answer your questions, have a few performances, and have a social!
Join Us on Facebook
If you'd like to become a part of our club, please join us on Facebook! Here you have a chance to talk to other members as we talk about all club or dance related things and it is always up to date with the most current information. Join us at Cougar Dancesport.