Physical Geology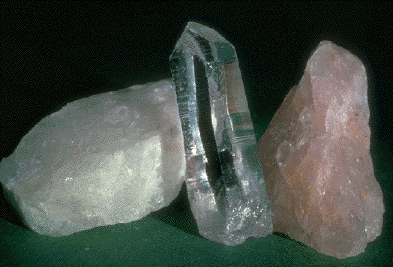 Color Varieties of the Mineral Quartz
Define the terms "rock" and "mineral" and explain the difference between them.
Describe the structure of an atom.
Related the size of an atom (or ion) to mineral structure
List and explain the physical properties of minerals.
Describe the structures of silicate minerals.
List some common silicate and nonsilicate minerals.
Introduction
I would imagine that there are students in the class who did not take chemistry in high school or transfer it in from another college. Some fundamental knowledge of chemistry will be required and the lectures and text should provide you with sufficient background. Don't panic if this is new material. Read the texts, read this summary and ask questions! Normally these summaries will not be as much "text" as this one contains. This is because past experience suggests that additional material is needed in this section to bring everyone up to about the same level of understanding. One goal is to make you familiar with some of the important Earth Materials; the amethyst crystals shown above are highly prized for their esthetic quality.
Internet Resources
In each chapter I will present a selected set of Internet resources which directly relate to the contents of each chapter.
The Physical Characteristics of Minerals

"Minerals can be only be identified absolutely by x-ray analysis and chemical tests. The x-ray analysis determines the structure of the mineral and the chemical tests determine the composition of the mineral. Structure and composition are the defining marks of a mineral. Unfortunately for the average collector, these tests require expensive equipment, expert know-how and often destroy the specimen. Fortunately, both structure and composition affect certain physical properties. It is through the proper use of these properties that minerals can reliably be identified."

What is a Gem?

This resource is one of a number of lectures from a one semester course taught at the University of Wisconsin. You might want to spend some time looking at the format and requirements for the course. Are you ready to take a course which is only offered via the Internet?

Web Elements

"WebElements colour codes the elements according to the periodic table block within each occurs. Unfortunately, some browser programs are not capable of displaying the colours. "
A Virtual Field Trip to Hunt for Gold
A little knowledge about minerals can help you locate something special. Spend sometime reading about how you can begin to prospect for GOLD.

"Welcome to recreational gold prospectors everywhere and to those who are interested in recreational gold mining and prospecting. You won't dig up any gold nuggets here but you may find some useful "nuggets" of information. Those interested in finding coins, artifacts and other things with a metal detector are directed to the Worldwide Treasure Links page. If you are a rockhound or mineral collector, try the Rock Hound Information Page."
_________________________________________________________________________________________________
| jbutler@uh.edu |E-mail the ClassListserv|Read the ClassListserv|
|Textbook Home Page |Glossary of Geologic Terms|Search These Pages|
|Other Courses|Resources|Grade Book|
_________________________________________________________________________________________________
Copyright by John C. Butler, July 29, 1995