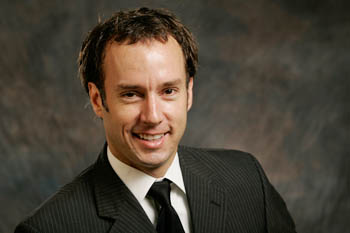 Craig Larson
NON-TENURE TEACHING EXCELLENCE AWARD
LARSON EARNS HIGH MARKS
Craig Larson, lecturer in the math department, teaches one of higher education's most notorious classes, College Algebra, to 500 students each semester. His efforts to shepherd students through the dreaded course have earned him the Non-Tenure Teaching Excellence Award.
Students who have taken his class, which possibly may have the largest enrollment in the university, have consistently rated him as one of UH's best professors.

"Larson's teaching evaluation statistics clearly exceeded not only departmental norms," Justin Leiber, professor of
Photo by Thomas Shea

philosophy, recalled. "Indeed, they were better than the teaching statistics of any other faculty member teaching any other undergraduate course."
Larson received a $4,000 prize and a trophy. Faculty nominees for the non-tenure track award must have been on the faculty at least half-time for three years prior to nomination.
Travis Coggin
Staff writer