The University of Houston's Conrad N. Hilton College of Global Hospitality Leadership, recognized as a worldwide leader in hospitality education, is expanding its global footprint through a new partnership with the elite Ferrières Hospitality and Luxury Management School in France.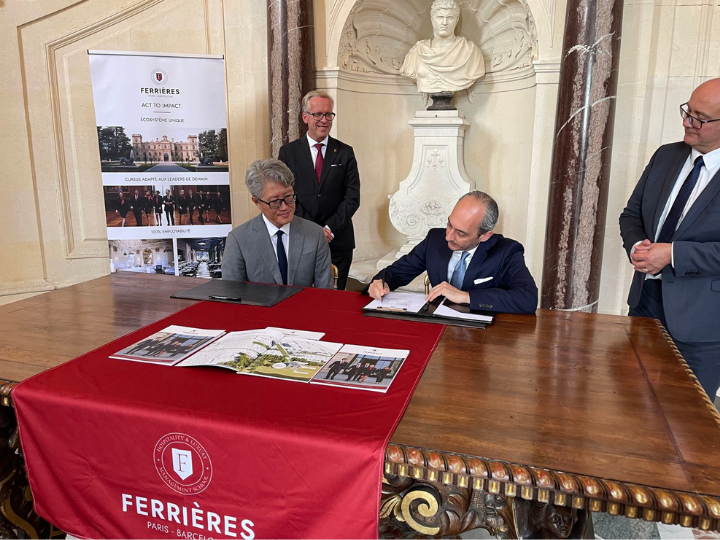 "Together with Ferrières, we are shaping the future of global hospitality," said Dennis Reynolds, dean of Hilton College. "This collaboration is the beginning of a remarkable journey of excellence and innovation across the industry."
At a ceremony in Paris last week, the two schools signed a Memorandum of Understanding (MOU) outlining their commitment to a reciprocal exchange program, summer internship opportunities for students and a micro-credentialing program for industry executives in France and Spain.
Ki-Joon Back, Ph.D., associate dean for research and graduate studies at Hilton College and the Eric Hilton Distinguished Chair, was instrumental in starting the conversation between the two schools and forging the partnership and represented Hilton College at the signing ceremony.
"Ecole Ferrières is in the developing stage with innovative ideas with great support from the industry," Back said. "With their ambition and our needs, this collaboration makes perfect sense."
Ferrières joins nearly a dozen other renowned hospitality institutions around the world in partnering with Hilton College on collaboration, innovation and student exchanges. Each semester, Hilton students have the opportunity to study abroad at famed programs including Sejong University in Seoul, South Korea and IULM University in Milan, Italy.
"This is much more than just an academic partnership," Back said. "It's a major step for building a powerful relationship that will allow both schools to prepare the hospitality leaders of tomorrow in exciting ways."
Hilton College is the only hospitality program in the world where students work and take classes in an internationally branded, full-service hotel. The college has graduated nearly 10,000 students who work in hospitality leadership positions in more than 50 countries around the world. The college also offers an exclusive, first-of-its-kind Master of Science in Global Hospitality Business in partnership with Ecole hôteliére de Lausanne in Switzerland and Hong Kong Polytechnic University, the top-ranked hospitality programs in Europe and Asia, respectively.
"Right now, our students can get educational and professional experiences across three continents," Reynolds said. "We are truly preparing them to one day lead the hospitality industry on the world stage."