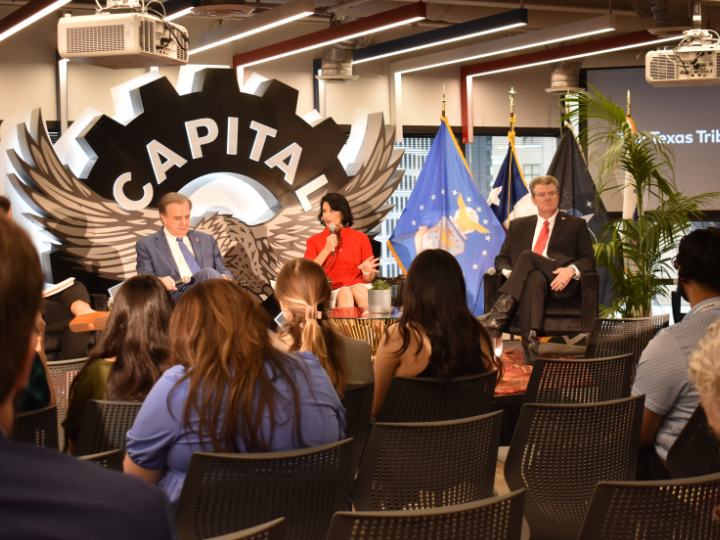 Building an academic powerhouse in Texas takes determination, drive and a shared commitment among faculty, staff and students. It also requires resources to amplify an institution's mission, vision and impact on the state it serves.
That was the message delivered by three Texas university system chancellors during the annual Texas Tribune Festival on Sept. 22 in Austin. University of Houston System Chancellor and UH President Renu Khator was among the leaders offering perspective on higher education's value to the Lone Star State during the panel "Building an Academic Powerhouse."
Just days after announcing UH's rise in the national rankings, Khator spoke to a packed room and addressed UH's evolving journey as an institution of higher education. Joining her for the conversation were Texas Tech University System Chancellor Ted Mitchell and Texas A&M University System Chancellor John Sharp. The discussion was moderated by The Texas Tribune's higher education reporter Kate McGee.
McGee's first question to panelists focused on the proposed Texas University Fund (TUF), a constitutional amendment that would create a $3.9 billion endowment supporting UH and three additional state universities: Texas Tech University, The University of North Texas and Texas State University. Voters will decide the future of TUF this November when it appears on the ballot as Proposition 5.
The fund, Khator said, will be an investment in UH, in the future of Houston and the state of Texas. Research at the University of Houston will indeed be supported by TUF, but communities locally and nationwide stand to benefit from discoveries made on campus, she added
"Research is really about solving societal problems," Khator said. "It addresses global challenges. For UH, it's very important to expand our research regionally and statewide as there are challenges with regard to energy and energy transition. Institutions such as ours can help provide viable solutions."
Khator indicated that UH and other public universities within the state have not had the benefit of the kind of state funding that's been afforded to institutions such as the University of Texas at Austin and Texas A&M University. Funding from an endowment such as TUF would further augment the addition of necessary research facilities and support UH's eligibility for federal grants.
TUF would also support the hiring of top scholars from around the world, she said. Khator acknowledged that when she arrived, UH had three members of the National Academies. The University now boasts 22 faculty that are members of the National Academy of Sciences and the National Academy of Engineering.
When asked how TUF could truly be a game changer for UH, Khator responded that it would impact both the institution and the city of Houston in many ways. UH, she said, does not receive the same federal dollars as peer urban research institutions across the nation such as University of California, Los Angeles (UCLA). UCLA puts such funding to good use within its populous city, and UH has the potential to do the same for the nation's fourth largest city, she said.
"It's good for Texas and good for Houston," Khator said. "I'm glad that they (legislators) saw the vision and realized that it (TUF) helps universities, helps research and helps everyone."
McGee posed the question of recent legislation regarding Diversity, Equity and Inclusion (DEI) offices and programming at state universities and its effects on campuses. Khator said that the UH System and other state university systems are working together to develop DEI policies consistent with the law. She added that in recruiting and retaining research faculty, communication is key in addressing any misconceptions or concerns related to this recent legislation.
"It takes dialogue," she said. "It takes conversations to convince them that we have a very solid research environment here at UH."
McGee also posed a question to Khator, Sharp and Mitchell about their respective institutions' "moonshots" or long-term research goals that would make a lasting impact globally.
For UH, that "moonshot" is energy transition, Khator said.
"UH is known globally for its work in superconductivity, and we're continuing to make discoveries with  regard to renewable energy, as well as the role of energy transfer in disease detection," she said.
Questions from attendees closed out the panel, including one from a student who inquired how universities are preparing future generations of researchers. Khator responded that UH is diligent in its efforts to expose undergraduates to research opportunities and prepare them for graduate school if not professional careers.
She then responded to a similar question on how institutions strike a balance between preparing students for the workforce and supporting their research aspirations. Scientific and academic investigations go hand in hand with students' professional development, she responded.
"I always say that you can't teach today's students with yesterday's tools," she said. "UH's ability to prepare the workforce of tomorrow relies largely on research opportunities for our students."
Toward the event's conclusion, Khator responded to a question on the community's role in faculty recruitment and credited UH's home city as an attractive option for scholars. Word of mouth about Houston has helped UH hire the best of the best, a trend that will likely continue with the city's growth … and UH's continued rise as a research institution.
"There's so much going on in Houston. It has vibrant industries and great communities," she said. "Everybody has a relative or friend in this city, so they just call and find out how it is … and soon, they're here."
Khator has long been a mainstay panelist and presenter at the Texas Tribune Festival. Since the event's earliest days, the University of Houston System chancellor and UH president has discussed higher education in Texas and the University's evolving vision and mission. This year's event featured a who's who of influencers and thought leaders including journalist Katie Couric, New Hampshire Gov. Chris Sununu and U.S. Sen. Joe Manchin among many others.
Khator soon will share further insights on UH's momentum and vision during her annual "State of the University" address slated for 10 a.m., Oct. 11 in UH's Moores Opera House.