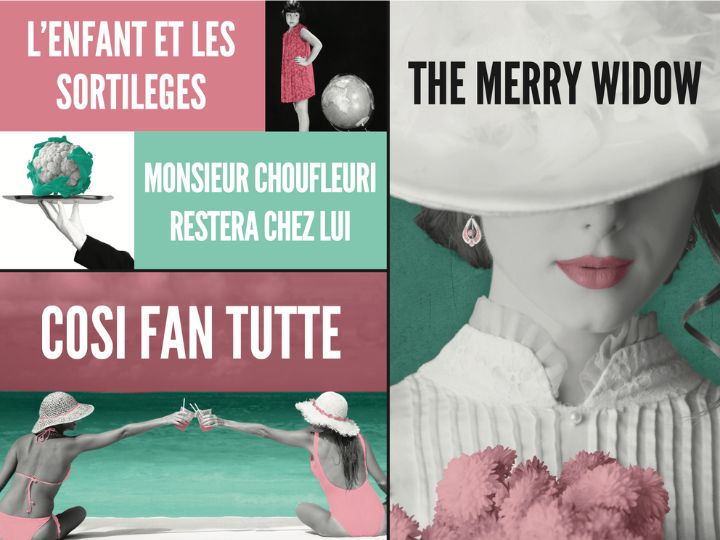 The Moores Opera Center at the University of Houston's Kathrine G. McGovern College of the Arts announces its 2023-24 season, featuring three productions. This season is the first programmed under recently appointed Artistic Director Kathleen Belcher and Music Director Keith Chambers.
"I am thrilled about the operas we are producing this season and for the opportunities we are giving our students. In selecting the operas, we wanted to achieve two things: vary the languages and styles of the operas and find as many performing opportunities for as many people as possible," said Belcher.
The season will open in October with "L'enfant et les sortilèges" and "Monsieur Choufleuri restera chez lui." Experience the enchanting world of French opera with the works of Maurice Ravel and Jacques Offenbach. These two one-act operas with libretti by the imaginative minds of Colette and Duc de Morny, offer a journey into a realm of wonder and whimsy.
"The French double bill is special in that there are about twenty named roles. This opportunity allows undergraduate students to assume roles rather than being limited to ensemble participation in the chorus," Belcher explained.
Ravel's score leads us through a fantastical landscape where a playful child encounters talking animals and objects, imparting valuable lessons in compassion. Meanwhile, in Offenbach's score, join the uproarious musical soirée hosted by Mr. Cauliflower, where the anticipation of famous opera singers' performances keeps the audience in suspense—will they make an appearance? Sung in the original French, this production features English dialogue and translations projected onto the stage, ensuring an immersive experience for all.
In February, prepare to be swept away by "The Merry Widow" as the Moores Opera Center brings Franz Lehár's operetta to the stage. Sung in its original German, with English dialogue and translations thoughtfully projected, this production guarantees a spellbinding experience.
Set against the backdrop of Paris's glamorous world, the story revolves around Hannah Glavari, the charismatic widow of a Pontevedrian millionaire, in search of a new love. Unbeknownst to her, her romantic choice holds the key to her homeland's destiny, facing imminent financial crisis. With Franz Lehár's captivating score, this operetta promises a night of melodies and surprises.
The season comes to an end with the timeless masterpiece, "Così fan tutte," by Wolfgang Amadeus Mozart, featuring a libretto by Lorenzo Da Ponte. Sung in the original Italian, with English translations projected on the stage, this production promises an enthralling experience.
In the span of a day, this classic opera explores the complexities of human relationships as disguises and deception come into play. But in the end, does anyone truly emerge as the victor? Join us for this thought-provoking journey.
"Opera, by its very nature, encompasses a rich tapestry of artistic disciplines, adding an exhilarating dimension to its stage production," Chambers said. "In our selection of these operas, we aimed to embrace and celebrate this diversity, incorporating a wide spectrum of talents, including voice, orchestra, chorus, and dance." All productions will take place in the Moores Opera House, featuring students from UH's nationally acclaimed program. Productions at Moores provide undergraduate and graduate students the opportunity to perform under the expert guidance of UH faculty and guest artists.
The 800-seat opera house is one of the finest purpose-built opera theaters in the country, providing young singers an ideal environment in which to perform and advance their craft; audiences are treated to a beautiful, comfortable and intimate theater in which they can see some of the most exciting emerging talent in the country.
Performance Dates:
"L'enfant et les sortileges" / "Monsieur Choufleuri restera chez lui"
Music by Maurice Ravel and Jacques Offenbach
Libretti by Colette and Duc de Morny
English translation of dialogue by Edward Mabley
Sung in the original French with English dialogue and translation projected over the stage
Performances: Oct. 26, 27, 28 and 29
Step into a world of French wonder and whimsy in these two one-act operas. With a libretto by the adventurous French novelist Colette, Ravel's score escorts us through a magical world in which a mischievous child meets animals and objects who talk and teach him how to have compassion. Then, in Offenbach's score, accept the invitation to Mr. Cauliflower's hilarious musical soiree where famous opera singers are expected to perform, but will they show up?
"The Merry Widow"
Music by Franz Lehár
Libretto by Viktor Léon and Leo Stein
Sung in the original German with English dialogue and translation projected over the stage.
Performances: Feb. 1, 2, 3 and 4
The glamorous widow of a millionaire from Pontevedro, Hannah Glavari, is back in Paris and looking for a new love. The future of the tiny nation depends on her choice, or they will go bankrupt! With one of opera's most beloved scores, join us for an evening of beautiful tunes and comedy to find out what she decides.
"Così fan tutte"
Music by Wolfgang Amadeus Mozart
Libretto by Lorenzo Da Ponte
Sung in the original Italian with English translation projected over the stage.
Performances: April 11, 12, 13 and 14
Over the course of a day, relationships are tested in a classic game of disguises and deception. Does anyone actually win? 
TICKETS
General Public - $25; Staff/Faculty/Alumni - $20; Seniors and Students - $20
Contact the KGMCA Box Office at 713-743-3388 or purchase tickets online at: https://kgmcaboxofficemusic.universitytickets.com/