Exhibitions
Archival Exhibition | Tuesday, November 7 (10 a.m. – 5 p.m.)
Blaffer Art Museum Café
Selected Readings in Context | Tuesday, November 7 (10 a.m. – 5 p.m.)
Blaffer Art Museum Café
Student Curated Art Exhibition | Monday and Tuesday, November 6 – 7
Thirdspace Gallery, UH School of Art (3rd Floor)
The School of Art's Thirdspace Gallery will house a temporary exhibition of women artists working around Houston. Curated by Liia Thrasher, the show features UH student artists exhibited alongside faculty and professional artists. These artists represent the diversity of female visual artists in Houston who continue the legacy of the 1977 National Women's Conference.

Artists:
Thedra Cullar-Ledford
Anna Mayer
Caroline Ryan
Alexis Pye
Elizabeth Gates
Elizabeth Rojas
Victoria Neri
7 Layers of Thickness is Thin: Mydolls and Women in Punk | Tuesday November 7 (7 – 10 p.m.)
Gallery on 4th floor of School of Art Building (above Thirdspace Gallery)
Curated by Katey Schumann and Saúl Hernández 
Art Car Exhibition | Tuesday, November 7 (7 – 10 p.m.)
Wilhelmina Grove
Continuing the beloved Houston art tradition of the Orange Show for Visionary Art and Culture's art car parade, five art cars by local female artists will be exhibited in the Wilhelmina Grove for public interaction. Free beverages will be provided by Saint Arnold Brewing Company, who is sponsoring this event. 
Artists:
Bonnie Blue (Women Rock Artcar)
Chris Green (Texas Natives)
Robynn Sanders Hale (El Muerto Echo, car owned by Kristie Odom)
Shelley Buschur (Tweet Tweet)
Highlights of Women in UH's Public Art Collection| Tuesday, November 7 (2 p.m.)
Tour begins at Blaffer Art Museum Café 
See select works from the University of Houston's Public Art collection on a guided tour around the UH campus.
Live Performances
Mydolls - Women in Punk | Tuesday, November 7 (8:30 p.m.)
Wilhelmina Grove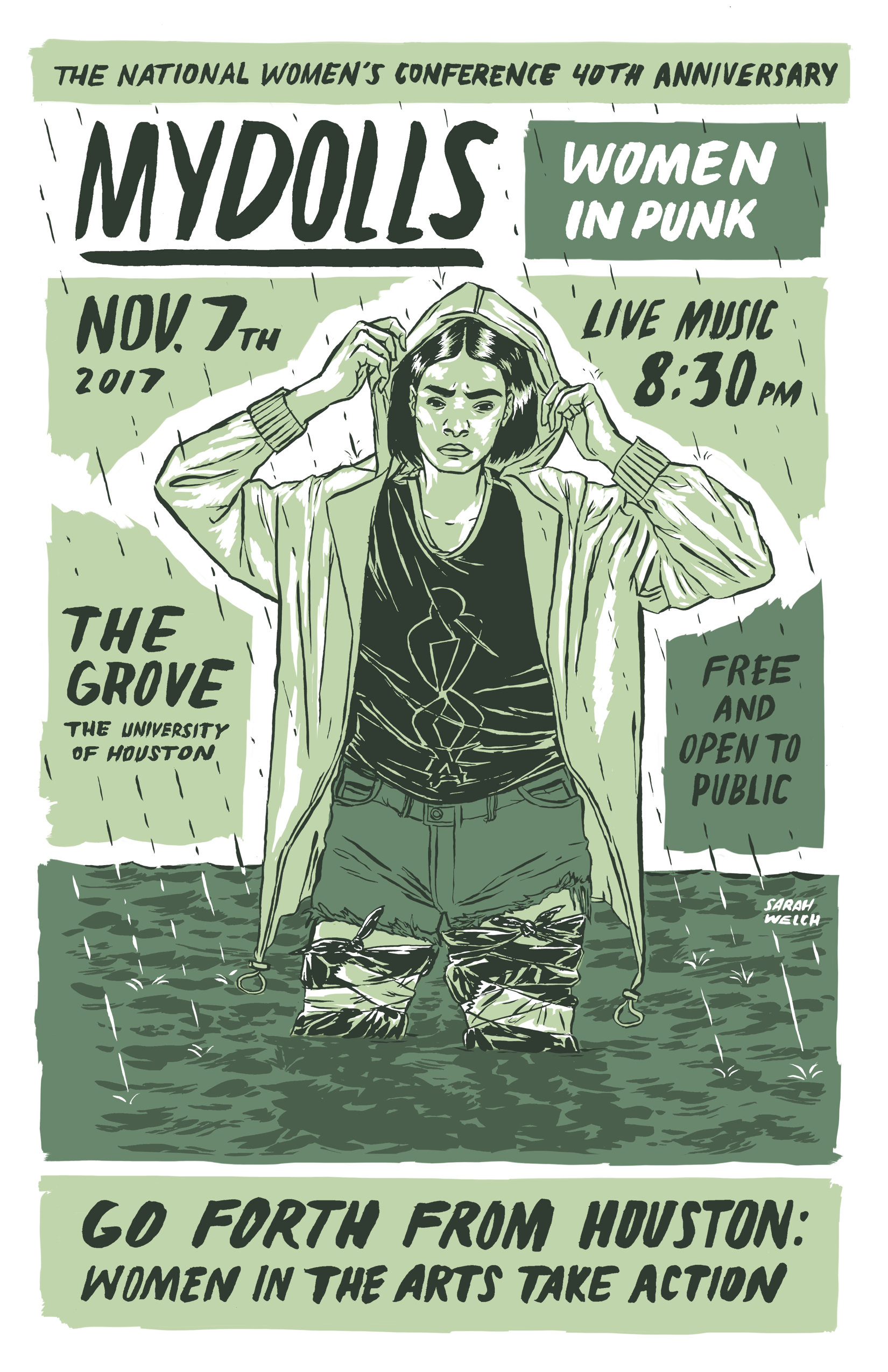 Image |  
Sarah Welch
The female fronted art-punk band Mydolls (formed in 1978) will close out the celebrations with a performance in the Wilhelmina Grove. Mydolls is a legendary Houston band that embodies the legacy of the 1977 National Women's Conference with their continued activism. The band includes original members of their original lineup Trish Herrera, Dianna Ray, Linda Younger and George Reyes. 
Houston filmmaker Cressandra Thibodeaux will be filming for her documentary "Mydolls: A World of Her Own" during Go Forth From Houston: Women in the Arts Take Action. This film will be a 60-minute documentary that highlights the legendary Houston band. The project follows them over the course of a year as they engage in mentoring young female musicians while supporting and nurturing female empowerment. See the trailer here.
Special thanks to Nancy Agin Dunnahoe of Neon Artifact. 
Open Air Gallery | Tuesday, November 7 (Noon – 10 p.m.)
In a live demonstration of Houston's graffiti talents, five leading female artists will present their unique styles in an ephemeral exhibition throughout the day. The murals will be presented in their entirety during the night's celebrations.
Artists:
Anat Ronen
Tyler Kay
Jessica Rice 
Kn0w me 
Blanco
Generation | Dance Performance | Tuesday, November 7
Time and Location TBA
As the woman in history created and molded the world to new standards, we must do the same — we are the new generation that must fight for equality and continue carrying the torch of freedom, which was first carried by women all the way from Seneca Falls, New York to Houston in 1977.
Choreographer:
Ashley Gallagher
Dancers:
Ashley Gallagher
Grace Crawford
Mia Pham
Mary Catherine McReynolds
The Doll Project | Tuesday, November 7 (TBA)
Wilhelmina Grove
Performance art by Thedra-Cullar Ledford
Community Engagement Salon | Tuesday November 7, 7 – 10 p.m.
During the celebration, learn about Houston's local organizations that work toward the goals of the 1977 Conference at this salon organized to engage and inspire students.
Organizations/Publications:
Glass Mountain
InPrint
Women's Caucus for Art
Women in Visual and Literary Arts
Orange Show for Visionary Art
Fresh Arts
League of Women Voters
Blaffer Art Museum Student Association
Women in Architecture