DSAES News
July 21, 2022
We're celebrating 50 years of international friendship!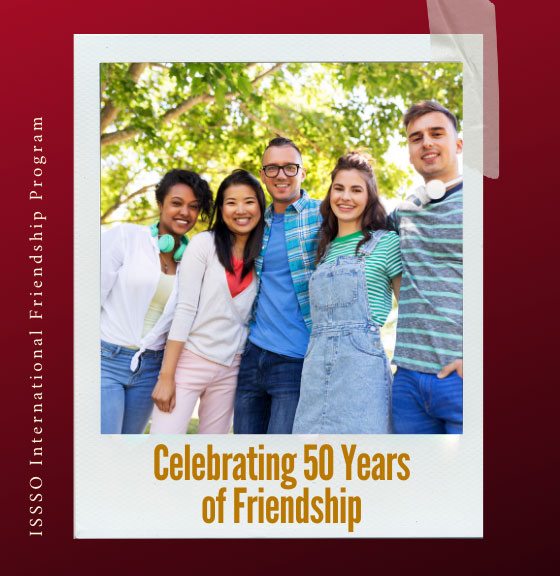 The International Student and Scholar Services Office is marking a momentous anniversary in just a couple of weeks: Its International Friendship Program is commemorating 50 years of pairing international students with local families, a partnership that has helped cultivate decades of long-lasting relationships between UH students and Houston-area families.
Over the last 50 years, more than 3,000 students and scholars have participated in the International Friendship Program, said Melissa Aylward, coordinator of the program. Each year, she said, ISSSO matches between 40 and 100 students and scholars with local families. Since the program started, more than 40 families have signed up repeatedly to be matched with a student or scholar.
The program, which started in 1971, has been invaluable in exposing students and scholars to American culture, Aylward said. But they've also been able to develop meaningful relationships with the families who have volunteered for the program.
"Students are exposed to the American culture in American homes, holidays, Houston rodeo, other local events, etc.," Aylward said. "Students are also able to practice English with Americans and introduce families to their culture."
ISSSO is celebrating the anniversary at its annual reception and dinner on November 19, which will coincide with International Education Week.
This annual program honors host families. Most volunteers for the program, she said, are retired singles or couples, with the typical student or scholar participating being a part of The Graduate School.
How does it work? Students and scholars matched with a local family meet up once a month for whatever activity they want to do that month: A family dinner, go sightseeing, celebrate a holiday or experience a Houston attraction. But ISSSO encourages the students and families to continue this friendship past graduation — there has even been an international friendship span almost the entirety of the program's existence.
"In 1972, a married couple from South Korea came to UH seeking their Ph.D. in chemistry and were matched with a Houston couple through the International Friendship Program," Aylward said. "Their connection has led to 49 years of friendship. This is the longest recorded overseas friendship in the history of the program. Their friendship has influenced future generations in the program by instilling the value of friendship, cultural exchange, and travel."
Students and scholars have enjoyed and appreciated the connections they've made through the program.
Yifei Wang, an international student at the University of Houston, was matched with the local Vogan family.
Wang told ISSSO that they "have been hanging out since 2014, and I have witnessed the addition of three more kids into their family. Our friendship keeps evolving with richer experiences and deeper connections. We enjoy watching football together, but we also value having more serious conversations."
The program is also well-received by the parents who have seen their sons or daughters come to UH. Parents in India told ISSSO they were grateful for the Houston empty-nesters who matched with their son. "We would like to thank you for being there for our son and making him part of your beautiful family," the UH student's parents said. "Rest assured, we know for sure that he will not be unnoticed and alone in your part of the world. We know that he will continue to develop as a gentleman under your guidance, love and care."
Some facts about the International Friendship Program:
How did this program start?
The International Friendship Program started in 1971, connecting International Students and Scholars with Houston locals. The program offers them a chance to enrich their experience in the US by providing opportunities to explore Houston, make friends, and exchange cultural experiences and knowledge.
What was the original goal of the program when it started?
The founder of this program wanted to address the needs of international students and scholars by providing a support system, while they are adjusting to American culture, language barriers, academic challenges, and so on.
How does one volunteer to be a host family?
Volunteers come across the program from the internet, word of mouth, and community outreach. They then fill out a form about themselves and their interests. As program coordinator II, Aylward helps match them with a student or scholar that has similar interests.
Do students typically participate their entire time at UH or just one year?
The commitment is based off one year, however, many friendships last 4 plus years.
How do you match students with families?
We match students with families based on interests, studies, countries visited or lived, and any other preferences.
What are some of the things you look for when someone applies to be a host family?
We look for individuals who are supportive and welcoming. We also provide host families with information on cultural awareness with their newly formed friendships.