DSAES News
July 21, 2022
The Las Comadres College Mentoring Program just got a big boost to help reach its goal of helping first-generation Latina students connect and develop relationships with Latina faculty and staff at the University of Houston.
The Latin Women's Initiative, a Houston-based organization that focuses on helping Latin women and children through financial and volunteer support for local nonprofits, has awarded the mentoring program a $15,000 grant that will help expand programming to a growing population of Latina students.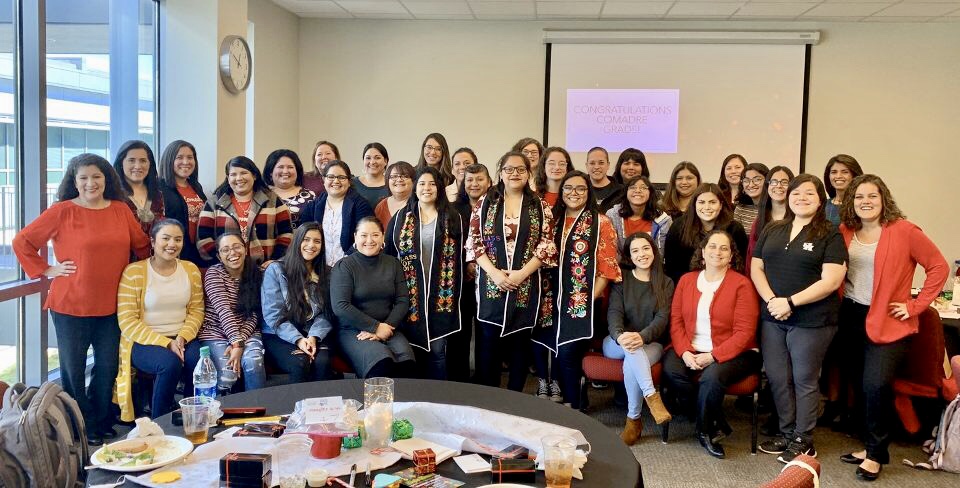 "After learning about Las Comadres College mentoring program and what it encompasses, it was clear that they shared the same goals and values as LWI, which is to make a difference in the lives of Latin women and children through financial and volunteer support," said Maritza Gonzales, LWI president. "The mentoring and support that they offer first-generation college students is essential in ensuring the personal and professional success of these students and we are thankful for the opportunity to partner with Las Comadres Mentoring Program."
"LWI is such a generous organization and does so much work for the Latino community in Houston and to be one of their beneficiaries is an honor," said Hope Pacheco, assistant dean of students in the Division of Student Affairs and Enrollment Services. "I am so excited to be part of the distinguished awardees who have come before us to work on behalf of the Latino community through our efforts with the Las Comadres College Mentoring program at the University of Houston."
Las Comadres College Mentoring is a pillar program within DSAES' Urban Experience Program and part of the Dean of Students — Student Outreach and Support Collaborative. It provides a space to foster meaningful mentoring relationships between Latina students and Latina faculty and staff at UH. This program helps these students "feel welcomed, encouraged, and supported," Pacheco said.
Pacheco, along with UEP Director Raven Jones, founded the program as a collaboration in 2016 to increase Latina students' sense of belonging, navigate their college experience, and explore what it means to be a first-gen Latina college student, graduate, and professional.
It really started to "fill a gap," Pacheco said. "As a Hispanic Serving Institution, the University of Houston offers programs that support first-generation college students, Latinx students, but not specifically Latina first-generation undergraduate students. We have created a space that is unapologetically Latina, and our faculty, staff, and students have responded with resounding support for the program."
The vision for the program, Pacheco said, is to increase the number of both mentees and mentors, expand and enhance programming to include stipends for peer leaders, add a staff position to help grow the program and serve more students, and ultimately provide scholarships for students.
This grant, she said, will fund upcoming program enhancements: monthly roundtables, semester retreats, cultural outings, and graduation celebrations.
"At this time, all of our events for the fall semester will be virtual," Pacheco said, "so we are adjusting our programming to include this new format. This past spring, we bought and delivered graduation packages to each of our graduates to accompany our virtual celebration. We plan to continue to find ways to enhance our virtual celebrations and events, and hopefully add an overnight retreat when we can be together again."
Comadre Mentors volunteer their time, and they are primarily made up of Latina faculty, staff, and graduate students. Pacheco said they hope to expand the mentoring pool to include Latina community mentors focused on enhancing career and internship exploration.
Since it began four years ago, the response from mentees on the benefits of Las Comadres College Mentoring has been positive. Pacheco and Jones regularly gather feedback from surveys, and the comments have shown that Las Comadres College Mentoring has made an impact on Latina students at UH.
"My experience as a first-generation student has been a tough yet enjoyable experience," one mentee wrote. "College can have its ups and downs, and having a support group like Las Comadres and my mentor to talk to has been extremely helpful. My mentor serves as a guidance counselor, therapist, and like a second mom. She takes time out of her busy life to speak to me for two hours, every month. It makes me feel important and reminds me that I will always have someone to rely on. When school and family problems mixed my mentor helped me find a way to divide them. Without Las Comadres, I would not feel as supported, and I would have dropped a class without rationalizing logically rather than emotionally. Thanks to my Comadre, I did not."
After their 2020 virtual ReTREAT, a student shared, "The love within this organization is impossible to ignore. I left the retreat feeling more inspired than ever."
2020-21

75 Mentees

64 Mentors

2019-20

100% of mentees were first-generation students

100% received financial aid

71 mentees and 64 mentors

27% faculty mentors

73% staff/graduate students mentors

Spring 2020

Average GPA: 3.744

Graduates GPA: 3.85