DSAES News
July 21, 2022
Student-workers have comprehensive training on COVID-19 safety.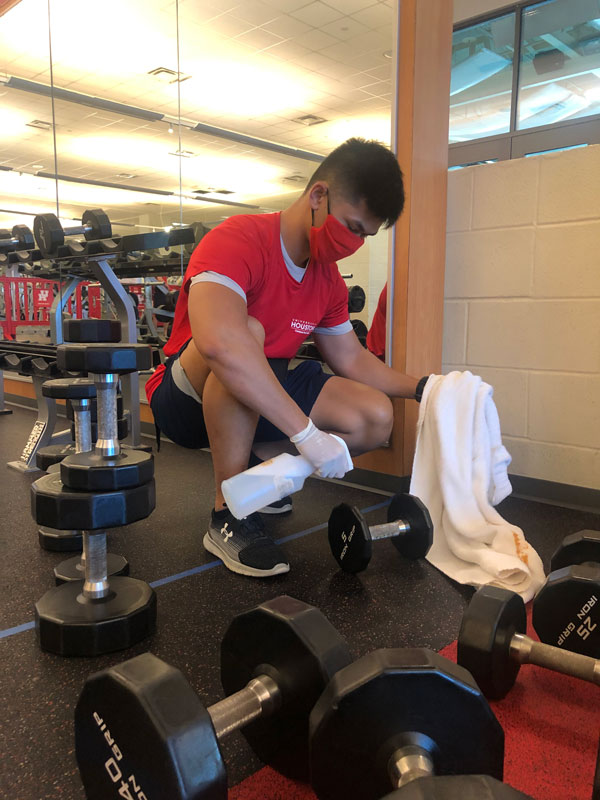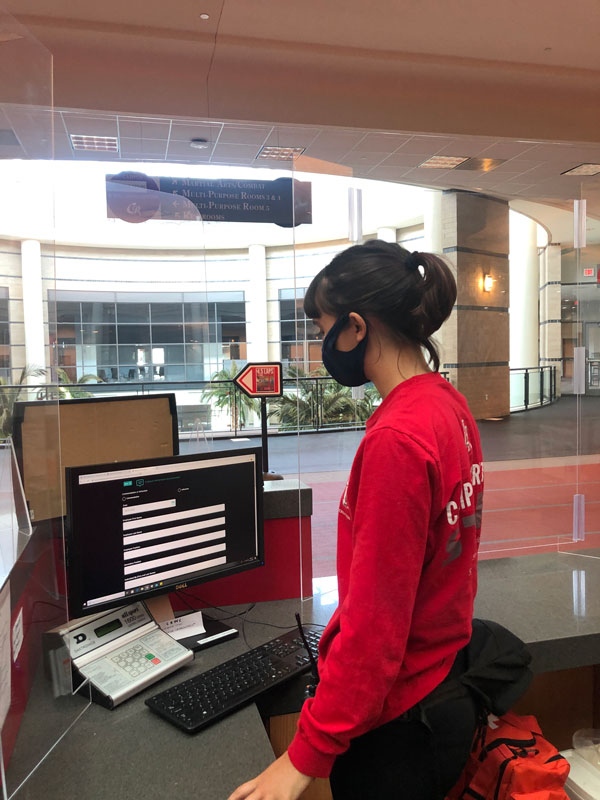 Working out at the Campus Recreation Center may look a little different now — but it's going to be as safe as can be.
Not only has the Department of Campus Recreation followed the University of Houston's guidelines on COVID-19, staff members had to prepare a reopening plan that also adhered to state rules, the Centers for Disease Control recommendations, and additional instructions from organizations like the American Red Cross, USA Swimming, Climbing Wall Association, and others.
Reopening the Campus Recreation and Wellness Center safely as a global pandemic continues around us was not easy, and to keep patrons safe and healthy, there are some sacrifices, said Kim Clark, director of Campus Recreation.
All students enrolled for the fall semester can use the Recreation and Wellness Center, which for now will be operating with:
Reduced Hours
Limited Activities
Limited to a 25% capacity in activity spaces
Reservations required for times and activities. Reservations can be made up to 24-hours in advance and will be specific to activity offerings such as the fitness zone, badminton, table tennis, racquetball, and squash (solo only).
Cashless transactions
Group fitness classes will continue to be offered virtually only
"The health and safety of our UH community and our staff is our top priority," Clark said. "Campus Recreation plays a critical role in supporting the overall health and well-being of students, so we are eager to welcome them back in person to the Campus Recreation and Wellness Center.
"We are equally committed to supporting the health and well-being of those who may not be on campus this fall through a variety of virtual program offerings," she added. "We encourage the entire UH community to visit the Campus Recreaton website for the latest information for both virtual and in-person programs and services."
Like the rest of the University, Campus Recreation closed down in March when the pandemic first began to spread in Houston. Staff members successfully took much of its programming online, until the campus could be reopened safely. Keeping the Coog community safe and healthy is and will remain our utmost priority, said Joseph Secrest, assistant director of leadership and assessment at Campus Recreation.
But the department is also determined to provide the same high-quality service students have come to expect from Campus Recreation.
"We have rejuvenated our customer experience to provide maximum safety and streamlined essential services," Secrest said. "We are doing everything we can to ensure our students have every opportunity to engage and recreate. Our patrons can expect us to make up for these modifications in ways that are incredibly fun and engaging. We have our staff looking into what it really means to be active and move so we can provide the tier one services we are known for. With every challenge there is opportunity, and frankly I am excited to see what we will put forth and I think our patrons will be too."
The reopening took more than just spacing out some treadmills around, Clark and Secrest say.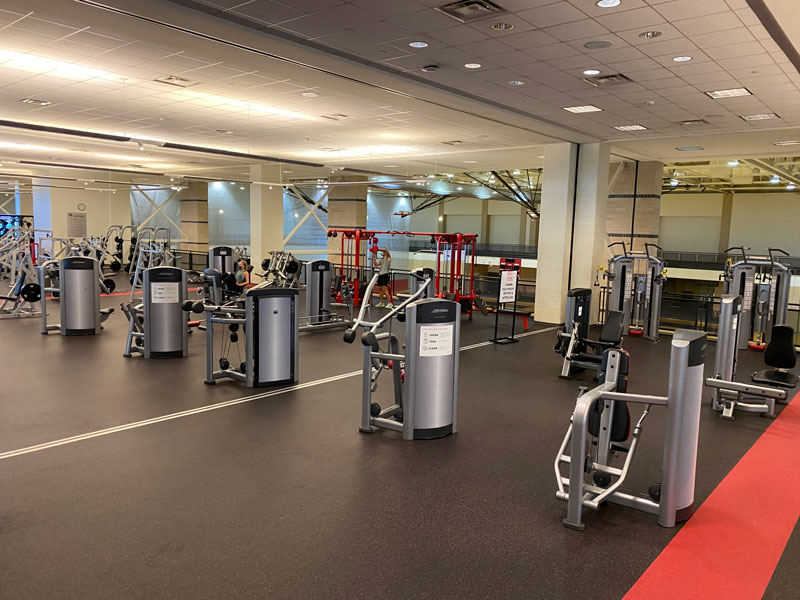 For patrons using the Center, they have instituted:
Online registration
Contactless entry to ensure social distancing
The equipment has been spaced out so patrons will be more than six feet apart when possible, or taken offline if it cannot be moved
Rigorous cleaning of equipment and high touchpoints. Campus Rec is stocked up with additional cleaning supplies, electrostatic sprayers to clean the facility and equipment, protective gear, and hand sanitizer.
Obtaining a stable supply of cleaning supplies and personal protective equipment for staff members was problematic when reopening, Clark said.
"Part of the delay in our opening has been not only working through local, state, and CDC guidelines, but it has also been due to challenges with procuring personal protective equipment and cleaning supplies," she said. "Many items have had a lead time of 6-12 weeks, and we are still awaiting a few supplies that were ordered in May to arrive. Our goal is to remain open and maintain an adequate inventory, so we will exhaust all appropriate options if we run into additional challenges with our current suppliers."
Campus Rec also had to completely revamp the training process for student workers. Every employee has "foundational requirements" they must complete before starting work: CPR, AED, and First Aid Certifications for Adults and Pediatrics through the American Red Cross; UH Blood Borne Pathogens, and departmental training.
There's also another 16 certifications that numerous positions at Campus Rec require, from personal trainers to lifeguards, to climbing wall instructors.
Those are just the basic normal requirements. Throw in COVID-19, and training student workers got a lot more complicated.
It was also important to protect the health and safety of staff members while on the job, Secrest said.
In normal times, Campus Rec employs about 250 student workers. The fall semester will see a drop to about 100 student staff members, all of whom underwent dozens of hours of training. This means they are looking for dedicated and energetic students in their virtual job fair as they reopen in phases, so submit your application.
Campus Rec also installed additional safety equipment, such as Plexiglass barriers, and increased cleaning protocols. Workers are required to wear masks (which is also in accordance with the University's face covering policy), and hand sanitizer stations have been installed, as have contactless payment systems.
The new "Return to Rec" training staff members were required to complete before they could come to work at the Center. It prepared student employees for the majority of changes to the UH campus and Campus Recreation, and covered space closures, facility and program modifications, policy changes, Emergency Action Plan updates, and how these new procedures will affect workers.
Student workers are being provided with N95 masks, gloves, liquid-resistant gowns, face shields, and HEPA filters, Secrest said.
"We are taking the time to intentionally provide the right answer for our today and our future not just the right now response," he added. "There is nothing we put above the safety of the people who trust us and the service in which they receive."
They've gotten a lot of positive feedback from student workers on the COVID training. "I think our students are ready to return to a sense of normalcy, and we aren't asking them to do anything outside of regulation," Secrest said. "We are a lot more to our students than an entry-level job. Yes, we provide financial support to them, but we also are a place where they interact socially and develop life skills that affect their future. We are a place that they trust both physically and mentally, where there is a sense of belonging so it is not been hard to get them to come back where they feel like they belong."