DSAES News
July 21, 2022
Anita Gaines, who retired from the University of Houston last year after more than 40 years of service, was honored on Tuesday with a Life Membership Award from NAFSA: Association of International Educators. This award recognizes members after retirement whose careers fostered international education and exchange and helped advance NAFSA's goals.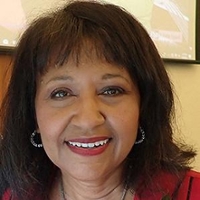 From 1994 to July 2019, Gaines served as the director of the International Student and Scholar Services Office (ISSSO), now within the University of Houston's Division of Student Affairs and Enrollment Services.
"I am very grateful to the University of Houston for their support over the years that allowed me to participate as a leader in NAFSA: Association of International Educators," Gaines said. "This involvement provided great opportunities for professional development as well as enhanced services for our international students and scholars."
Dr. Jin Zhang, current director of ISSSO, offered Gaines a well-earned congratulations on the award. "I have been working under Anita's leadership for more than 17 years in the same office," Zhang said. "She loves the university and cares for others. She worked with her heart seeking the best interest of our international students and scholars. She is a great leader and my role model."
The International Student and Scholar Services Office support international students seeking degrees at the University of Houston in numerous ways, including assisting with visas and U.S. regulation compliance, mentoring, providing temporary housing, and organizing cultural events and programs.
Gaines said she was inspired to a career in international education thanks to her predecessor and mentor, Dr. Jack Burke. She stayed actively involved in NAFSA throughout her career, including serving as a representative for South Texas and chair of Region III. Nationally, she served as chair of the Council of Advisors to Foreign Students and Scholars, Annual Conference Committee Member, Workshop Chair, and Faculty of Foundations of International Education: Foreign Student Advising, among other positions.
Gaines has also been a regular presenter at NAFSA conferences, and she was previously honored with the Citation for Extraordinary Service in international education from NAFSA Region III, as well as winning the 2011 NAFSA Homer Higbee Award for Distinguished Service.
"I am very happy for Anita and this recognition of her service to NAFSA," said Dr. Daniel Maxwell, associate vice president for student affairs. "As an educator and administrator, Anita unapologetically always put our international students and scholars first. Her commitment to our international students and scholars and their success as members of the UH community speaks to her character, integrity, and professionalism."
NAFSA, which was founded in 1948 as the National Association of Foreign Student Advisers, is the largest association of professionals promoting international higher education. The U.S.-based organization provides programs, products, services, and physical and virtual meeting space for the worldwide community of international educators.
Gaines plans to continue her work with NAFSA, currently serving as coordinator of the NAFSA Christian Member Interest Group.