DSAES News
July 21, 2022
No plug for your phone charger. The last row of seats on your flight. Long lines at the coffee shop. First-world problems.
But imagine your life with actual problems in our first world. No running water. No kitchen for hot meals. No mattress.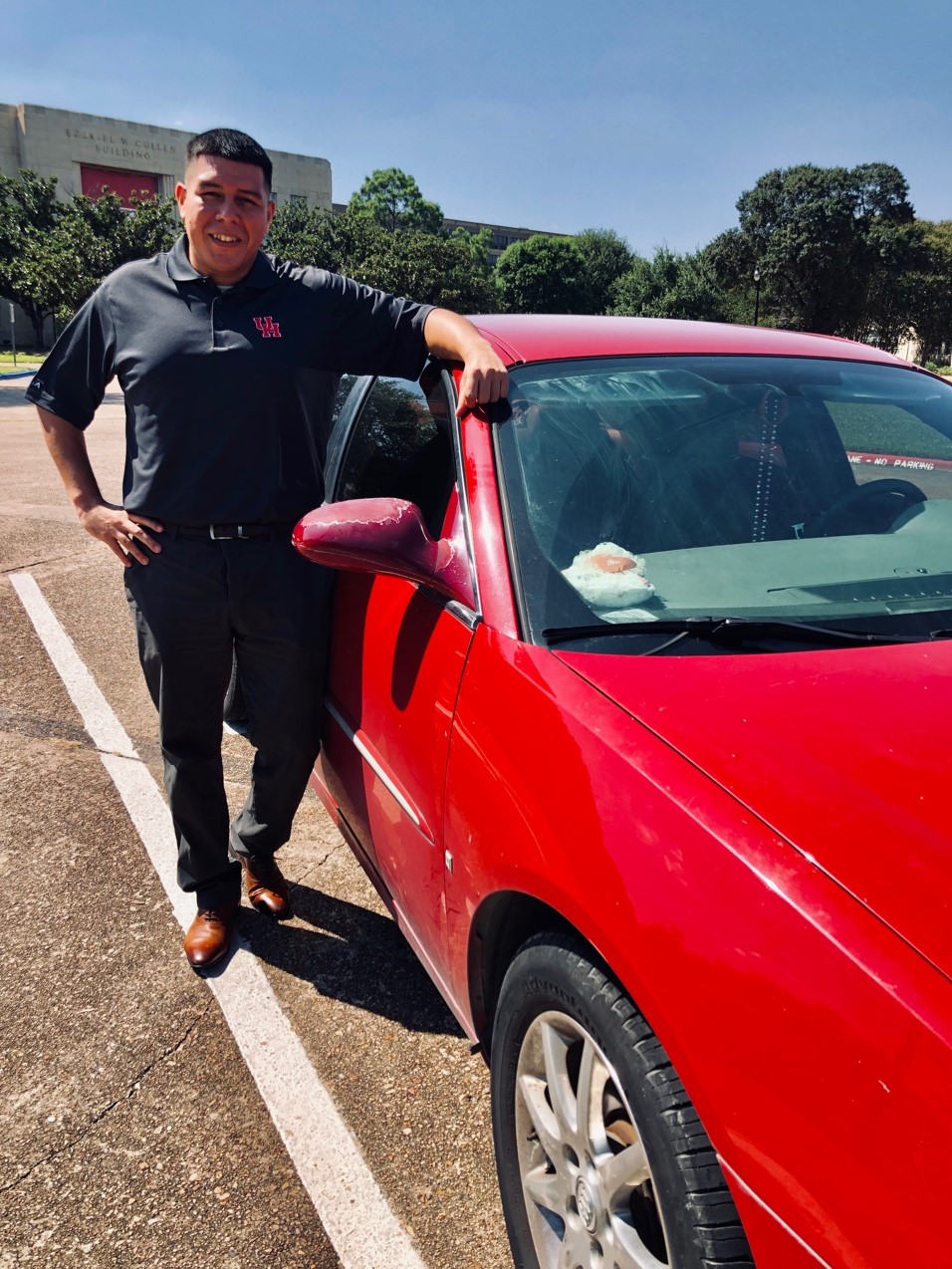 Now imagine living like that and attending classes at the University of Houston. Trying to make it to class and lab and study groups and the library, with no home to return to at night.
That was Jean Dala's life after he started attending classes at UH. He was living in his car. He wasn't a commuter student or a campus resident, he was homeless.
"I was living the life of the unknown, not knowing where the next dollar was going to come from."
But Jean's circumstances didn't define his life. He knew they were temporary and his education would give him a new future. His past would not determine his destiny.
"I believe if you put yourself in negativity only more negativity is going to come from that. But if you can get your mind into a positive mode – which is so challenging in the moment – things will work out."
Going to school at UH gave Jean positive energy. Despite all his hardships, Jean was making good grades, and he even started his own business.
"I had given up on getting a job because when you don't have an address, even Walmart isn't going to hire you – so I made a job."
Jean had some experience cleaning pools, so he took his knowledge, his work ethic, and his 2008 Buick LaCrosse, and started a pool business.
"I started with zero customers and in the worst time of the year, in August which in the pool business is the end of the season. That first year was a nightmare, I might have had five customers total."
Those five customers that first year earned him about $300 a month.
"I was living off the dollar menu literally every day. The ramen noodle diet. When you have $300 to your name, you have to make every penny count."
Jean's Buick was not only his work vehicle, it was his home.
"I was living in my car and I would park across from The Rec so that following morning I could wake up, take a shower, try my best to get the wrinkles out of my clothes because even though I was homeless, I always tried to play the part as if I weren't. I didn't want people to think of me that way, I just wanted to look like any other normal college student."
Those were dark times for Jean.
"Even though at the end of the night I would say 'hey guys it's time for me to go home,' I wasn't going home; I was just going to my car."
Now looking back, he says it sounds like a line from a movie.
"I would cry myself to sleep, but at the same time as I was crying, I would tell myself 'you are going to look back at this one day and laugh about it' because I believed in myself. I didn't know how it was going to happen but I would overcome this obstacle put upon me. Because at the end of the day, nobody put this challenge in front of me but myself, so it was on me to get myself out of this situation."
And Jean not only got out of his situation, but he also did it with flying colors. He continued attending UH working toward a degree in Management Information Systems, building relationships with faculty that he continues to maintain today. And he grew his business to three trucks and several employees working for him.
"It got to the point where I didn't really need to work anymore – I was more on the management side of the business, but that didn't stop me from going out to work on pools. I would continue to do the labor side, especially on the weekends."
Jean kept up his studies, made excellent grades, and stayed humble.
"I embrace all the things that happened to me, and maybe I was put in this situation so I can be an inspiration to other people who find themselves in similar circumstances. I am proof there is a way out – there are a lot of closed doors, but you just need to find the right key."
After all those nights spent sleeping alone in his car, the night before commencement in 2017, Jean couldn't even get to sleep.
"I wasn't nervous, it was just all these jitters and because I was so happy. Still to this day, graduation day is the best day of my life."
Walking across the stage and receiving his UH diploma was proof that believing in himself was actually the right thing to do. It was proof that all of his hard work had paid off.
And Jean's diploma included three words only a very few students earn: Magna Cum Laude. Despite all the challenges he faced, Jean graduated UH with honors.
"To have that diploma finally in my hands, no one can take that away from me. You can say what you want, but this is mine, and I worked my ass off for it, so walking across that stage was the most beautiful moment I had ever experienced."
These days, Jean is a lead auditor for Calpine and travels across the nation to all 82 Calpine power plants in the United States.
"Traveling around the country and being exposed to all of it you realize the world is bigger than you, bigger than Houston and Texas. It made me open myself to different cultures and the world."
But Jean's mantra hasn't changed since those homeless nights alone in his car on campus. He still believes no matter where you come from or where you are now in life, make sure you're the best person you can possibly be.
"Having a positive mindset and not allowing other people to put you down, and even if they do, as long as your mindset is correct, no one can stop you from what you want to do in life."