DSAES News
July 21, 2022
UH graduate research assistant Patrick Sajovec has been named the recipient of the July Golden Paw Award as the Division of Student Affairs and Enrollment Services employee of the month. Patrick is a sixth-year doctoral student in the College of Education Department of Psychological, Health, and Learning Sciences.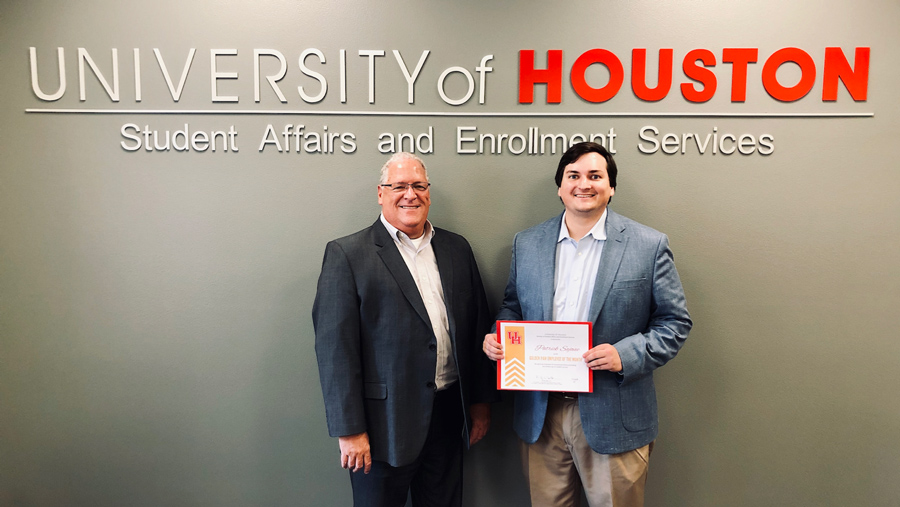 "Since joining the Division of Student Affairs and Enrollment Services in January of 2019, Patrick has quickly become an invaluable member of the DSAES team. Between the end of the spring semester and July 1 when I arrived, Patrick was the primary support for assessment and planning related needs, taking on responsibilities that typically fall to the director of planning and assessment when the division was between directors," said Scott Radimer, director of planning and assessment. "Patrick is a team player and has been a joy to work with."
Prior to coming to Houston, Patrick received a bachelor's of science in psychology from the University of South Carolina where he also managed an after-school program for children with ADHD and behavior problems. His first summer in Houston, he worked at a summer camp at the DePelchin Children's Center using a Khan Academy math program to try to reduce summer learning loss. Since then, Patrick has conducted research related to yoga to improve student outcomes and reduce teacher stress and burnout.
"Patrick has been with the division for just over one year, and has been an outstanding employee since day one," said Associate Vice President for Student Affairs Dan Maxell. "The Golden Paw Award typically recognizes a division professional staff member, so for a graduate student to be honored in this way speaks to Patrick's exceptional leadership skills and dedication to UH and the division."
Congratulations Patrick!