DSAES News
July 21, 2022
Congratulations are in order for Celeste Fuentes, financial coordinator in the Division of Student Affairs and Enrollment Services, as the Golden Paw Employee of the Month recipient. Celeste was nominated for this honor by her colleagues in the UH Student Centers and was selected by the executive leadership team of the division.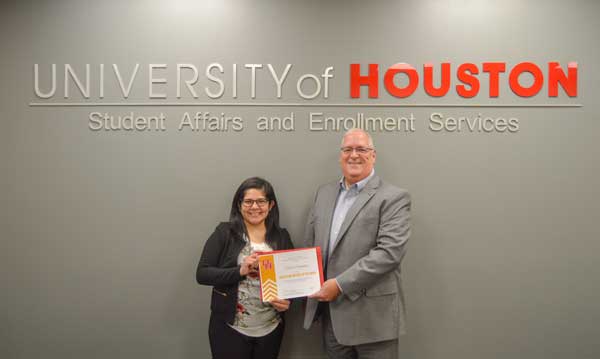 "I am pleased to honor Celeste with the Division of Student Affairs and Enrollment Services Golden Paw Award for her exceptional professionalism," said division Vice President and Vice Chancellor Richard Walker. "Through her work, she is leading by example and serving as an asset to our division. We thank her for demonstrating our values and vision each day."
One of Celeste's nominators wrote that she had known Celeste for several years and that she is, "a helpful and pleasant individual to work with, particularly within a realm that I have limited experience or knowledge. She always has a warm and welcoming attitude and is willing to help out whenever asked."
Of her award and recognition, Celeste said she was honored and, "I really enjoy my job and try to assist my coworkers to the best of my ability."
Congratulations Celeste!