DSAES News
July 21, 2022
A dynamic duo has been named the recipients of the Golden Paw Award for June 2019 in honor of their outstanding leadership of the Assessment Committee of the Division of Student Affairs and Enrollment Services. Eve Esch and Jennifer Skopal led the committee the past academic year, with membership representatives from all 29 programs and departments within the division.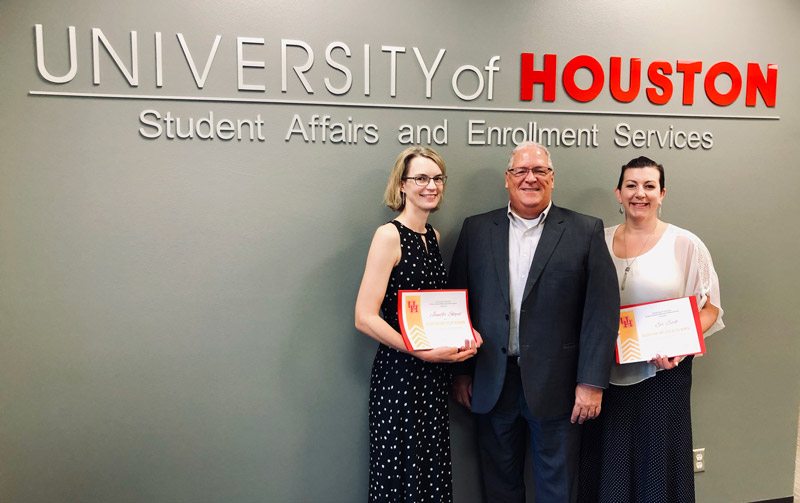 "The award is certainly a team effort. It was an honor to serve as co-chair of this year's DSAES Assessment Committee," said UH Student Centers Director Eve Esch. "There was a committed group of professionals from across the division who worked to further the culture of assessment, and we are proud of working together to impact student success."
The assessment committee is charged with the systematic collection, review, and use of information about the effectiveness of the services and programs provided by each unit within the division for the purpose of improving student learning and development.
"I have enjoyed serving on the committee for many years and especially this year as co-chair with Eve," said Skopal, director of the Children's Learning Centers. "It has been a great way to learn how other departments within the division are implementing student success initiatives. We have a dedicated team of members who are committed to their roles in furthering the assessment culture within the division. I look forward to serving on the committee again this year."
Associate Vice Chancellor/Vice President Dan Maxwell, who oversees all division-wide committees, said, "It's exciting to see the progress the assessment committee has made this year under Eve's and Jennifer's leadership, especially with the vacancy of the director of assessment and planning position this spring and with my interim role at the University of Houston – Clear Lake. They skillfully handled all the responsibilities and duties, and I'm proud to have Eve and Jennifer recognized with this award."