DSAES News
July 21, 2022
Eight years in the making, Don Yackley has worked diligently to turn a languishing student housing system into a vibrant and robust residential life program at the University of Houston. Not only creating more beds through new residence halls but bringing student success to the forefront of living on campus, creating learning communities and retention programs for at-risk students.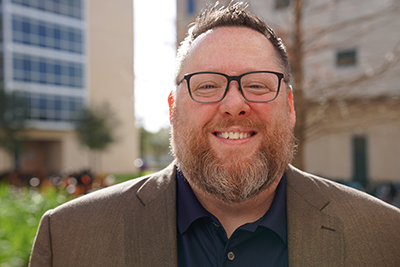 And his work has been highly successful, as graduation rates for residential students increase year after year, as well as the overall retention rate for residential students – 86 percent, much stronger than of our peer institutions across the nation – continue to rise as well. Don has proven to students that living on campus is not only good for their social life but more importantly, for their GPA. In 2012, only 6,000 students lived at UH, while by August of 2020, more than 8,300 will call the campus their home.
"I admire Don's vision for the student housing experience at

 

UH," said Dan Maxwell, Associate Vice President for Student Affairs. "Over the last 8 years, he has, and continues to foster, a living and learning environment that supports an inclusive community in our residence halls, engages with our academic colleagues, and supports student success in a holistic manner that has demonstrated a positive impact to the student experience."
Indeed. As the Chief Housing Officer for the Division of Student Affairs and Enrollment Services, Don oversees multiple programs that help students discover their potential, make lifelong, meaningful friendships, and graduate on-time. Cougars in Recovery, Honors at Cougar Place, IMPACT, International House are just a few of the initiatives Don put in place to elevate "Coog Life" and create the success residential students enjoy.
As a reflection of the University's success, Don is being elevated himself, as the new Assistant Vice President for Student Affairs – Student Housing and Residential Life, effective September 1, 2019. Don will continue to oversee the programs and people he has led to such achievements.
"I feel incredibly honored by this recognition and to be a part of Student Housing and Residence Life, the Division of Student Affairs and Enrollment Services, and the

 

UH

 

story the last 8 years," Don said. "I also have tremendous gratitude for the support and work of my staff and colleagues as any success credited to me is successes we share together."
But Don is not finished by far. He has developed a UH Housing Master Plan through 2025 of which the New Quad under construction is just the starting point. It calls for the replacement of Moody Towers, new apartments for upper-class students, and potential housing for faculty, staff, and graduate students with families. In other words, residence life at UH will continue to grow and expand and succeed.
Vice President/Vice Chancellor for Student Affairs and Enrollment Services Richard Walker reflected on Don's eight years of success and his promotion. "Don is considered a very valuable and outstanding leader within the Division of Student Affairs and Enrollment Services and is deserving of this promotion which better reflects his service as a member of the Executive Leadership Team and the tremendous impact and continued growth of his area."
And Don has proven that his impact has been felt by the whole University.