DSAES News
July 21, 2022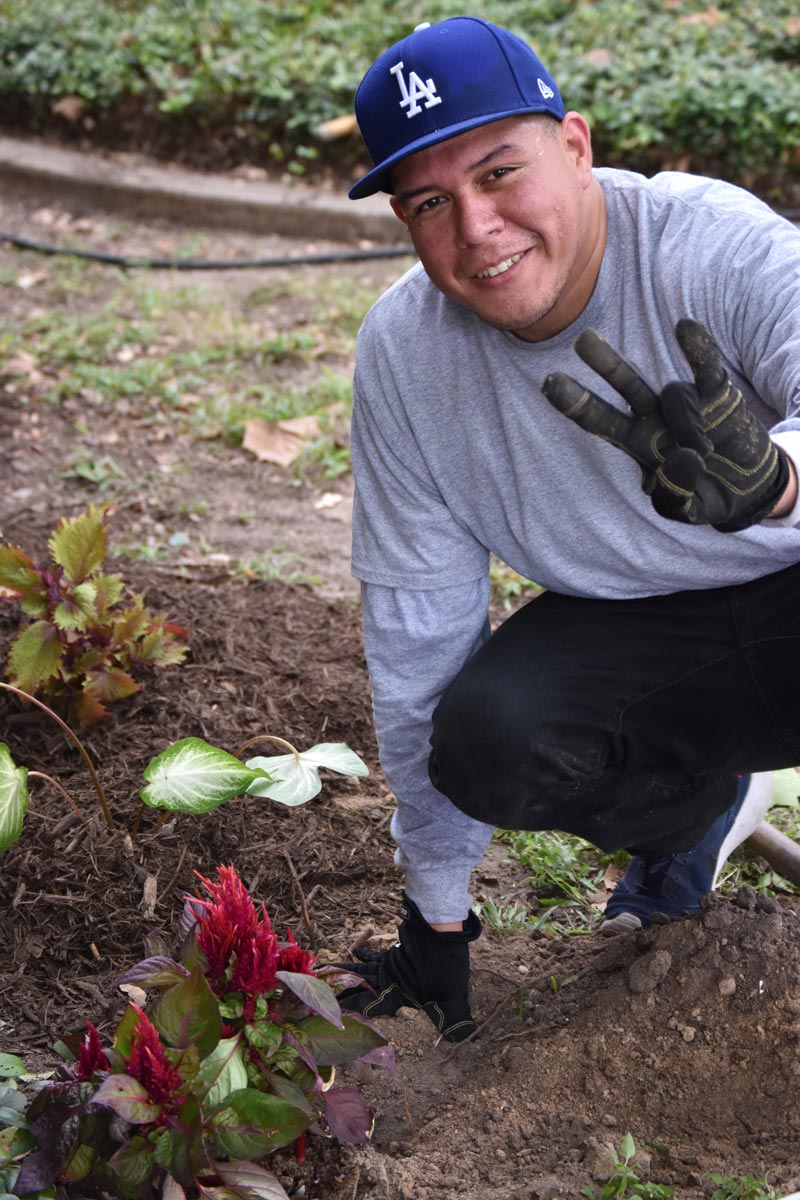 Wednesday, May 29, 2019 - Houston-based Calpine Corporation, the nation's largest generator of electricity from natural and geothermal resources, selected a facility beautification project for the University of Houston's Career Services (UCS) as one of Calpine in Our Communities projects. Calpine partnered with Lowes, Sherwin Williams, Living Earth, Dirt Cheap Mulch (Humble, TX) and UH Facilities to complete this project, which included landscaping, power washing and repainting the entrance to the Student Service Center Building 1.
"My staff is professional, friendly and approachable and we want to convey this same warmth from the outside of our building to welcome students and employers to our office. We believe this community service project will help us accomplish this."
Eleven Calpine employees from various departments volunteered their day to take part in this service project, which included cleaning up debris, raking leaves, working with UH Facilities to spread mulch and planting new plants and flowers around the building. Three of the Calpine employees volunteering for this service project are UH alumni.
"This was a great opportunity for us to support the hard-working UH students, faculty, staff and support services by focusing on the location students frequently visit seeking advice on employment and their future. This is the place where 'magic happens' between employers and students. Calpine routinely visits the UH campus and this building seeking well-prepared job applicants."
This campus beautification project stems from Calpine's commitment to fostering safe and healthy communities through volunteer activities and philanthropy in the local region. Calpine employees across the country regularly conduct food drives, plant trees, clean up parks and make the holidays brighter for families in need. Approximately 500 Calpine employees participated in more than 30 community service projects nationwide during the month of May. The UH event was made possible with the help of Jay Qatato from Calpine, Monica Thompson and Dawnelle Prince from University Career Services, UH Facilities and our generous donors: Lowes, Sherwin Williams, Living Earth and Dirt Cheap Mulch.
More about University Career Services: University Career Services (UCS) offers a multitude of services to assist students and alumni on their pathway to success such as one-on-one counseling and skills workshops including mock interviews, resume critiques, and job hunting. Students and alumni are empowered to investigate their pathways and network with employers to find the right industry for them. UCS works with companies and organizations to employ our students during career fairs and on-campus recruitment.
More about Calpine
Calpine Corporation is America's largest generator of electricity from natural gas and geothermal resources with operations in competitive power markets. Our fleet of 79 power plants in operation represents more than 26,000 megawatts of generation capacity. Through wholesale power operations and our retail businesses Calpine Energy Solutions and Champion Energy, we serve customers in 24 states, Canada and Mexico. Our clean, efficient, modern and flexible fleet uses advanced technologies to generate power in a low-carbon and environmentally responsible manner. We are uniquely positioned to benefit from the secular trends affecting our industry, including the abundant and affordable supply of clean natural gas, environmental regulation, aging power generation infrastructure and the increasing need for dispatchable power plants to successfully integrate intermittent renewables into the grid. Please visit the Calpine website to learn more about how Calpine is creating power for a sustainable future.