DSAES News
July 21, 2022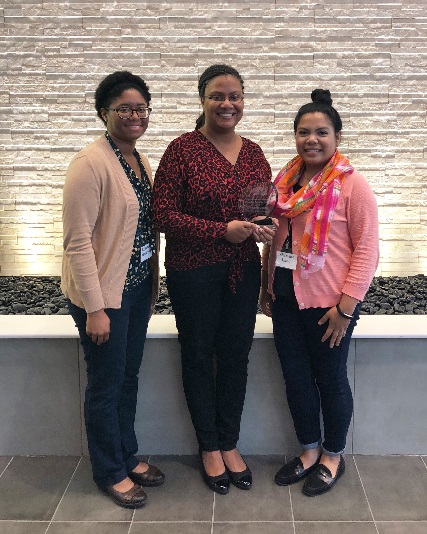 Dr. Raven Jones, Director of the Urban Experience Program, has received the James Emerson Award, a prestigious honor that is awarded by the Education Reach for Texas. The award honors professionals for their commitment to supporting students formerly in foster care.
As the Postsecondary Education Advisor for Casey Family Programs for 18 years, John Emerson oversaw postsecondary education training, practice, and policy advocacy for young adults from foster care. John continues to provide consultation and technical assistance to states, higher education systems, and organizations to improve the delivery of support services and financial aid to opportunity youth. Emerson has provided valuable leadership, initiatives, and support for the Texas higher education programs for foster youth. The John Emerson REACH Award recognizes the same commitment, contributions, and leadership in Texas that John has provided at the national level.
In her role as Director of the Urban Experience Program, Dr. Jones empowers students from diverse backgrounds to reach their personal, financial, career and civic goals. Dr. Jones is in her fourth year at the University of Houston following 10+ years as a teacher, evaluator, and researcher.
"Dr. Jones has mobilized a village to ensure a network of knowledgeable, caring, and attentive team members to support our Foster Care students in transition," stated Dr. Dan Maxwell Associate Vice President for Student Affairs. "In this network, Dr. Jones has been able to generate an understanding that many students, including former Foster Care students, experience homelessness and multiple levels of food deficiency. Knowing very well that students can be fine one weekend, but be at a complete loss the next with little to no family support, Dr. Jones has created a network to support our UH students."
Dr. Jones and program coordinators Sharlene Laud and Tajuanda Montreuil have strengthened the Fostering Success Initiative at the University of Houston. The Fostering Success Initiative is the Urban Experience Program's support program for those who are formerly foster care youth, homeless or transitional students. The primary goal of the program is to help students generate a circle of support through advisory and peer mentoring along with sharing our long-held traditions of academic, personal and professional training and development of on and off campus life skills.
Please join us in congratulating Dr. Raven Jones and the Urban Experience Program team.
About the Urban Experience Program
The Urban Experience Program is a student success program at the University of Houston that offers a holistic approach to advising. The program provides opportunities for the university's diverse student population by preventing minor obstacles from becoming significant setbacks to degree achievements.