DSAES News
July 21, 2022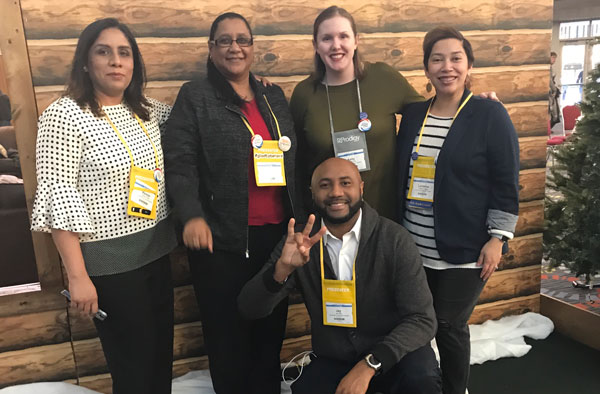 Last month, five Enrollment Services (ES) staff members represented the University of Houston at the 21st annual Alliance Conference in Salt Lake City, Utah. This conference showcases important updates for Oracle application users, specifically those in the Higher Education User Group.
ES team members led four different conference sessions:
Jay Hills, assistant registrar with the Office of the University Registrar, and Lorianna Mapps, executive director of Integrated Enrollment Services, co-presented in a session titled "Harvey Came Knocking: Lessons Learned." The session detailed how the University and Enrollment Services used PeopleSoft technology to track impacted students, perform enrollment transactions for those impacted by Harvey and distribute messages to students during and after Hurricane Harvey.
Alicia Smith-Gantt, application lead with Campus Solutions Services, Kelly Schulz, assistant director of Admissions Processing, and Mapps showcased their use of Campus Solutions in a session titled "Increasing Efficiency in Transfer Admissions Processing." This session discussed how the University used Campus Solutions technology to vastly improve the efficiency in which the Office of Admissions is able to process the records of transfer students.
Javaria Saeed, manager of Enterprise Application Security and Investigations with Campus Solutions Services, took part in a panel presentation with security administrators from various institutions, as well as delivered a solo presentation titled "How the University of Houston System Cleaned Up Its Campus Solutions Security Access." This presentation shared the template the University of Houston System used to streamline and formalize the generation of security forms across four campuses.
Katina McGhee, executive director of Campus Solutions Services, emphasizes the value of attending and presenting at conferences. "Post-conference survey feedback shared by the Higher Education User Group indicated that 95 percent of Alliance attendees who arrived at the conference with an unresolved problem reported that they left with a solution. Without a doubt, the four presentations given by five UH staff, spanning the business areas of Admissions, Student Records and Security, contributed to attendees leaving with real, implementable solutions," McGhee said.
With more than 3,500 attendees and 350 sessions, the Alliance conference offers Oracle system users a chance to brainstorm, network, and find solutions. ES teams were excited to share their expertise as well as gain some knowledge that could be applied in their daily roles.
About the Division of Student Affairs and Enrollment Services
Comprised of 29 departments and programs, the Division of Student Affairs and Enrollment Services supports the University of Houston's mission by providing a comprehensive array of services, programs, and activities which enhance the learning environment and development of the whole student. With over 400 full-time employees and 1200 student employees, the division's functional areas contribute to student life, health and wellness, student housing, student support services and enrollment services.