DSAES News
July 21, 2022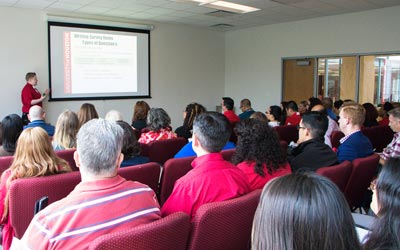 Advance your assessment competencies, skills, and initiatives during the third annual UH Summer Assessment Symposium (SAS) on Wednesday, June 21 from 9 am – 3:30pm in the University of Houston Student Center. This one-day conference will provide attendees with an opportunity to share best practices and learn about assessment through educational sessions, poster presentations, and open forums.
Hosted by the DSAES Assessment Committee and Dr. Pamelyn Shefman, Director of Assessment and Planning, the symposium offers educational tracks for new and advanced professionals and is open to staff, faculty, and graduate students of all levels of experience, across a wide variety of departments.
Registration is $35.00 per person or $30.00 each for groups of two or more who register and pay at the same time. Lunch is included. Visit the conference website to begin registration.
Past attendees shared the following about their SAS experience:
"I really enjoyed [the Summer Assessment Symposium] and I love that people from all over the state came. It was nice to hear what others are doing and how they use assessment."
"It was so very professionally orchestrated. The presentations were solid and so impactful. Thank you so very much for the incredible hard work that obviously went into putting something like this together."
Registration is open through June 12. If you have questions about registration, please contact Priyanka Raut
Learn more about the UH Summer Assessment Symposium.