DSAES News
July 21, 2022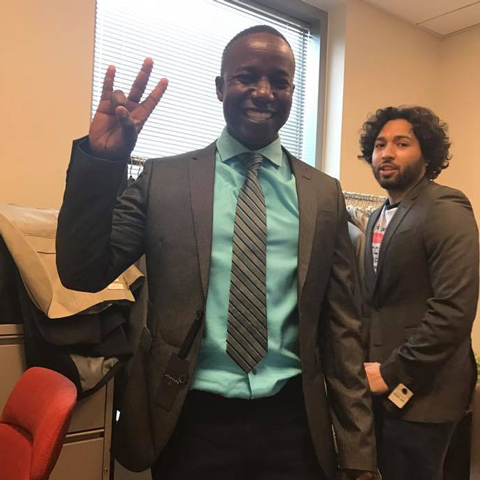 In collaboration with the America GI Forum: National Veterans Outreach Program, Inc., the University of Houston Veteran Services Office is now offering free suit coats for student veterans on campus. This program invites students to try on brand new suit coats and select one to take home free of charge. The suit coats donated were a part of the Men's Warehouse Merchandise Donation Program that benefits veterans and since the program began, the Veteran Services Office has given out over 100 suit coats.
Those who nominated Bergeron for this award provided examples of his ethical leadership and impact on the fraternity/sorority community at the University of Houston:
"The Veteran Services Office at UH focuses on transition: the transition from military to college, and the transition from college to the workplace, post-graduation. After wearing a military uniform, many of these student veterans don't have the proper attire to attend interviews or job fairs in preparation to enter the workforce," remarked Celina Dugas, Program Director for the Veteran Services Office. "This program can aid student veterans without breaking the bank."
The suit coat donation program launched in time for the Veterans Career Fair on April 13, 2017, in order to provide students with the attire needed to make a strong first impression. In its second year, this collaboration with University Career Services is dedicated to connecting military and veteran students to employers in the Houston area. A total of 75 students and alumni interacted with 54 employers and a number of Veteran Service organizations who provide support to veterans in all areas of their lives.
As an added benefit, student veterans who receive a job offer can return to America GI Forum: National Veterans Outreach Program, Inc. and receive a full wardrobe.
"The effects of having these suit jackets donated to the veterans at UH puts us ahead of the game in looking professional," stated Cory R. Gaddis, a Pre-Business student at UH. "Transitioning out of camouflage and into suits and ties gives us a professional appearance as we move into new career fields, and these clothes more accessible to the veterans at this university and is greatly appreciated."
The Veteran Services Office will continue to provide suit coats to student veterans for free until their stock is depleted.
For more information about the Veteran Services Office, contact Celina Dugas, Program Director for Veteran Services at cdugas2@uh.edu.